The ocean in early May was frigid. Ten high school-age trainees and I stood clutching our bare shoulders, shivering in the brisk wind. With the blow of a whistle, we would charge one by one into the ocean.
"Dive deep! Dive long! Dive early!" echoed from shore. It was the first day of lifeguard training, and we were being watched attentively.
I fell ill with Covid-19 in early March, quarantined in my Brooklyn apartment for three months, and then, soon after being furloughed as a New York Post reporter, relocated to my childhood summer house in East Hampton to live with my mother. I found myself longing for the ocean breeze, and signed up on a whim for the lifeguard certification course.
John Ryan Sr. and his son co-founded the Hamptons Lifeguard Association in 2003. Between them they have trained practically every lifeguard on the South Fork. The Ryans were committed, despite warning from Albany that beaches might have to be closed for the duration, to keeping them open and safe for everyone.
The Lifeguard Association fought tooth and nail to get the East Hampton Town Board's approval for this season's lifeguard training.
Just before Memorial Day weekend, the younger Mr. Ryan, who also teaches sixth-grade math, told me in a phone interview that training this season would look drastically different from years past."They're not going to be able to make the rescues they normally would," he said. "It's going to change things. Now we have to decide on new ways to make rescues."
The Ryans waited as the town board reviewed their restructured program. They were 30 lifeguards short of what they needed by July 1. The clock was ticking.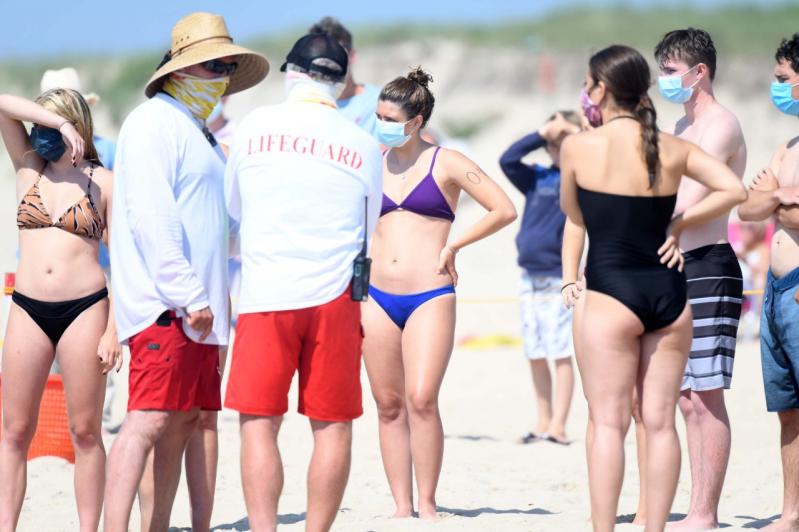 Since Covid-19, everything we loved about the summer beach experience has been stripped from our psyche and flipped on its head. From social distancing to masks, all sorts of modifications to the beach norm would be necessary.
"I knew that in order to get the beaches running I had to change the whole standards [of training]," Mr. Ryan said.
This summer, lifeguards are setting an example for the community by wearing masks and ensuring that no crowds gather. This means they have to keep their eyes glued to the water — and also scan the beaches for any large groups. They must also monitor entrances and exits and enforce 50-percent capacity.
In addition to these restrictions, they have been trained to conduct no-contact rescues.
Because the virus is transmitted through respiratory droplets and contact, lifeguards are at obvious risk of exposure. A swimmer gasping for air, for example, could spit on the rescuer, with disastrous results.
"I'm prepared to conduct rescues," said Dick Monahan, a lifeguard at Indian Wells Beach in Amagansett. "If it came down to saving a life, I would take the chance of getting Covid-19."
On May 22, Gov. Andrew M. Cuomo approved the opening of state beaches. Shortly after Memorial Day, East Hampton okayed lifeguard training, and by May 26, 40 aspiring guards, ready and able, were waiting.
Their classes were divided into four sections, 10 students each. Masks were mercilessly enforced, except when in the water. No-contact rescues and staying at least six feet apart became features of the new curriculum.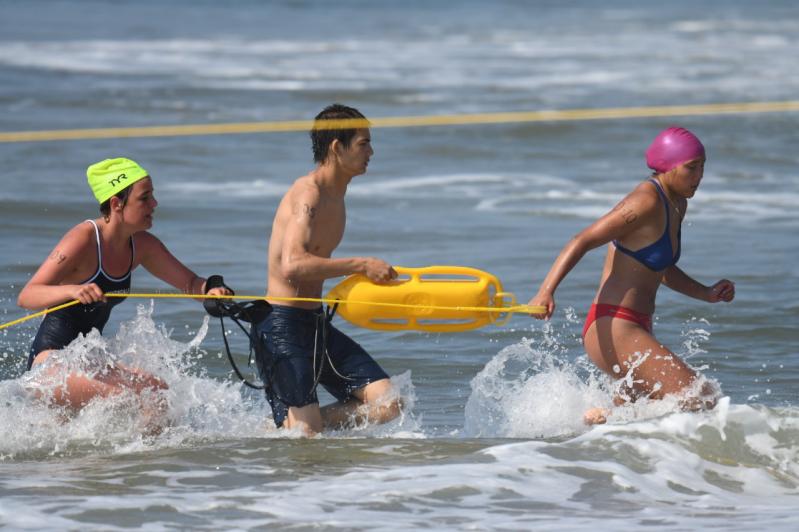 "We started having discussions back in March about what protocols we'd have in place," said the lifeguard chief Bob Pucci. "We didn't want to cause a situation that may raise concerns about not following protocols."
Masks aside, the training was physically demanding. On the first day, the boy standing beside me fell to his knees after swallowing seawater. He sat out for a few drills. After a second drill, another boy collapsed, unable to stand up and exclaiming he'd lost feeling in his legs.
After nearly an hour and a half of running and swimming, my heart went from pulsing through my chest to practically jumping out of it. That night, I slept like a cylinder brick and when I woke, every muscle in my body throbbed in pain.
John Ryan Sr. told us that crowds of teenagers have been congregating at the beach with no apparent concern for Covid-19. "I know it's hard to go to your friends and break them up, but they have to get it straight. Don't make fun of the rules," he warned the crowd of 40 trainees on the day of the written exam.
"Usually you're told as a lifeguard to never keep your eyes off the water," he said. "Well, not this year. You've got to keep your eyes on the beach, too."
This summer, mask wearing has become a question of morality. Lifeguards are responsible for making sure noses and mouths are covered when people walk onto the beach and again when they leave. Ultimately, the fate of this season is up to beachgoers. 
Mr. Pucci has faith the community will comply with the rules. "I'm more of an ambassador," he said. "I can tell people what the rules are and why we need to comply, and for the most part, my experience has been positive. But some people have to be reminded a second time."
Dick Monahan, said to be the oldest ocean lifeguard in Suffolk County, wonders. "I've witnessed people on the beach without masks," he said. "Hopefully we will not experience what Miami Beach has. If people don't comply — well, for the sake of God, just please put on your mask."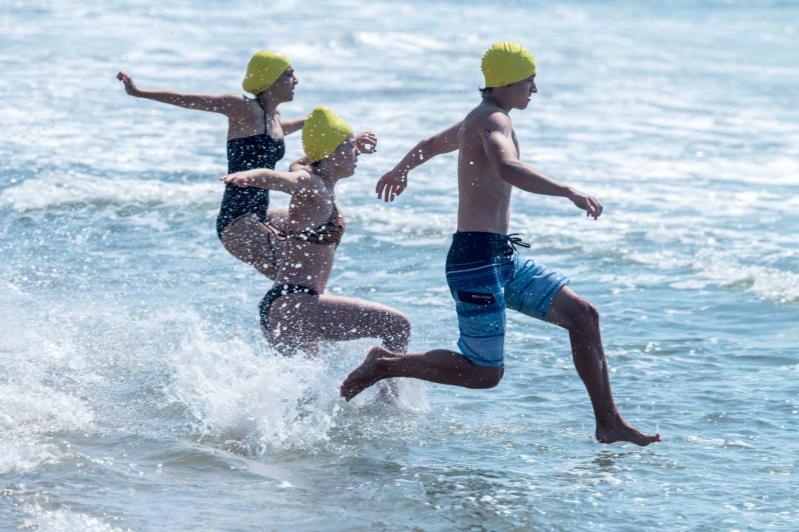 "The beach is an experience that everybody loves and cherishes," said Brian Cunningham, a lifeguard captain. "The town is asking for compliance and to do our part to keep this thing going."
On test day, the ocean was calm and just over 60 degrees. Perfect, everyone agreed. 
I had just braved four weeks of swimming and conditioning, unlike anything I've ever before experienced. The kids in my training class were fearless in the water and physically fit. The test would be a breeze for most of them.I, on the other hand, was as ill-prepared as any other city slicker who swims a few times a year at most.
Which is why it came as no surprise to me when my proctor failed me.
Training to be a lifeguard is no undertaking for amateurs. There are physical requirements that must be met. There are also ethics and principles woven into the fabric of the role. As the summer persists, the beaches will remain a sanctuary for people to savor — provided that they learn to play by the rules. As for me, I realized it's much easier to write about swimming in the ocean than to actually do it.