An email landed in my inbox sometime in March from Geoffrey Drummond, the executive director of the FoodLab at Stony Brook Southampton and a longtime producer and director of several cooking shows with Julia Child and Eric Ripert, as well as movies like "My Dinner with Andre."
He was inviting me to attend "Constructing the World of Taste in your Head," part of Stony Brook's "Mind Brain Lecture Series," in which a professor of psychology would help demystify the neuroscience behind eating forkfuls of food and the brain's responses to stored culinary memories. 
Given that Mr. Drummond, a full-time Springs resident, has spent decades traveling the world alongside some of the most celebrated chefs, and in the kitchens of many others, I decided that his brain was the one I wanted to pick. 
So, on a warm spring morning, we sat outside the Springs General Store, reminiscing and getting increasingly hungry.
What was the inspiration behind the Stony Brook talk about food and memory?
GD: It's really about that memory bank of travels around the world. And when you think about places or talk to people about places, you often talk about food. Whether it's where you ate or did you try this or did you taste that? I remember that from hearing my father talk about Paris, post World War II. And when I started working with Julia [Child], I heard almost the same kind of stories -- that eye-opening palate explosion of going to some place and where food and cooking become so important to establishing a sense of place. And I think it's interesting because a lot of people only eat to satisfy an appetite rather than an adventure.
So, what places spark food memories for you?
GD: I can't think of New Orleans without remembering shooting an episode for "Julia Child: Cooking with Master Chefs" with Emeril [Lagassé]. Nobody really knew him at the time, but he had a combination of authenticity, television charisma, and really cared about the food he created. We shot the episode at a house in the Garden District, where he and Julia cooked a truly memorable dish, which always makes the highlight reels of her show. It was a big crab and crawfish boil out in the backyard. Then, he put newspaper down on the table and dumped the whole big basket on the paper. Delicious.
 Any others? Although my mouth is watering...
GD: Near Cannes, in the south of France, we were filming with Roger Vergé in his famous Le Moulin de Mougins restaurant, which was a classic haute cuisine French place, all copper cookware and a big flame, and amazing food. We made a film about what he called the "cuisine of the sun," and we'd spend a lot of time shopping in markets together. He also had a huge garden and he would make things, casual things like a tempura out of all of the different herbs, like a basil tempura! And I remember one night we had a special dinner after filming, and it was really my first and only experience tasting this dish he concocted: a whole small truffle stuffed with a blend of mushrooms and then stuffed into a zucchini flower. Truly one of those revelatory past experiences.
Any unexpected food experiences around the world?
GD: My first time in Australia, I went to an area in Sydney that's very famous for Thai and Asian restaurants and one of them belonged to David Thompson, who at the time was the foremost expert on Thai food. So I ate at his restaurant and went for the tasting menu of about 12 courses. By the time I got to number six, the hair follicles on my head were so swollen, my hair must have been standing straight up. I was sweating. I couldn't finish the meal. You need to train for food with that kind of heat.
When did you first get involved in the business of food?
GD: Actually, as an undergraduate at Cornell University. My roommate and I had an egg roll business [laughs]. We made about 150 egg rolls, three times a week. We sourced the ingredients from Susie's Asiatic in Ithaca and we sold them for a dollar apiece at the fraternity and sorority houses.
A chef you had a great time traveling with?
GD: A really memorable trip was going back to Australia with Eric Ripert. We traveled around the whole country and it was all food-driven. Our first stop was Darwin, which is crocodile country.
You ate crocodile?
GD: Eric and I ate crocodile meat, which tastes like whatever it's flavored with, basically.
How about closer to home -- a favorite place to eat on the East End?
GD: When James Beard was asked where he liked to eat, he said, "Where they know me." And so I really like Nick and Toni's, and it doesn't mean that other places aren't good, but [they] do cook really, really good food. And it's the kind of place that they know you and you get to meet the chef. They care about the experience, they care about the customers, and they take great pride in the cooking and the service.
If I was invited to your home for dinner (hint, hint), what would you cook?
Probably a lemon garlic chicken that's based on James Beard's chicken with 40 cloves of garlic. And a variation on an Alice Waters fennel and mushroom salad.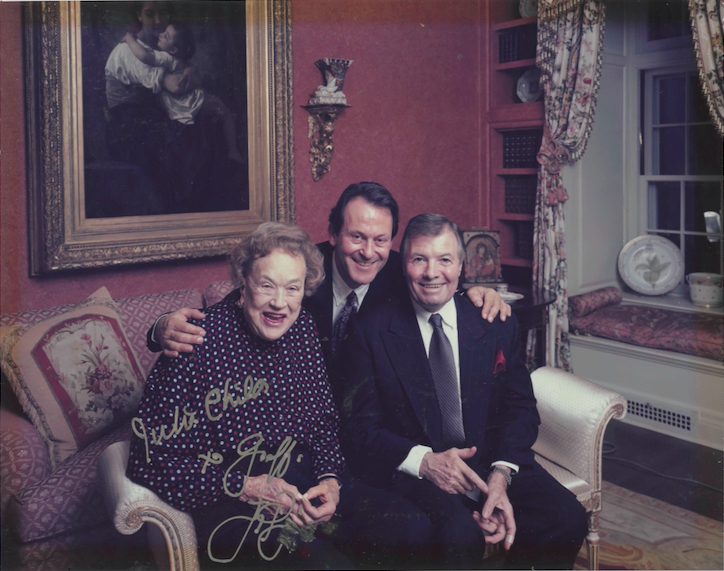 --
Correction: The print version of this article incorrectly stated that David Thompson's Thai restaurant was in Adelaide.