The week past was a busy one indeed for lifeguards here: 150 of Haley Ryan's 6-through-8-year-old Nippers were put through their paces at Albert's and Atlantic Avenue Beaches in Amagansett on July 28 and last Thursday, and a similar number of 9-through-14-year-old Junior Lifeguards participated in various lifesaving events at Indian Wells Beach in Amagansett on Saturday and Sunday.
A strong Hampton Lifeguard Association team of 85 or so, including 50 juniors, was to have left earlier this week for the United States Lifesaving Association's national championships on South Padre Island in Texas, which began yesterday and runs through Saturday.
And on Monday, an ocean certification test drew 64 hopefuls, 15 of them first-timers and the rest with previous experience, to East Hampton Village's Main Beach, the first time that there had been an ocean test there in two decades, said Drew Smith, chief of the village guards, who added that it was a sign of "the improved communication between the village and the town that exists now."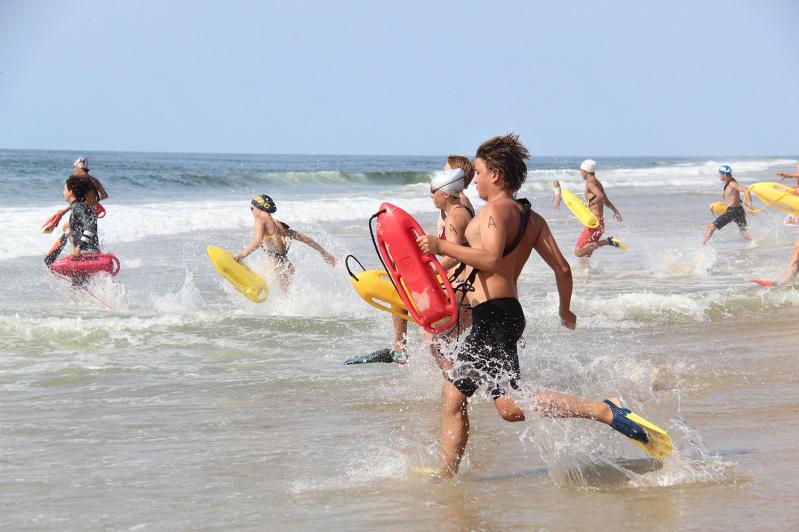 That there had been bleachers and portable lights at Main Beach for the invitational lifeguard tournament on July 22, and will be also at a town-village lifeguard volleyball tournament at 5:30 p.m. Monday further testifies to "the great communication between the village and town that we have now," Smith said. "We're bringing life to the beach."
"This has been the best year ever at Main Beach -- even the Ryans will tell you that," said Chris Minardi, an East Hampton Village Board member who was among those keeping track of the participants' performances.
Haley Ryan, during a breather in between four rounds of four-person yoke rescues in Monday's cert-recert test, said that the Nippers had done "pretty much everything" that the older kids had done, "except, rather than iron guard" -- a distance swim, run, and paddle -- "they did water flags."
Angelika Cruz, an East Hampton Volunteer Ocean Rescue squad member, who was also recertifying Monday, said that the Y.M.C.A. East Hampton RECenter's Hurricane swimmers -- Liam Knight, Lucy Knight, Daisy Pitches, Lylah Metz, and Aidan Menu, for starters -- had shone in the junior tournament. A lot of the Hurricanes would be going to the national tournament, she said. "Some have already left."
While the East Hampton Volunteer Ocean Rescue Squad Legends had indeed finished last in the recent Main Beach tournament, Tim Treadwell said, its landline rescue foursome had not finished last in that event, as reported, but third.
Treadwell said the Volunteer Ocean Rescue squad numbered 56 rescue swimmers at present, on call 24/7 throughout the year.
As for the ocean test, Smith said that "most will probably pass." Those who didn't will be availed of another chance Monday morning at Indian Wells.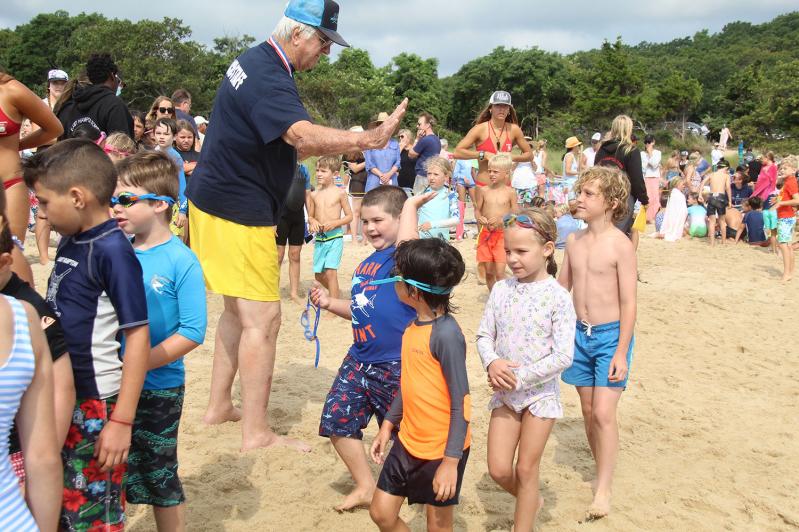 The day's eldest participant, Joy Hear, 62, of Montauk, a rescue squad member and emergency medical technician, who took, and passed, her first ocean test at the age of 60, will not be in that number, for she was among those who were recertified Monday.
Her friend Maureen Rutkowski, a fellow squad member who also passed, said delightedly, "We did it! Joy dragged me along today." 
"I love it," Hear said of the Volunteer Ocean Rescue squad. "They're a great group -- they want to keep everyone safe."
"Ah, the heart and soul of it," she said as John Ryan Sr., the guru of East Hampton Town lifeguarding, who had been at a meeting, drove up.
"Isn't it terrific?" John Sr. said, with a broad smile, as he stepped out of the Jeep.