East Hampton High's boys basketball and swimming teams had wins last week. The swim team, coached by Craig Brierley, took first place in 10 of the 11 events in a meet with North Babylon at Deer Park High School on Dec. 21, and, on the same day, the basketball team, whose coach is Dan White, continued to turn the corner in the wake of Luke Reese's sidelining for the season with a 63-56 win here over Rocky Point.
The swimmers' win evened their league record at 2-2. The basketball team's was its second in a row since Reese, its star junior shooting guard, was rendered hors de combat with a knee injury during a Dec. 9 game here with Kings Park.
In other basketball news, the Pierson boys team, the best one that the Sag Harbor school has had in quite a while, was leading its league with a 6-0 record as of earlier this week. Will Fujita said over the weekend that the team, led by Wilson Bennett and Cecil Munshin, was "trying to stay healthy . . . because we don't have enough guys, owing to injuries primarily, we had to cancel a nonleague game scheduled for Wednesday," Dec. 29.
"We're trying to navigate," Fujita said when asked if any of his players had Covid. "I think everyone's been affected by it, but, as far as we're concerned, so far, so good."
Joe Vas, East Hampton's athletic director, when asked if Covid had affected any of East Hampton's teams, said that "the varsity and junior varsity girls are not playing, but otherwise everyone's okay." Pierson's girls team was said to have been shut down for the moment too.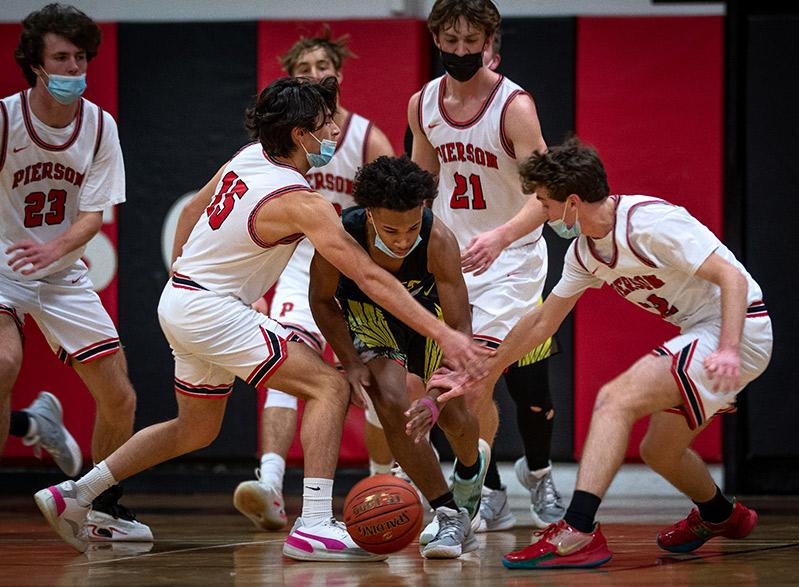 The Whaler boys, a Class C team, easily defeated Hampton Bays and Bridgehampton this past week, by scores of 70-44 and 85-36. Munshin led the way, with 24 points, against the outclassed Bees. Bennett had 18 and Dan Labrozzi, Charlie Culver, and Brendan Burke each chipped in with 8. The taller Pierson players had their way on the boards, with Culver hauling down 8, Bennett 7, and Munshin 6.
Against Hampton Bays, Munshin scored 25 points, Bennett 24, and Culver 13. As for rebounds, Bennett had 11, Munshin 10, and Leo Butler 7.
Pierson's fellow Cs in League VII are Port Jefferson, Greenport, and Southold. The Whalers already have wins over the first two and are to play at Southold next Thursday.
"I've seen Southold play — they've got a good group of guards," Fujita, who lives in Southold, said. The return from the holidays is to begin, Fujita added, with a scrimmage at Shoreham-Wading River on Monday. "We'll have three on the road, at Shoreham, Southold," and against the Ross School on Jan. 7, "when the second half of the season begins," the coach said.
Back to the Bonackers, a 22-13 third quarter, during which Liam Fowkes hit two 3-pointers and went 4-for-4 from the foul line, and during which Jack Dickinson scored 7 points, treated East Hampton to a 46-41 lead as the fourth began, a lead that, despite some sloppy play thereafter, it did not cede.
In reporting East Hampton's swim win over North Babylon, Brierley said, "The boys got right to work in taking first and second in the opening 200 medley relay and never let up." The coaches, including Brierley's assistants — his son, Thomas, and Brian Cunningham — "are very happy for the boys as they continue to swim very well and are showing nice improvements in the skills and techniques they've been practicing."
Tenzin Tamang was named as swimmer of the North Babylon meet by the captains, who said they "were really impressed with his winning time in the 400-meter race in a county-meet qualifying time. Tenzin is trying to earn qualifying times in each of the eight events he does. So far, he's done so in four of them — the 200 individual medley, the 100 butterfly, the 100 freestyle, and the 500 freestyle. Besides the 400-meter race, Tenzin won the 200 free in a personal-best time, and did personal bests in the legs he swam in the two winning relays."
The team was to have practiced at the Y.M.C.A. East Hampton RECenter from 3 to 5 p.m. Monday through Thursday this week. The team will be home against Sayville next Thursday.
Meanwhile, Brierley urged those on his team who were going to be here to be at Main Beach for Saturday's Polar Bear Plunge "by noon, or earlier, because it gets very crowded and the parking lot fills up fast." The plunge, a fund-raiser for East Hampton's food pantries, is to start at 1 p.m. It was not held last year because of the pandemic.