East Hampton Town officials indefinitely closed the rickety asphalt-covered bridge above the Long Island Rail Road track on Cranberry Hole Road in Amagansett after a sizable hole appeared in it on Sunday.
According to the East Hampton Town Police Department's call log, a "road hazard" was reported at 11:02 a.m. on Sunday. The department posted a notice on Facebook at about 5:30 p.m. that the bridge was "temporarily closed until further notice. Please make alternate route plans to avoid this closed section of roadway."
Highway Superintendent Steve Lynch suggested that drivers use Abram's Landing Road or, farther down Montauk Highway to the east, Napeague Meadow Road, to reach Cranberry Hole Road. Drivers had been forced to navigate around lesser gaps in the road surface for months.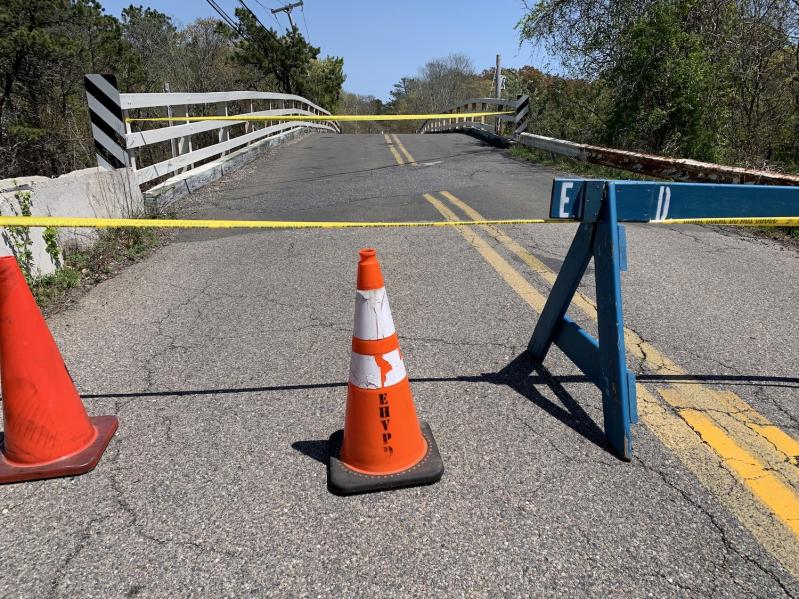 Mr. Lynch said that though the town maintains the pavement on top of the mostly wooden structure, the bridge itself was owned by the railroad.
In a statement issue on Monday, the Long Island Rail Road said that the bridge was, in fact, owned by the Town of East Hampton.
"Every time we do a repair, it pops out because all the wood underneath is flexing so bad," Mr. Lynch said. "As one car goes over, you can see the whole thing flexes, so it's hard to get asphalt to stick to it. We closed it before somebody gets hurt."
Mr. Lynch said he expected to meet with an inspector and engineer from the railroad in the coming days to fix the problem.
The bridge, built in 1895, last had major repairs in 2007.
"This isn't the first time it happened, but it's been a while," Mr. Lynch said.
The L.I.R.R. said that the problem with the bridge was not affecting train traffic.