An Amagansett woman, walking with her two children in a side-by-side stroller on Montauk Highway in Amgansett near T&B Auto Service, was struck and killed on the afternoon of Jan. 13 by a red pickup truck, which fled, setting off a manhunt for the driver.
Details continued to emerge this week about the accident that claimed the life of Yuris Murillo Cruz, 36. She died later that evening at Stony Brook University Hospital, having been flown there by a county medevac helicopter along with her 1-year-old son, Josue Gael, and her daughter, Michelle, 4, both of whom were taken to the pediatric intensive care unit. The 1-year-old, who is called Gael, had a bruised lung and remained hospitalized until late Sunday. Michelle, a prekindergarten student at the Amagansett School, was less seriously injured and was discharged on Saturday.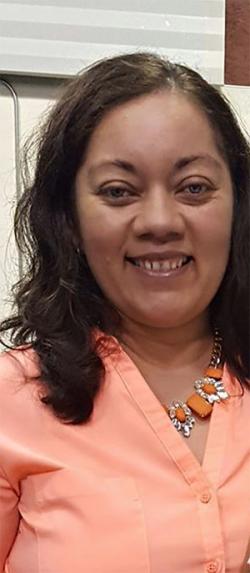 The driver of the truck, Mark A. Corrado, 28, who is self-employed as a real estate sign installer, was on his way to a job site in a borrowed 1997 Dodge Ram when the accident happened. According to East Hampton Town police, he fled east, ultimately turning onto Napeague Lane and hitting a dead-end on Marine Boulevard, where he turned the truck around and quickly abandoned it in the dunes on Gilbert's Path.
Local, county, and state police agencies, including a K9 unit and one of the helicopters, which doubled back after the trip to the hospital, joined in the search. Meanwhile, Mr. Corrado used his cellphone to call an Uber, hiding beneath a tree, he later told police, while he waited for the car service to arrive. He removed the plates, registration, and insurance card from the red truck.
About two and a half hours after the accident, from his house in West Babylon, he called East Hampton police to say he would turn himself in. One of his roommates drove him to first district county police headquarters in West Babylon, where a town detective came to take him into custody.
In a 10-page written statement, Mr. Corrado told detectives here that he had been driving at about 45 miles per hour moments before the impact, listening to rock music, when a vehicle ahead of him slowed to make a turn. He hit the brakes hard, he stated, causing a bottle of Poland Spring water to roll across the floor and under his legs. Afraid the bottle would get stuck under the gas pedal, he reached down to get it and felt the impact of the truck "hitting something."
He slowed down, he told police, but did not stop, instead making a  left turn past the Tackle Shop onto Bunker Hill Road, a narrow dead-end street. He turned back to the highway, heading east, and kept going.
"I am so sorry for what I did," Mr. Corrado told police. "I have no words. I would like to write a formal apology to the woman's family. I am so sorry for all of this."
He told detectives that he has "a clean license," but on Tuesday Sgt. Daniel Toia confirmed that he was cited late last year for a traffic violation, leaving the scene of an accident with property damage.
In his statement, Mr. Corrado said there was front-fender damage to the pickup truck and that its airbag had deployed, leaving him with burns on his hands and one leg. The wounds looked dirty, he said, and he took a shower. He denied drinking alcohol or using drugs before the accident, but did say that before showering he took a hit from a marijuana blunt, which he usually does to relieve chronic back pain. "I realized that was a stupid decision, so I put it out and left it in the ashtray in the living room," he told police.
He also stated that he thought it was the truck's mirror that had struck someone, and that he didn't realize there were children involved.
"I left the scene and didn't go back because, to be honest, there is no other explanation than I panicked," Mr. Corrado said.
A funeral Mass was said for Ms. Murillo Cruz on Tuesday at Most Holy Trinity Catholic Church in East Hampton, and community efforts to help her survivors, including meal trains, are ongoing. A GoFundMe webpage, set up by the Amagansett School's Parent Teacher Association, had surpassed $113,000 by Tuesday afternoon. A separate GoFundMe page created by Angelica Marta, a cousin, had raised more than $83,000.
"A situation such as this affects all members of the school community, yet it is a time when we can also band together to help those most impacted by the incident," said Seth Turner, the Amagansett School District superintendent, in a letter to families last Thursday.
Ms. Marta said Ms. Murillo Cruz "gave her life for her children."
Her husband, Wilson Murillo, is "still in shock," and their children won't leave his side "even for a moment," Ms. Marta told The Star. "He is truly grateful and touched by the outreach of the community, friends, and family. All he wants is his wife back and his children to be okay. We know that this will take time to heal and cope."
The couple have lived in East Hampton Town for about 20 years, the cousin said. Mr. Murillo works in landscaping. He and the children have been staying with his sister since they were released from the hospital, Ms. Marta said, as two members of their own household recently tested positive for Covid-19.
According to East Hampton Town Justice Court documents, Mr. Corrado's driving privileges have been suspended and he was required to turn in his passport. He is due back in court on Feb. 25 at 9 a.m. As of Tuesday afternoon, the court had no record of an attorney representing him, though records show that he did request one. The records also indicate there will be a "speedy trial."
Last Thursday, the day after the accident, Mr. Corrado appeared in court virtually to answer a felony charge of leaving the scene of an accident resulting in death. Justice Steven Tekulsky released him on his own recognizance to await his arraignment next month.
With reporting by David E. Rattray and Bella Lewis
---
This article has been updated to correct the name of the town justice presiding over Mr. Corrado's first court appearance, as well as the date of his next court appearance.