An attorney representing Charles Streep, the 31-year-old man accused in an alleged road rage assault in East Hampton in August, issued a statement last week asserting that his client was not the assailant but the victim in the incident, which left David Peralta of Springs, 18, with what his own lawyer says is permanent brain damage.
"As we have stated from the outset, Mr. Streep is innocent of these charges," said the lawyer, Andrew Weinstein. "Fortunately for Mr. Streep, the altercation with Mr. Peralta was captured on videotape. We believe that this incontrovertible videotape evidence clearly proves that Mr. Peralta incurred his head injury in the process of lifting Mr. Streep into the air and slamming him to the ground, not the other way around."
Mr. Peralta's girlfriend, Christina Lopez, who was with him in his car during the altercation, claims the opposite. She told police that on the morning of Aug. 24, following an argument over a near collision when Mr. Streep ran a stop sign in a bank parking lot, the older man, using a racial epithet, choked her boyfriend until he was unconscious, and then slammed him into the pavement.
Edmond Chakmakian, Mr. Peralta's lawyer, responded to Mr. Weinstein's assertion. "Apparently, Streep's criminal defense attorney has not seen the same video that East Hampton Village detectives retrieved and viewed, which led to the filing of the felony complaint, and Streep's arrest three days later."
"While David, who is 50 pounds lighter than Streep, did his best to defend himself from Streep's violent attack, the fact remains that based on the video footage" the detectives observed Mr. Streep "placing his arms around [David's] neck, squeezing and lifting his limp body off the ground, and then throwing him to the ground," Mr. Chakmakian said.
The felony charges filed by police also cite sworn statements given by independent witnesses at the scene.
"Streep's consciousness of guilt is also confirmed by the video, which captures him speeding from the scene, exiting the wrong way through the parking lot and onto Main Street. We are pleased that the video captured a clear enough view of Streep's car, leading to his being apprehended and charged accordingly," Mr. Chakmanian concluded.
Mr. Weinstein, in his statement to the press, disagreed. In closing, he asserted that "Notwithstanding the distorted and self-serving narrative being peddled to the media by Mr. Peralta and his attorney, we maintain that a full, fair, and impartial review of all the available evidence in the case will establish that Mr. Streep did not commit either of the crimes with which he has been charged."
Mr. Streep, who was arrested at his family's house on Pondview Lane in the village, is the nephew of the actress Meryl Streep.
Mr. Chakmakian said he had suggested to Kim Carson, who is prosecuting the case on behalf of the Suffolk County District Attorney's office, that the charges against Mr. Streep include "hate crime." She's "considering it," the lawyer said, adding that "there's going to be more coming out about his prior behavior with other individuals and very similar acts that occurred in the past." 
During a 10-minute virtual conference last Thursday at East Hampton Town Justice Court, the defense waived Mr. Streep's right to a speedy trial, meaning the prosecution is not under strict time constraints to indict. Neither Mr. Weinstein nor Mr. Streep was there in person. Mr. Peralta was there, along with his lawyer and about 15 friends and family members, with signs and T-shirts. "Justice for David," they chanted, and "Justicia para David." 
Outside the court, Mr. Peralta spoke softly, often pausing. Asked what he had to say to Mr. Streep, he thought for a moment, then said, "Why? Was it necessary? I think justice is going to be served, in my opinion. He is going to have to pay for what he did. It was uncalled for."
Mr. Peralta can no longer play soccer or go to college, though he hopes to return some day. He would have begun his second year at John Jay College of Criminal Justice in Manhattan, hoping, he said, to become a detective. "They took me out of school and withdrew me from my classes when I was in the hospital, because the doctors said I couldn't concentrate on anything too much or watch anything online." 
His mother, Jenny Mera, became emotional in describing the situation at home. "He is staying in his room. He doesn't want to go out. He is sad. His life is not easy now. He's frustrated because his life changed."
A GoFundMe page set up by Mr. Peralta's co-workers at the Dopo La Spiaggia restaurant in East Hampton to help with medical expenses had raised over $28,000 toward a $100,000 goal as of early Tuesday. Mr. Peralta had worked as a server at the restaurant, according to the page, which can be found by searching "David Peralta East Hampton" at gofundme.com.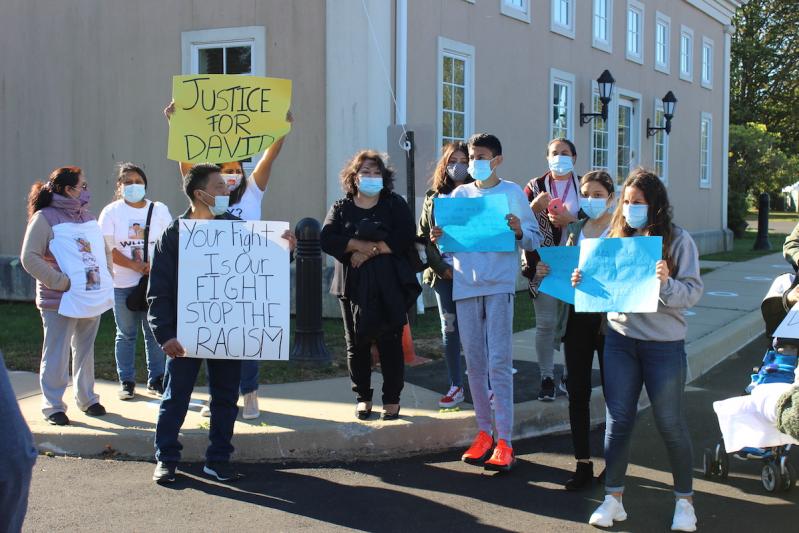 Several people in the group of well-wishers last Thursday said that more members of the community should have been there. 
"I think it's important that people of all races are showing up," said Alexandria Preston, a 27-year-old from Brooklyn. "This can easily just be viewed as just a road rage incident, or just an incident happening within the Latino community, but no, it's a racial incident, and it's systemic racism."
"There should be outrage amongst all of David's neighbors, and it's unfortunate that it's not a full community response," said Anna Skrenta of Amagansett. "That's really frustrating."
Tanish Lindsay, who has been part of numerous Black Lives Matter demonstrations and who organized Love at the End, a protest down Main Street in Montauk, said, "We're going to need more people to show up to the next one. Unfortunately, if it doesn't get the coverage, he's not gonna get justice."
"Firstly, I'm an old white woman," said Carla Ash of East Hampton, who will be 82 in a few weeks. "I'm not a Latino, and I think it's very, very important for our community to stand up. This is not, should not be, a racial issue in terms of the trial. It was a racial issue in terms of the crime. But it was also a money issue." Speaking of the defendant, she said, "This is a man who represents an ill in our community here of ultra-rich people, of ultra-famous names, who feels that he is above the law."
Ms. Skrenta agreed. "You've got to push, because there are a lot of people who live here who are very comfortable with the status quo," she said.
There will be another virtual conference next Thursday, again in the East Hampton court.
--
Note: This article has been updated since it originally appeared online.