There's a song from a Broadway musical that suggests one should measure in daylight and sunsets, in truths and tears, and in laughter and strife, among other things. Broken down into its 525,600 minutes, in a year's time a lot can — and did — happen.
The United States saw more than 513,000 people die of Covid or Covid complications, more than the country's death toll in World War II, the Korean War, and the Vietnam War combined. Suffolk County lost more than 3,000 people, among whom were many residents of the East End, some of whose stories can be found in today's Star.
It is hard to find any sector of society that wasn't impacted by the virus. Schools, jobs, religion, relationships, and family life — all affected, some more profoundly than others. First-person experiences and expert opinions, documented herein, suggest that the pandemic may leave its mark for years to come. And it's not over yet.
"We are at a very delicate position," Dr. Daniel Lucey, an epidemiologist and Georgetown University professor who has worked in the field fighting Ebola, anthrax, yellow fever, and zika, said in an interview this week. "In terms of a race against time, it's the variant viruses and the original virus versus our vaccines. We're certainly making, I think, a lot of progress, but we have a long way to go. It's still a race that we could easily lose to the virus and its variants."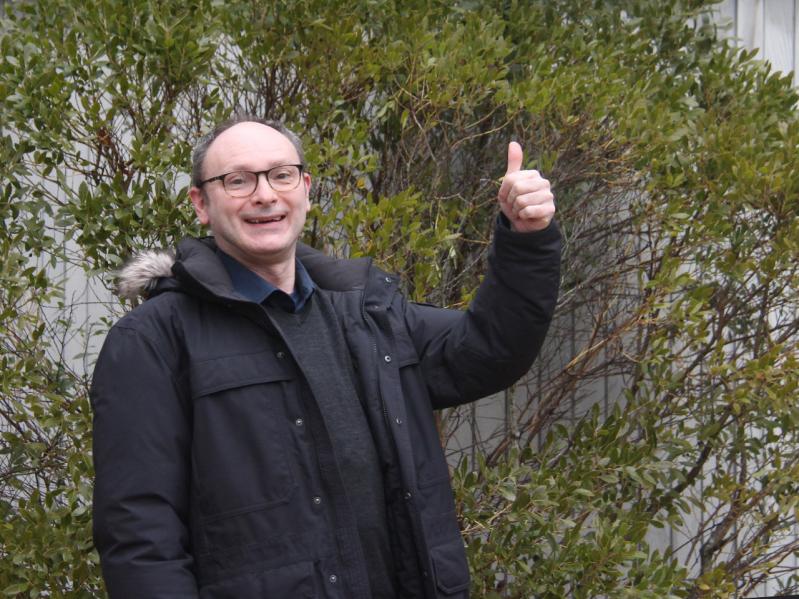 ---
The Patient Experience
Last March, right around the time when Suffolk County said its first confirmed Covid-19 patient was a man in his 40s who worked at the Greenport Brewing Company, Sean Carmichael of Amagansett also found himself in the hospital. He had been admitted to Stony Brook Southampton's new Covid-19 wing, and by the time he left, nine days later, the wing was half full.
"Physically, it was like an upper respiratory infection, but a lot worse," said Mr. Carmichael, 52, who works at the Ross School. "I was coughing all the time -- coughing up lots of horrible phlegm. I'd gone into pneumonia as well. I stayed on oxygen and had fevers and sweats and chills, so that was horrible." He couldn't speak much, he said. Sometimes the nurses had him make his own temperature checks so they didn't have to enter the room. Personal protective equipment was a hot commodity, of course, and there was none to spare.
Strangely, Mr. Carmichael said, the experience was somewhat restful. He had downloaded a few books onto his Kindle. "I didn't mind the isolation, really. I know some people get really freaked out. But give me a good book and I'm happy."
Underneath the Covid thundercloud was a silver lining. Mr. Carmichael was diagnosed with asthma long ago, and suddenly, after years of using inhalers, he was told it wasn't so. He's now being evaluated for the actual cause of his breathing difficulties. "I've possibly come out slightly better than when I came in," he said, "because of the attention I had from the doctors. But that isn't typical."
Steve Rosen and Celia Paul, who are 86 and 76, respectively, are also survivors of Covid, with two very different outcomes. Ms. Paul has since developed atrial fibrillation, takes two medications, and is often tired. Mr. Rosen, on the other hand, is "energized by having recovered." He's become very productive and has even written a book.
Covid has "increased our faith. We're very grateful that we survived," the couple, who live in East Hampton and Manhattan, said. "We try to participate in helping others — social action through our synagogue, Temple Adas Israel in Sag Harbor."
In some ways, are we not all patients of the pandemic? Isolation, loss, grief, sadness, and uncertainty took their collective toll on the mental health of many.
"Retrospectively, social scientists are going to say, 'Wow, look how much cultural change there was around how people dealt with grief.' What surged was the need for counseling for prolonged, complicated grief," said Dorothy Raniolo, a social worker who oversees Stony Brook Southampton's palliative care groups. "We're not only grieving losses in human life, we're grieving losses in social contacts. We're grieving the rituals, we're grieving hugs from people. We have lost our societal mechanism for coping with grief in the normal way."
[See how Covid unfolded in an East End timeline]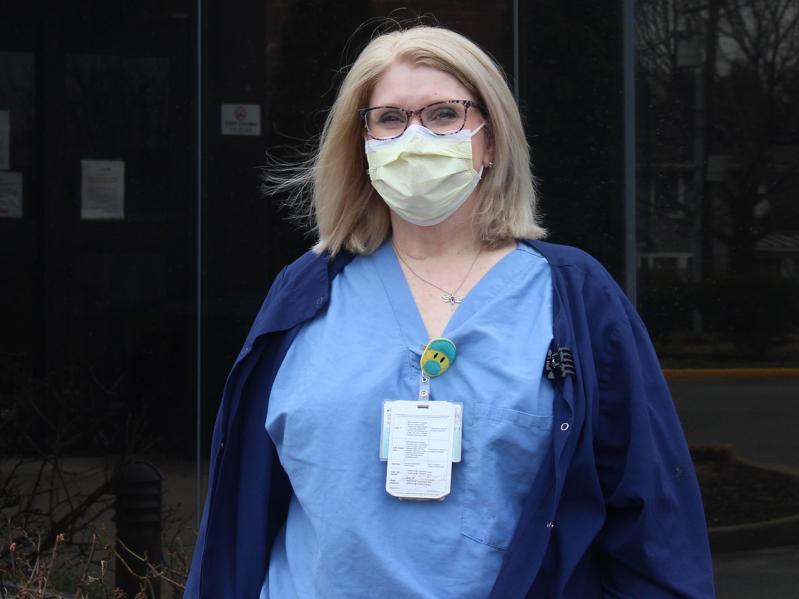 ---
The Health Care Experience
For health care workers, their profession was always demanding but highly rewarding. Valerie O'Neill, a 32-year veteran of the nursing field who works at Stony Brook Southampton, called it "the art of care."
"I always look at it as one day I might be a patient, so I want someone who is generally going to be happy about being in the profession," she said. "We have to earn a living, but nursing is beyond that. It's more than just going to a job. You put your heart and soul and physical body into the day."
Ms. O'Neill works primarily as a labor and delivery nurse but has frequently worked shifts in the hospital's Covid wing. Nothing, she said, could have prepared her for the extra work, worry, and stress that nursing entailed at the height of the pandemic. Ms. O'Neill found herself praying for the strength "to be the nurse that these patients need."
"You see that despair and you say, 'When is it going to get better? How much longer can I do this?' You learn to live in the day and accept what's going to be . . . and when someone is Covid-positive I treat them with dignity and respect, because it's not their fault."
Ms. O'Neill is a delegate to the nurses' union, which has been lobbying for several months for crisis pay.
Dr. George Dempsey, whose East Hampton Family Medicine practice is a hub for many health concerns, said the onset of telemedicine was a welcome change in the way care is delivered. However, there's a dangerous flip side: Technology companies are "stealing primary care from the brick-and-mortar operations. In general, primary care offices that are small practices are suffering and are going to the wayside."
People are postponing their regular medical appointments for fear of Covid, Dr. Dempsey explained. Their health needs haven't changed, he said, but they are no longer seeking appropriate attention.
"What's frustrating is, people are fearful of going into the hospital, which is one of the safest places to go because they are very well prepared to prevent infection. But they're going shopping in stores. . . . It's such a shame that people have a fear or distrust of health care environments, as if that's where the disease is. I think that's been a major myth — an obstacle that really shouldn't have been there."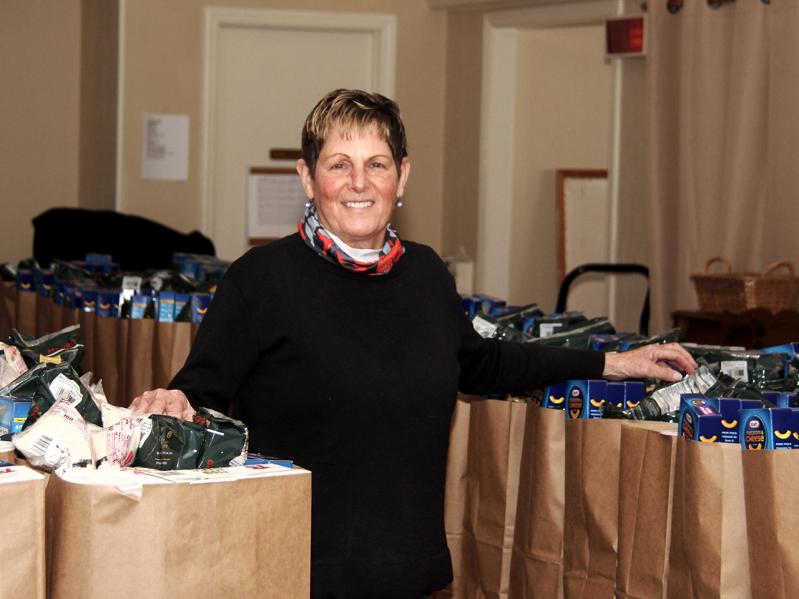 ---
Hunger and Homelessness
People here were in need of help even before the pandemic.
In February 2020, for example, the Springs Food Pantry was distributing bags of food to 990 people each week. The number needing help has grown astronomically since then, thanks largely to job losses, housing struggles, and health care emergencies. By the end of 2020, the Springs pantry was helping more than 3,600 people each week, and other local pantries were reporting similar numbers.
Groups and institutions like All for the East End, Organizacion Latino-Americana of Eastern Long Island, the Children's Museum of the East End, Hamptons Community Outreach, the Bridgehampton Child Care and Recreational Center, and the Eleanor Whitmore Early Childhood Center have all stepped in to help, establishing their own food pantries and/or fund-raising to support existing services.
Holly Reichart-Wheaton, chairwoman of the Springs Food Pantry, anticipates that when more people are vaccinated, jobs will return, including the seasonal work that sustains many people here, and there will be less demand for food assistance. "I'm hoping by midsummer we'll start to see a difference," she said.
She saw one big positive in the pandemic: It brought out the best in so many people. "That's what I love about Springs. I was born and raised here — everybody helps everybody else. The people who have stepped to the plate have been amazing."
On the horizon, experts predict, is a related effect on housing. Gov. Andrew M. Cuomo signed multiple executive orders last year prohibiting residential evictions and establishing a rent assistance program. In many cases, however, tenants are still responsible for rent payments they may have missed over the months, albeit with the ability to pay long term. Even as local people experience a housing squeeze, landlords can rent at higher prices to those with means coming here from away. It amounts to a crisis.
"In some cases, the pandemic moratoriums are only postponing the inevitable," Tom Ruhle, East Hampton's director of housing, told The Star this week.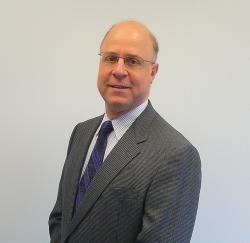 When Business Stopped
Covid has not been kind to a region that relies heavily on hospitality to make ends meet.
"At the height of the pandemic, which in New York put you in the months of March, April, and May, we had no business at all. None," said Nathiel Egosi, the owner of the Sag Harbor Inn. "Hotels are designated as essential businesses . . . the idea being that people who had Covid needed a place to be away from their families. We stayed open."
For the guests who did come later in 2020, the pandemic presented a different challenge. No international travel meant no seasonal employees, meaning existing staff were under significant strain. "The management was performing housekeeping tasks," Mr. Egosi said. Before Covid hit, he said, hotel occupancy was erratic, "but at least in season it was predictable. Overlay that with the coronavirus, the spiking that occurred over the holiday period, and the continuing fear that it could spike up again, it's completely unpredictable."
It forced adaptation. For Mr. Egosi's hotel, it meant no more room service, a revised cancellation policy, and room cleaning upon request instead of dependable daily freshening.
Large numbers of restaurants, still limited to 50-percent capacity, have yet to recoup the losses from 2020. Entertainment venues went dark for most of the year, and only recently have sports arenas, movie theaters, and family amusement centers been allowed to reopen, with restrictions.
"We're far from recovered as an industry," said Mark Smith, a managing partner of the Honest Man Restaurant Group. Right now, his restaurants do 60 percent of their business as takeout, whereas before the pandemic, takeout accounted for 5 percent of customer traffic.
Over the last couple of weeks, though, things are looking up. Mr. Egosi reported wedding parties and other groups are starting to book rooms again, and Mr. Smith said there were long waiting lists for tables.
"It's a sign that people are feeling a little more comfortable, or wanted or needed to get out. It's probably a combination of all of it," Mr. Smith said.
The Education Experience
Teaching children was so much easier before Covid. "We took for granted the value of in-person learning," said Adam Fine, the East Hampton School District's assistant superintendent. "I'm speaking as an educator and a parent. There was a level of ease that we got used to in educating kids in person."
Research overwhelmingly shows that attending school in person is vastly more consequential than an all-remote setting. Many students have fallen behind academically and are struggling socially and emotionally, school officials nationwide agree.
"Kids just have to connect again. They have to connect in ways that we're not even in control of — when they form connections in the lunchroom and a whole new world opens to them," said East Hampton District Superintendent Richard Burns.
Mr. Fine said it hasn't been all negative. "There is a small percentage of kids," he said, "who have thrived in this environment," and "new technologies that have helped us grow as educators."
Vaccines, Variants, Hope, History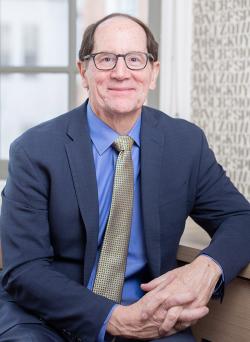 Everyone interviewed for this article agreed that the Covid-19 vaccines represent hope. But Dr. Lucey, the epidemiologist, stressed until there is widespread vaccination, people must still do their part by wearing masks, socially distancing, and following public health rules. Regarding asymptomatic spread, he said that "people tend to think if a person is not sick, then they are not contagious. It is true for some diseases, like Ebola and SARS in 2003, but it's not true with this disease." Vigilance, he said, is vital as the virus mutates into new forms and presents different challenges.
"I'm thinking about vaccines versus variants, but we wouldn't be here in the situation that we're in, with almost 515,000 deaths, if we did something much different 12 months ago," Dr. Lucey said. "I wake up every day and say, 'What's next?' . . . How long will Covid continue because of the variants? I want to be optimistic, but I also want to be realistic."
"The way the United States government prepares, truly prepares, and then responds — I hope that it will be burned into our consciousness, into our minds, so it's not just a memory in the past," he said. "No lessons are learned unless they are proven by actions taken. What all of us do, each and every day and night, has some impact, on some level, with winning the race of time."