Update, July 27, 7:30 p.m.: The New York State Department of Health has opened an investigation into a drive-in Chainsmokers' concert in Bridgeghampton on Saturday night, sending a letter on Monday about it to Southampton Town Supervisor Jay Schneiderman — whose own band was the opening musical act on Saturday.
"I am greatly disturbed by reports concerning the 'drive-in' concert held in your town this past weekend, which apparently involved thousands of people in close proximity, out of their vehicles, a VIP area where there was no pretense of a vehicle, and generally not adhering to social distancing guidance," Dr. Howard Zucker, the health commissioner, said in the letter. "I am at a loss as to how the Town of Southampton could have issued a permit for such an event, how they believed it was legal and not an obvious public health threat."
Mr. Schneiderman said the town will be citing the event organizers with a violation of the permit they had received, which outlined the drive-in guidelines. It had been reviewed by the town clerk, code enforcement, and the Police Department, he said, and did not include a "V.I.P." area.
"As proposed to us, it met the guidelines. However, the organizers didn't strictly adhere to it," he said late Monday. "It's unfortunate, because we're trying to raise money for charity and trying to find ways for people to come together safely."
Mr. Schneiderman's band was the opening act, "but there was no V.I.P. area. It was just cars."
A spokesman for the event organizers, In the Know Experiences and Invisible Noise, said in a statement late Monday afternoon that they "followed the guidelines created by the Centers for Disease Control and Prevention and made best efforts to ensure New York's social distancing guidelines were properly maintained throughout the event. We collaborated with all state and local health officials to keep everyone safe, create awareness for local businesses, provide work to over 350 people who have been unemployed as a result of the pandemic, and to bring some joy into people's lives during these difficult times." 
People were asked to disclose past positive Covid-19 diagnoses and any previous contact with anyone who tested positive for Covid-19, according to the statement. Guests were asked to self-monitor their temperatures for two weeks to be sure their body temperatures were below 99.5 degrees Fahrenheit. He said announcements and reminders were made every 30 minutes from the main stage to maintain order.
"Guests were also instructed that they would not be allowed to leave their designated spots for any reason other than to use the restroom facilities. . . . The event organizers followed all proper and current protocol, including spacing each spot more than six feet apart, positioning sanitizing stations throughout the open grounds, temperature checks for all attendees, sanitization of restrooms every 10 minutes, local security enforcing guests to wear their masks both in and out of their designated areas, contact tracing, clearly marked parking zones, as well as providing complimentary face masks upon arrival."
Dr. Zucker's letter to Southampton Town commands a response within 24 hours, and Mr. Schneiderman said it will be provided.
Also later in the day Monday, Ms. Wolf called to say that she did see many people wearing masks and complying with the event's requirements, and that Nova's Ark cares about the safety and wellbeing of all of its visitors.
Original, July 27, 1:42 p.m.: Concerts have largely gone silent amid the Covid-19 pandemic, but one in particular, on Saturday night at Nova's Ark in Bridgehampton, drew a huge outdoor crowd and lots of blowback on social media.
Numerous social media posts have shown a huge crowd that showed up for the Chainsmokers, the D.J. duo known for catchy pop-electronica anthems and collaborations with other top artists including Halsey, Daya, Coldplay, and ROZES. Lively lighting and smoke effects can be seen in at least three online videos, with people doing the cellphone-light thing with their hands in the air.
"What kind of business model is killing all your supporters?" wondered one Twitter user, @Missy71306213. "The chainsmokers paving the way for 3,000 new hospitalizations. This is straight up irresponsible," said another user, @jakesonaplane.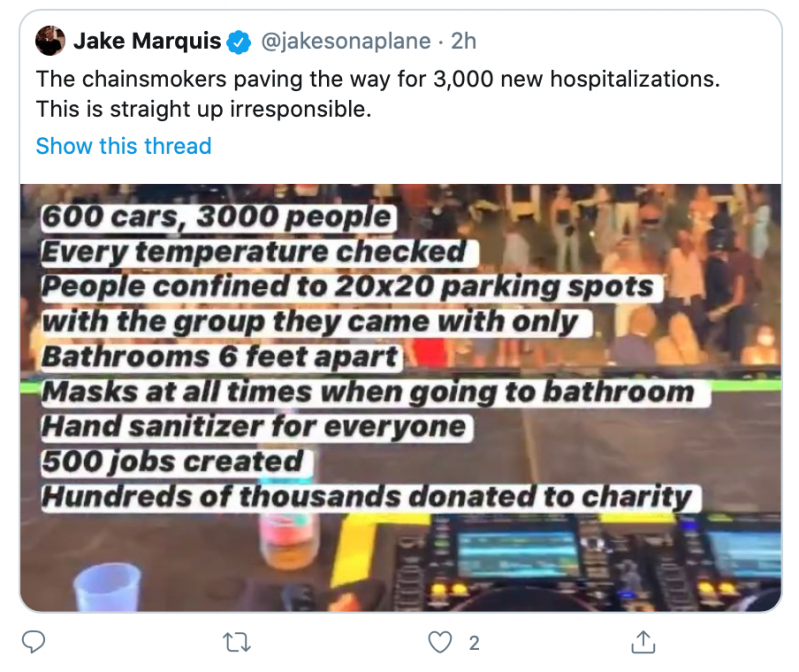 TMZ reported that there were temperature checks before people were admitted to the concert, and free hand sanitizer and face masks were given out. Videos from the event do show at least a few people wearing masks. "Even with all the precautions, it still looked a little dicey," TMZ said in a Sunday morning article, in which a video from the event can be seen.
Another video can be seen on Twitter via @iraonsports.
TMZ is reporting that tickets for the "super swanky event" went for as much as $25,000. By day, photos emerged of people packing the beaches elsewhere on the South Fork, and by night, hundreds more were rocking out on the expansive Bridgehampton property, home to the well-known Nova's Ark sculpture series by the late artist Mihai Popa, who was commonly known as Nova.
"The production team was amazing," Tundra Wolf, who owns the 95-acre Nova's Ark property, said by phone on Monday. "They set up in record time and there was no damage to the property, which was our main concern."
Ms. Wolf surmised that "people were grateful to have a little fresh air and to be in the outdoors." Nova's Ark, she said, is "a territory of spirit." The grounds are closed to the public in light of Covid-19, but Nova's Ark has hosted some private events, are boarding horses for people, and recently established a 10-acre wildlife preserve there. "We have to change with the times," Ms. Wolf said. Proceeds of the concert were to benefit the Southampton Fresh Air Home, No Kid Hungry, and the Children's Medical Fund of New York.
The Chainsmokers' management could not immediately be reached for comment Monday.
The name of the event company's spokesman was originally included in this article by error, and has since been removed.