The Covid-19 pandemic has flooded post offices and shipping stores with packages, mail, and new customers, leading to difficult working conditions for employees and long lines for customers.
A United States Postal Service spokesman said this week that the East End has had the largest increase in mail volume -- more than 100 percent, year over year -- of any region on Long Island.
New box holders have arrived in droves and, unable to shop in most stores for months, many are ordering packages at a rate never before seen. People are leaving postal service counters with armloads of boxes and thick handfuls of mail.
"We appreciate the patience of our customers as we have experienced the seasonal arrival of many temporary residents much earlier than usual due to Covid issues," Xavier C. Hernandez, the regional U.S.P.S. spokesman, said in an email. 
"While we aim to serve you with the utmost professionalism, we know a trip to the post office is a different experience in current conditions. In addition to package pickups that are typical to the season experience, a dramatic spike in ordering online has seen a surge in package volumes as well. That, along with the mandatory social distancing that we respect at our facilities, means there will be some time spent waiting for your items in many locations. Our personnel [are] doing their utmost to expedite your time at the local office, as each postal customer is afforded the time it takes to complete their transactions and pickups."
His statement came alongside news that 253 postal employees on Long Island, about 3.6 percent of the approximately 7,000 employees in the region, have contracted Covid-19; 30 postal employees across New York State have died of Covid-19. Those figures were provided to The Star this week by Michelle Nadeau, the executive vice president of the Long Island Area Local American Postal Workers Union, who has worked for the Postal Service for 23 years and has represented her colleagues, not including letter carriers, for 18.
"Postal workers are working extremely diligently and, in my strong opinion, resiliently, through this entire pandemic," Ms. Nadeau said on Tuesday. "We have worked 12-plus-hour workdays throughout Long Island, not just East Hampton, with some employees working seven days a week for 30-plus days straight."
Post office staff members are being compensated for overtime but are not receiving hazard pay, she said. "We're working on that right now."
Plexiglas barriers have been erected at post offices across Long Island. "Our local union's very diligent efforts to work with the Long Island District manager and his staff ensured that all employees were provided with proper personal protective equipment, hand sanitizer, etc.," Ms. Nadeau said. "We worked very hard collectively on that. The pandemic came very quickly, obviously, to everyone, and we made great efforts to obtain various resources to provide the employees with a safe working environment."
As for long lines and abrupt changes to window hours at many post offices, including at the East Hampton and Amagansett branches, expanded medical and family leave options at the federal level have led to staffing changes. Temporary clerk-assistants were hired, Ms. Nadeau said.
"I truly think that the credit should go to the employees," she said. "These are employees who have showed up for work every day, working extremely hard."
The massive mail and package issues have also impacted FedEx and UPS stores and services. FedEx declined an interview, but issued a statement in response to an inquiry: "We've seen an increase in e-commerce orders and shipments — and we expect this to continue. Each of our operating companies [has] developed business continuity plans to ensure we are optimizing our services to best support this increased demand, while also keeping team member and customer health and safety our number-one priority."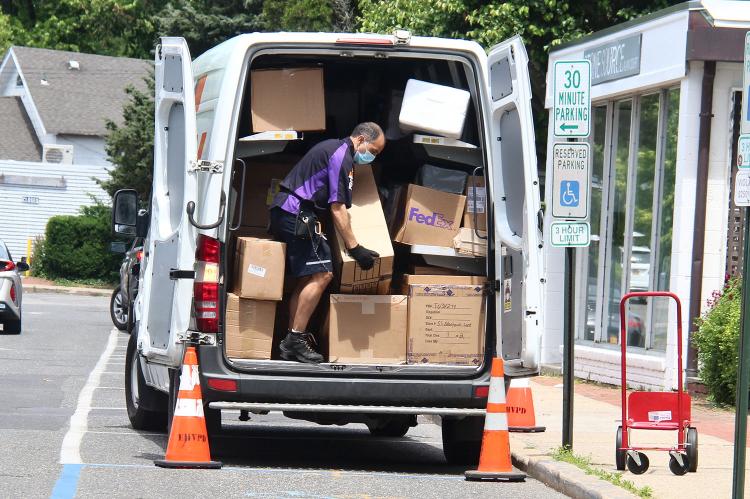 Chet Borgida, who has owned the East Hampton Village UPS store for the last eight years with his wife, Susan, said the store receives about 200 packages per day for its customers, and doubled or tripled demand for other services. Long lines persist there, too — usually outdoors, sometimes in the rain.
"People ran out to their weekend homes and country homes as soon as this virus exploded in the city. That was early March," Mr. Borgida said this week. "We've really had to scramble to continue to provide this high level of service. Shipping, printing, copying, mailboxes — it's tremendous."
He has had little turnover and actually hired new staff members, including one previously employed at a gallery that had to close.
Notary services resumed after a temporary halt, and are appointment-only now, but since banks are generally not performing the service, Mr. Borgida said his notaries are extremely busy. The UPS store has discontinued public use of its computer stations because of possible virus transmission. And returns to Amazon have also skyrocketed, with a new business model: Instead of returning individual packages, the store now collects smaller returns in large bags and sends them off as a group.
"Getting all of these incoming boxes, we continually call our customers to please have them come and take them," he said. "You can imagine what 200 boxes looks like. We have to get them out of the store quickly, and everyone of course wants to get their stuff."
The pandemic "caught everybody off guard," Mr. Borgida said.
"Now we get everything through UPS, whatever we need comes the next day, but remember, getting a mask was really, really hard" at first, he said. "Our staff made masks, and one of our good customers came in and noticed that we had handmade masks. He inquired about it. We said, 'We're expecting an order to come in from UPS in the next couple of days.' He went home and brought some to us. He wouldn't accept payment or anything — that was a pretty nice thing."