The New York State Department of Environmental Conservation is asking residents to be on the lookout for infestations of Asian longhorned beetles, a 1.5-inch-long, black-and-white invasive insect that has reached central Long Island.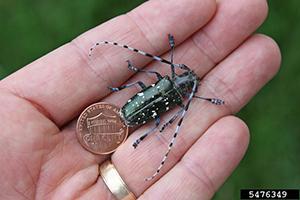 ---
With antennae that can be twice as long as their bodies, these beetles are known to feed on hardwoods. They prey on a variety of trees, including ash, birch, elm, horse chestnut/buckeye, golden raintree, London plantree/sycamore, katsura, mimosa, maple, mountain ash, poplar, and willow, as listed by the state's Animal and Plant Health Inspection Service. According to the D.E.C., once the bugs infect a tree, the tree will die in approximately seven to nine years.
The state DEC is encouraging those who own pools to check their pool filters and skimmers for the beetles. "Swimming pool monitoring is a simple, economical approach to surveying for these pests, and gives New Yorkers the chance to take an active role in protecting their communities," Basil Seggos, the D.E.C. commissioner, said in a statement.
Since the beetle's main target is maple trees, the infestations could have disastrous impacts on the maple syrup industry. Maple wood is often used for furniture as well, and when the larvae hatch in the tree, it renders the wood useless. Once a tree is compromised, any hard wind, rain, or snow can cause it to fall, and removing trees from parks, towns, and residential properties can be incredibly expensive.
Those who own pools are encouraged to check their pool filters and skimmers for the beetles and take photos. Reports can be made by email to [email protected] or the Asian long-horned beetle tip line at 866-702-9938.