The East Hampton Village Board has created a new aesthetics committee made up of designers, architects, and "tastemakers," who will advise it on projects and initiatives. On Friday, it got its first task: deciding whether the village could accept an offer from a homeowner whose house overlooks a preserved property adjacent to a Main Beach parking lot.
Dave Kuhl of Lockwood Lane spoke to the board about planting a row of red cedars on village-owned land to help block his view of the lot. Mr. Kuhl purchased his house in 2017 for just under $5 million. At the time, there was a house on the one-acre parcel next door at 81 Ocean Avenue. The house was demolished in 2019 after East Hampton Town reached an agreement to buy the parcel with community preservation fund money. Earlier this year, as part of an effort to restore the wetland buffer and create a meadow on the parcel, most of the nonnative vegetation previously blocking Mr. Kuhl's view of the parking lot was cut down.
He met with Mayor Jerry Larsen and Marcos Baladron, the village administrator, who suggested a row of trees on the property, which the village now manages. "All he's looking at are cars," said Mayor Larsen. "It's kind of a terrible view."
With the addition of the trees, "from his balconies and windows he wouldn't see as much of the parking lot," said Mayor Larsen.
"It would help a lot," said Mr. Kuhl. "I would maintain and irrigate them," he said. Mr. Baladron said over email that Mr. Kuhl would also pay for the trees.
Not discussed, however, was whether Mr. Kuhl would be able to install an irrigation system on public land, feet away from Hook Pond, while the trees become established. And while the row of trees would block Mr. Kuhl's view of the parking lot, the trees may also serve to make the town's preserved property less accessible to the public if it, and the western corner of the pond, appear to be an extension of his land.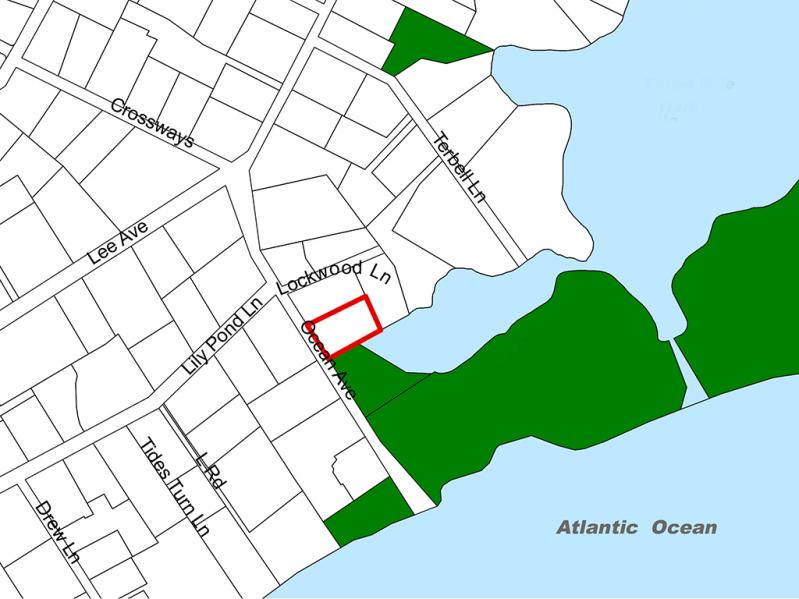 ---
Sarah Amaden, a village trustee who co-chairs the new aesthetics committee with another trustee, Carrie Doyle, wondered at the meeting if planting trees might benefit Mr. Kuhl to the detriment of the rest of the public.
"It's a nice view of the pond for other people," Ms. Amaden said.
Mr. Kuhl said he "didn't realize" you could see the pond when driving, or walking, down Ocean Avenue toward Main Beach.
Chris Minardi, the deputy mayor, agreed with Ms. Amaden. "That's a really nice view from the street," he said.
"I get that you're looking out for the best interests of everybody," said Mr. Kuhl, "but from my perspective that's a huge part of it for me."
"I'd like to get down there and make sure it's not going to blockade the pond," said Ms. Amaden. "Did you talk to L.V.I.S. about the type of trees?"
The board agreed to have the aesthetics committee visit the site to consider the number and spacing of trees.
The aesthetics committee will differ from the village's design review board in that it will focus solely on village-owned property, and the items placed on that property.
"We want to use the expertise that exists within our village to ensure that it remains beautiful and classic, and that any future design and aesthetics decisions are done with thought and precision, as well as in keeping with the historic ethos of East Hampton," Ms. Doyle said over the phone after the meeting.
Nine members were appointed on Friday to serve on the committee.
The committee members — Erica Broberg, Dwyer Derrig, Michael Derrig, Stephen Drucker, Larry Kane, Lisa Larsen, Frank Newbold, Mary Margaret Trousdale, and Nathan Wold — "won't have voting power, but we'll be seeking their input in their areas of expertise," Ms. Amaden said.
Ms. Broberg is an architect with offices in East Hampton and Fair Haven, N.J. Mr. Newbold, a former chairman of the village's zoning board of appeals, is an associate broker and adviser with Sotheby's International Realty in East Hampton and serves on the board of the East Hampton Historical Society. Mr. Drucker has been an editor at House Beautiful, Town and Country, Martha Stewart Living, and Travel and Leisure and a contributing writer for Architectural Digest. Ms. Larsen, the mayor's wife, is an associate broker with Corcoran. Mr. Wold is a decorator. Mr. Kane is a high-end home builder with an office on Race Lane. Ms. Trousdale is a senior vice president and global creative and strategic director for Ralph Lauren, with a home on La Forest Lane. Dwyer Derrig, a real estate agent and interior designer, and her husband, Michael Derrig, a landscape architect and builder, have a house on Wireless Road.
"We'll be compiling a list of what the village orders and make sure going forward that it's being vetted by our committee," Ms. Doyle said. "A lot of our design decisions, like the new bathrooms or the garbage pails, were made by engineers UpIsland. Meanwhile, we have top designers and architects who live in the village."
"We want a cohesive look in the village," said Ms. Doyle. "For example, right now we have four different types of lampposts."
"We won't be undoing things that have been done previously," said Ms. Amaden. "We'll be weighing in on decisions going forward." Rather than meeting on a set schedule, the committee will convene "as things come up," she said.
About the bull? "It's possible we'll have a say on village artwork," said Ms. Doyle. "But I think Guild Hall should weigh in on that too."
---