Bay Street Theater's plans for a new theater complex in Sag Harbor may be too ambitious for the good of the village, Mayor Kathleen Mulcahy said in an interview on Monday. 
The theater announced in October that it would build a new, permanent home at the site of the West Water Street Shops building adjacent to Steinbeck Park, and that the nonprofit Friends of Bay Street had been formed to acquire the land, design and develop the property, and finance the project. 
In the ensuing months, Adam Potter, the founder of Friends of Bay Street, has sought to make other real estate deals that would help pave the way for the new theater while keeping in mind the needs of the village, he said in an interview on Friday. Mr. Potter, a retired entrepreneur, splits his time between East Hampton and Connecticut.
Because the complex would displace existing businesses in the West Water Street Shops building including the popular 7-Eleven store, he purchased 11 Bridge Street, commonly known as the Dodds and Eder building, which he has proposed as a site for a new convenience store -- albeit one that would be not be open 24 hours -- as well as other shops. "I'm trying to do what the village wants," he said. "If you look on social media, everybody's yelling that they're going to lose their convenience store, so I'm trying to help."
He has been negotiating for a lease on a nearby property owned by National Grid and used as a municipal parking lot. According to village code, the complex, which would contain a 299-seat main stage, would require nearly 100 off-street parking places. Mr. Potter said the theater would allow the property to be used as a public parking lot.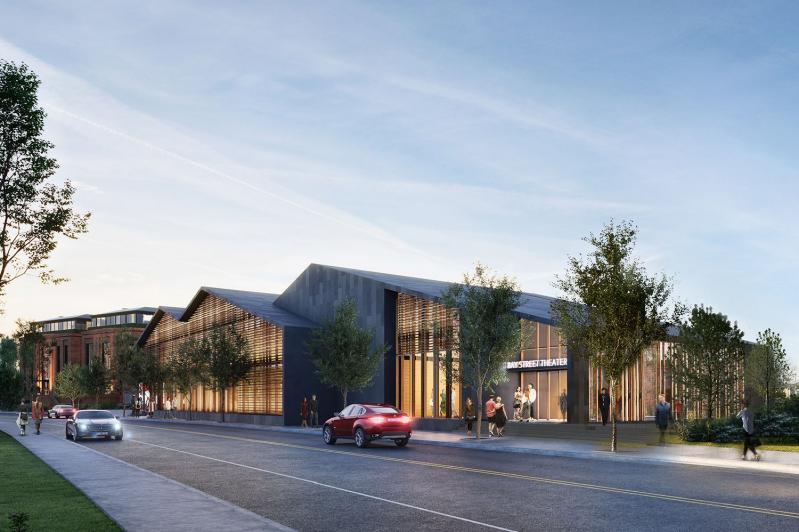 The theater provided a first look at architectural renderings of the new complex in a video presentation on Zoom on April 6, and an accompanying press release said that, in addition to the main stage, the complex would contain smaller, more adaptable spaces for productions, a center for developing new works, a dedicated area to hold year-round educational programs for children and adults, and a retail store. Mr. Potter also announced that Friends of Bay Street is seeking to purchase and tear down 2 Main Street, an adjacent building that contains the K-Pasa restaurant and the Espresso da Asporto and the Yummylicious food shops. The theater would not use any part of the property, he said, "our intention is to remove the building, expand the park, and create unbelievable views down Main Street." 
The deal has not been finalized, he said on Friday. "I'm not allowed to talk about it yet. Give me one more week and I can talk about it."
Mayor Mulcahy attended the Zoom presentation. The designs presented by Bay Street are "attractive but awfully large," she said in an interview on Monday. The inclusion of more than one theater in the complex is troublesome, she said, because having two productions staged simultaneously would create crowding and traffic problems for the village. She pointed out that the theater is also seeking to have a restaurant in the complex. "It keeps on growing," she said, referring to both the plans for the new theater and Bay Street's vision for that corner of the village. "We want to keep Bay Street in Sag Harbor, but we don't want to be a local theater surrounded by a village."
She is skeptical of Friends of Bay Street's offer to allow the village to use the 2 Main Street property as an extension of Steinbeck Park, she said. "It would be a lovely addition, but what do they want in return?"
If the theater obtains the lease to the National Grid property, the village would seek to have it allow public parking there during the day even when the theater is operating, and guarantee that no structures would be built there, she said.
Since it's an election year and Ms. Mulcahy will be seeking a second term, she has been out getting a nominating petition signed and talking to residents, she said. After seeing Bay Street's plans for the area, several residents have asked, " 'You're not going to let that happen are you?' " she said. 
People are particularly upset about the potential loss of the 7-Eleven, and would not be satisfied with a more high-end convenience store as a replacement. "7-Eleven brings a $2 cup of coffee, and a 99-cent hot dog," Ms. Mulcahy said. "We need Slurpees, we don't need a Citarella." The village has been developing a new zoning code for its waterfront area, and at a meeting on Friday, the village board decided that a convenience store should not be permitted in the section of the waterfront in which the Dodd and Eder building sits. 
 Mr. Potter was frustrated by the decision. "I didn't have to tell them that I was planning to move a convenience store into the Dodds and Eder building," he said. "I tell them that, and now they're zoning me out of it." 
"The waterfront code has not been finalized," Ms. Mulcahy noted. "He still has time to present a convincing case to allow a convenience store in the district." 
"I want to work with Bay Street, we want them to succeed, we understand the value of Bay Street, but I have to protect the interest of the village first and foremost," she said. "I don't want to be the mayor who loses Bay Street, but I don't want to be the mayor who loses 7-Eleven either."