Since 2017, when they opened S&S Corner Shop in Springs, Chris and Lindsay Grodzki have been serving coffee and pastries and offering specialty grocery items to an ultra-local, loyal crowd in a historically significant Fort Pond Boulevard building, once the house and studio of Dane Dixon, an artist and assistant to Willem de Kooning. The Grodzkis also maintain a backroom shop of interesting housewares, most of them handmade, plus books, decor, and a small selection of clothing.
Customers can expect a tasty cup of Brooklyn-roasted Variety coffee, served either brewed or pour-over style, plus espresso, cappuccinos, and lattes topped with the kind of feel-good, foamy art one can't find in a place where baristas churn out a hundred or more drinks an hour.
"If you pour enough lattes, you want to start having fun with it," Mr. Grodzki said after his wife topped a whole-milk latte with an elegant, frond-like leaf. "It shows that you are serving it intentionally."
Intention and service are at the core of the couple's business. During the height of the pandemic, they pivoted to food staples to keep the shop afloat and help the community. "We put in a bunch of fridges and freezers and pivoted to grocery delivery," Mr. Grodzki said. "We were deemed essential because it involved food. Overnight, we switched our website from home goods to every single food item" they stocked.
Customers can still get eggs, milk, and bread -- plus artisanal or unusual snacks, condiments, vinegars and oils, hot sauce, and more.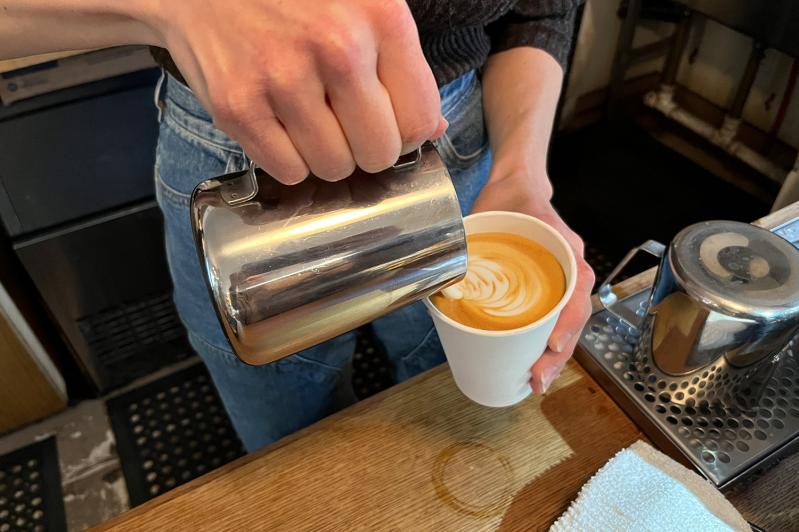 But first, coffee.
"We drink a lot of coffee," Mr. Grodzki said. "That's one reason why we opened."
"There was nowhere to get coffee and bread without going all the way into town," his wife explained. "It was something we were dabbling in, and then it kept growing."
"We get a lot of 'I live down the block but have never been here before.' That kind of discovery is nice," said Mr. Grodzki.
The couple made headlines in May 2022 when Ms. Grodzki gave birth to their second son, Rhodes, in the bathtub at their house. They certainly felt the come-together love of small-town Springs, which is what they were seeking when they moved here from New York City 10 years ago.
"It's fun. All of it is fun, and we've met some really incredible people," Mr. Grodzki said. "When Rhodes was born, some of the first responders were our customers."
"We definitely have a core group of regulars, and we're so grateful because it allows us to stay open year-round," said Ms. Grodzki.
The store is open seven days a week in the busy season and closes on Tuesdays in the winter. (It's actually closed for a short break this week, reopening on Wednesday.) Among the Grodzkis' non-edible offerings are leather or woven pouches and bags, which they make in the studio upstairs and sell in the shop and online at sandscornershop.com.
"These are the things we like," Mr. Grodzki said, "and we hope you'll like them too."