Joe Lauro of the HooDoo Loungers tells a funny story about the time he booked the New Orleans brass band the Hot 8 at his backyard barn/hangout space he dubbed "the Pleasure Lounge" on Shelter Island some years ago.
"Let's try something," he recalled thinking at the time, as Mr. Lauro, frontman and bass player with the Loungers, set out to launch a second line parade starting at the Dory and featuring the all-Black brass band known for, among other career highlights, its appearances on the HBO show "Treme." 
As the band began its second line stroll from the Dory to Mr. Lauro's nearby property, a resident took issue with the spontaneous parade and called the police. But when the cops showed up, recalled Mr. Lauro, "they didn't know what this was, they didn't know what ticket to even write," and "eventually, they just let them go."
As Fat Tuesday approaches next week, Mr. Lauro's anecdote stands as a kind of metaphor for what this year amounts to an anemic if not indifferent East End when it comes to Mardi Gras and all its culinary, cultural, and musical trappings. 
A scan of available activities reveals that Mardi Gras-related offerings in East Hampton are basically nonexistent. The last full-on East End Fat Tuesday shindig unfolded in 2019 at the Shagwong in Montauk, organized by the nonprofit Camp SoulGrow. The Louisiana native London Rosiere, who founded the nonprofit for kids, has since returned to New Orleans. 
In Sag Harbor, the Jam Session at the Masonic Temple will dedicate its regular Tuesday Jazz Night this week to "Mardi Gras Mambo and Latin Jazz" from 7 to 9 p.m. Other than that, the nearest Mardi Gras-themed event taking place this year appears to be in Riverhead: The East End Women's Network is throwing a party at the Hotel Indigo on Wednesday night.  
The HooDoo Loungers don't have any gigs locally on Fat Tuesday but will be playing at Bay Street Theater in Sag Harbor on March 4. 
"We are known as a band that plays lots of traditional New Orleans music," said Mr. Lauro, who added that Fat Tuesday "is not really a big happening culturally around here. Restaurants may use it as a theme to try something new, but I've never found, personally -- though I can't speak definitively -- that there's a hell of a lot of celebration related to music on Fat Tuesday or around Mardi Gras. We used to do parties at Bay Street Theater and other places. They were fun to do, people would dress up and have a great time. But lately, not so much." 
Mr. Lauro, who will be celebrating Fat Tuesday in Panama this year, said that while the HooDoo Loungers started out as a "product of a love for that music, we've kind of departed from that direction, though we can play a whole night of Nola music if people want it."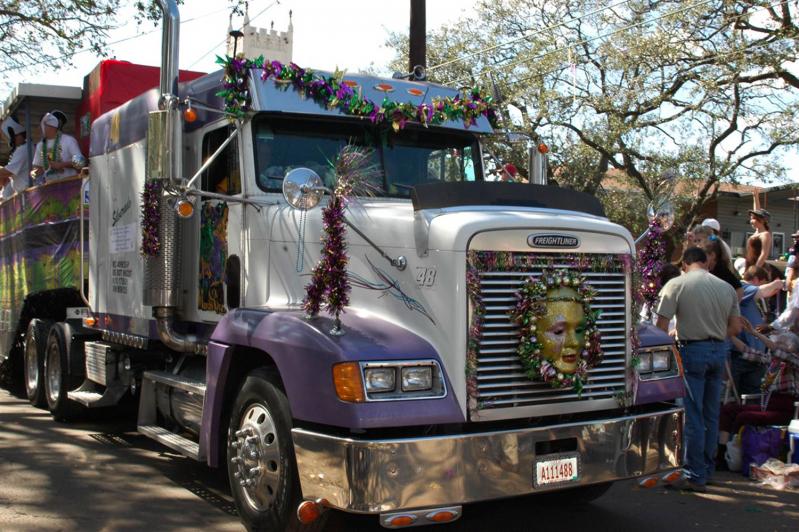 The problem and the contrast locally, said Mr. Lauro, is that while Mardi Gras is an ingrained way of life in New Orleans, fussy neighbors and restrictive permitting on the East End means that, from his perspective, "live music is illegal in Sag Harbor. Down there they absorb the Mardi Gras all year round, and it's not just people bitching about buying a house and then not wanting music around it. I'll say it again: Music is illegal in East Hampton, Southampton, and Sag Harbor. Cops will shut it down if you don't have a permit." 
The remedy to this is obvious: Celebrate Fat Tuesday with a Mardi Gras of your own. Here are some tips: 
First, tune in to WLNG. Even if live-music options are nonexistent in town, there's musical lagniappe afoot at the Sag Harbor radio station on Fat Tuesday, as the station will be channeling, in a fashion, the great New Orleans station WWOZ with a day full of programming featuring New Orleans music, the WLNG program director, Bill Evans, said via email. 
"We are going to have a big Mardi Gras celebration on WLNG!" D.J.s will celebrate Fat Tuesday with Mardi Gras music through the day and award prizes in Mardi Gras-themed pop quizzes.
Here's a pre-pop quiz question: What's the difference between a merliton, a muffuletta, and a merkin? 
Answer: The first is a bland yet revered squash that grows in Louisiana, the second is a decadent Italian-ish hero (capicola, pepperoni, ham, salami, and various cheeses) on a round loaf of sesame-seed-topped bread smeared with olive tapenade, and the third is not appropriate for a family newspaper but is a critical feature of any self-respecting Mardi Gras costume.
While local restaurants may not be taking up a Mardi Gras theme with Nola items like muffuletta, beignets, po' boys, and bananas Foster on their menus, it's pretty easy to pull together a proximate Fat Tuesday meal using local riches. 
Goldberg's variations, for example, don't include a muffuletta on the menu, per se, but who's to say the regional bagel chain won't hook you up with the elements for a custom-built sesame-seed bagel sando stuffed with those decadent Italian meats?
A fried oyster po' boy can be pulled together pretty easily via a visit to Bennett's Seafood in Montauk for the shellfish and then to the Montauk Bake Shoppe for the bread. Fry the oysters in corn meal. Be sure to slather the sandwich with some "poor man's remoulade" (mayonnaise and ketchup) and include lots of hot sauce and pickles. 
New Orleans condiments like Tony Chachere's Original Creole Seasoning and Crystal Hot Sauce are widely available outside of New Orleans, along with products from Zatarain's offered as starter kits for dishes like jambalaya or gumbo.
Pro tip: When headed to market to search out those products, tell your family that you're out "makin' the groceries," which is how they say it in New Orleans.  
For dessert, beignets do pop up occasionally on East End menus -- Almond in Bridgehampton had the fried-dough staple on its Valentine's Day menu this year -- but they're fun and easy to make at home, especially given that Cafe Du Monde's signature food offering is for sale in a powdered form at chain grocers and local specialty purveyors alike. In a pinch, grab a sack of zeppoles at your local pizza joint and call it a powdered-pastry day. 
Similarly, bananas Foster isn't too tricky to make at home, at least on paper: The iconic dessert features bananas smothered in a sauce of butter, sugar, and rum, and is typically served over vanilla ice cream. 
An alternative recipe for a homegrown Fat Tuesday of maximum decadence uses locally sourced and beloved items: Head to the Carvel in Bridgehampton for a banana barge, drown it in Sag Harbor rum, and stick it in the microwave for a few seconds. Voila: It's bananas Foster by way of Tom Carvel. As the saga of George Santos demonstrates, you've got to fake it until you make it, even if the results might leave you feeling a little nauseated.