There is a new "reality" program on Discovery Plus called "Serving the Hamptons." Believe it or not, this is a spin-off from another program called "Selling the Hamptons," based on a group of potty-mouthed youngsters who work for Nest Seekers. They seem to mostly work with developers and builders of new houses in the $35 million, 16,000-square-foot range. They use words like "billionaire" a lot.
"Serving the Hamptons" is set at the restaurant 75 Main in Southampton, which I have always thought of as an okay place serving chicken, beef, fish. According to this program, 75 Main is "the most exclusive restaurant in the Hamptons," "the in spot," and "when it comes to great food, Zach Erdem" -- the owner -- "is the undisputed king of," you guessed it, "the Hamptons." This show also has a gaggle of potty-mouthed youngsters and they, too, refer to billionaires a lot.
My qualifications for reviewing this show are twofold. One, I am a huge fan of reality shows and have ingested many. And two, I have worked in just about every capacity in a restaurant: hostess, waitress, runner, busser, line cook, dishwasher, bathroom cleaner, and pastry chef.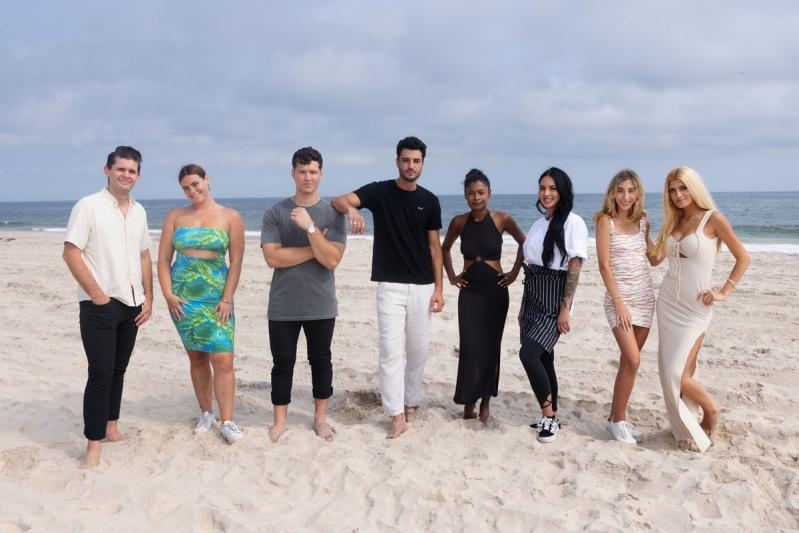 The characters on the show are Samantha (platinum blonde V.I.P. hostess), Jillian (thin V.I.P. hostess and adopted cousin of Lindsay Lohan, which she will mention about three times per episode), Hailey (local gal waitress), Victoria (African American general manager who likes to wear lingerie), Jodie (Jamaican bartender/model), Jack (waiter with a curl in his hair), Brogan (tattooed chef/girl with raven hair), Zach Erdem, Ethan (V.I.P. host/model/D.J.), and Ryan (bartender, med school student).
With the many drone shots of the fabulous mansions and beaches of Southampton, the accompanying music is thumping and pounding and dramatic -- the Shinnecock Canal has never looked so sexy from above!
In the parlance of television and movies there is something called the "B-roll." This is additional footage to provide visual interest and context to the story. This program uses gobs of B-roll footage showing sizzling platters of clams and steaks, bartenders vigorously shaking cocktails, more sexy drone shots of mega mansions, and the buzzing scene at 75 Main.
In the first episode we learn the lore of Zach Erdem's coming to America. He was a goat herder in Turkey at the age of 14. One day a goat escapes over some railroad tracks and when young Zach goes to retrieve the goat, a train whizzes by and drops a newspaper. It has a photograph of New York City and he decides to come to America. Also in this episode, Ethan tries to hook up with Brogan, Zach has his birthday party at the restaurant with his "famous" friends, Victoria steals attention away from Zach's birthday party by dressing up in a blonde wig, Agent Provocateur mesh body suit, and stripper heels. Zach barks at Victoria and barks at Jill because she doesn't take her job seriously (but she's a Lohan!). More B-roll: burgers sizzling, cocktails shaking, sexy real estate drone shots.
The potty-mouthed youngsters are thrilled with the staff housing, it is a house in Hampton Bays with a pool. Like most summer rentals it looks like a stage set for a porn movie, empty, save for a lot of couches and very little art on the walls, more like HomeGoods remainders.
The drama of this episode is the fishmonger had no tuna or salmon for Zach's birthday so Brogan has to make do with soft-shell crabs and sea bass. Also, Zach's friends don't leave a single penny for a tip.
In Episode 2 the kids go to a carnival, where Hailey tries to make out with Ryan but he puts her in the friend zone. Brogan and Zach go to a farmer's market where Zach ponders whether the bananas are local or not. The pool at the house has a unicorn float and there are plastic Solo cups everywhere. They all go to visit bartender Ryan at Blu Mar, Zach's other nightclub/resto and drink Blow Jobs. This is a real drink composed of Amaretto, Irish Cream, and whipped cream and you have to swallow it all at once. 
On occasion I am embarrassed to be an American.
How about I just skim through the next few episodes for you? Ethan hooks up with Samantha, then takes her on a date. "How about food, and, like, beach vibes?" he suggests to her. Then he D.J.s in Montauk and brings a random girl back to the house. Jealousy ensues! More B-roll: sizzling clams, appetizers of bocconcini, prosciutto, and melon are passed around, Ivana Trump is at a table outside. This shot is shown frequently, as are the bocconcini skewers.
They cater a beach party, Hailey wears a short dress, they go bowling, they go to a winery, Duckwalk, the favorite reality show location for drunken shenanigans. B-roll: sizzling clams again, street views, cocktail shaking, thumping house music. They go to North Sea Tavern and make each other kiss, the boys like girl-on-girl action. They sponsor a tequila tasting party but the lady rep doesn't like their food. Zach is cross.
In the final episode Victoria brings a friend, Charlie, to Blu Mar. Charlie suggests a four-way or a three-way with the gang "because we are in the Hamptons." Eww. They hit balls at the driving range at Poxabogue. "Golf is one of the main things we do out here in the Hamptons," says one of the boys. Brogan gets stressed out about making a spicy shrimp pasta dish for Zach's friend Larry who is "well connected, super rich" according to Zach. A toddler could make that dish.
The ending is tied up in a neat little bow. A lot of the potty-mouthed youngsters will go down to West Palm Beach for the winter, Ryan will return to med school $30,000 richer, and Jill declares she wants to "come back to 75 Main next summer a little less Lohan and a little more myself." She then gets into another fight with Samantha and shrieks, "I'm a f*&#cking Lohan!" I hope that poor child can work on herself this winter.
In the pantheon of reality shows, I'd give this one a D+. The plus is for seeing local landmarks. It's not as compelling or dramatic as the Real Housewives franchise or as action-packed as the "Below Deck" series. I'll admit I've never watched the Kardashians because they all have Valley Girl voices and have taken the bodies God gave them as a light suggestion.
I wish the best for these people and continuing success for 75 Main, but pray that the network programmers at Discovery Plus have seen the error of their ways with this tiresome, histrionic series of claptrap doodie-drivel.