There are two beautiful cookbooks out right now, one brand new, one several years old that caught my eye recently. They are both Long Island farm cookbooks. Brendan Davison, founder and farmer of Good Water Farms, published "The Microgreens Cookbook" in 2017. Nick Voulgaris III's "The Kerber's Farm Cookbook" is new and gorgeous, with wonderful photographs by Lindsay Morris.
I was unaware of "The Microgreens Cookbook" until I saw it in the lobby of Topping Rose House when I was picking up a copy of Jean-Georges Vongerichten's "JGV: A Life in 12 Recipes." Mr. Davison has been growing organic microgreens, first in Amagansett, now in Bridgehampton, since 2012, and his back story is a doozy.
Mr. Voulgaris is a Renaissance man, for sure. He is an entrepreneur, has written books on Chris-Craft boats and Hinckley Yachts, and rescued the Kerber's Farm in Huntington from destruction in 2013, or, as he puts it in the introduction: "I sold my Apple stock so I could make apple pies."
Both books were published by Rizzoli, hence they are lush and colorful and sturdy with pages so thick I thought they were stuck together. Best of all, although the binding is as strong and tight as can be, when you open either book to a recipe page, it gives a little crack at the seam and then stays open to the page/recipe you are cooking from. (This small detail will be understood and appreciated by all home cooks who frequently have to weigh down the pages of a cookbook to keep it open.)
Mr. Davison grew up in Queens and moved to California in the late 1990s. Here he learned about organic, vegetarian, and vegan lifestyles and began growing and delivering "medicinal plants to Hollywood people." I didn't fall off a turnip truck yesterday, but it took me a while to figure out what he meant. When he says at the beginning of the book that when "gangsters, guns, and all kinds of heavy things started coming down the pike" and he skedaddled out to Montauk, then I understood what he was growing, and growing very well, apparently.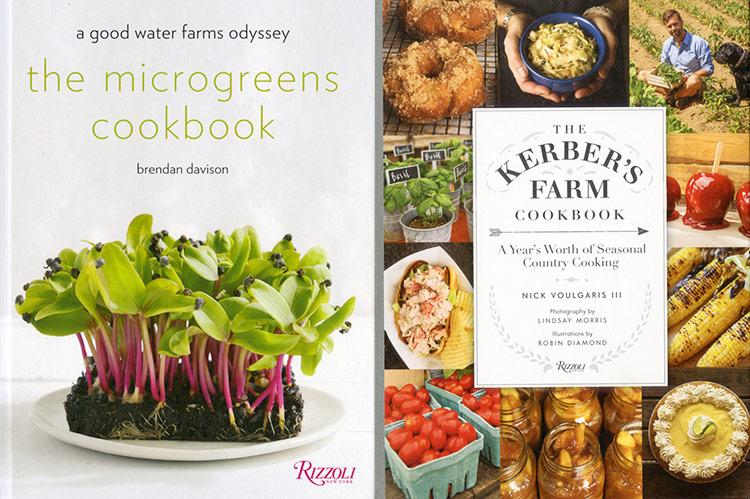 Then "in 2011, an ayahuasca journey in the Amazon jungle of Peru clarified my purpose on this earth, and upon my return to Long Island in 2012, I started growing organic microgreens." You'll have to look up ayahuasca to understand what that journey means.
Microgreens are not just a fancy, pretty garnish you find on top of your roasted black sea bass or tangled atop a ceviche at a high-end restaurant. Microgreens are the baby sprouts of the seeds of various vegetables and herbs like peas, daikon, fennel, and shiso. They can pack a tremendous nutritional punch far beyond that of the adult veggies they will never become. The book is full of excellent and concise information about each kind of microgreen that Mr. Davison grows, what you can grow at home yourself, and the flavor profiles of each. (When I am out on restaurant reviews, the first thing I like to taste is the microgreens on a dish, and it's fun to make guests guess what they are tasting; it sharpens everyone's alertness to the food and the care a chef takes when choosing flavors.)
The recipe section of the book is also excellent, and full of some familiar local names: Jason Weiner, Hamptons Aristocrat, Madeline McLean, and Julie Resnick. My only quibble with a number of the recipes is that they are quite complicated and require some fairly esoteric ingredients. Most are gluten-free, vegetarian or vegan, some are ayurvedic. The good news is at least you can find Mr. Davison's sprightly microgreens at just about any local health food store and even some I.G.A.s. Almost all of the good restaurants out here serve his microgreens atop dishes. At Provisions in Sag Harbor I found six varieties, priced at a reasonable $6.38 per box. So put down your vitamin pills, and just eat your greens, I mean, microgreens.
If Mr. Davison's microgreens cookbook is all about health and full of color, Mr. Voulgaris's book is full of warm and cozy comfort food, muffins and pies and chickens and lobster rolls and more pies. His sense of style and chicness is not fancy at all; it is simple and comfortable, like the recipes, although there is one photo at the beginning of the book — a basket of clams on the deck of his boat with nary a speck of sand or drop of seawater in sight. And he went clamming with his Labrador?! Impossible perfection!
In his book, Mr. Voulgaris recalls going to Kerber's Farm as a child with his parents. When he got his driver's license as a teenager, this nearby farmstead was the first and only destination he was allowed to drive to on his own. He remembers the sense of freedom and the familiar crunch of gravel under his tires as he drove into the farm for eggs and chickens and whatnot.
Years later, the farm was put up for sale and lay fallow for quite a while. For several years, Mr. Voulgaris would call the number on the "for sale" sign to no avail. One day he drove by and saw a commercial real estate sign, called the number, was the first person to see the farm, and he bought it.
It is now beautifully restored, fully operational, and even has a guest cottage and farmhouse available for rent for those who want to either chill out or fully immerse themselves in the farming "lifestyle."
The book is divided into seasons rather than chapters, and I do so wish there were an index, but there is not. Like, how are we supposed to know that "overnight oatmeal" is a springtime breakfast? The recipes are not particularly challenging or different but they are tantalizing and often do have a little twist. The deviled eggs have a wee bit of softened butter, that's probably a tasty and sturdy addition. There are beautiful lemon crinkle cookies and ginger molasses cookies and apple cider doughnuts that tempt you to get baking. There is Kerberry jam and Kerberry pie, a play on the farm's original owner's name, and they are a combination of blueberries, raspberries, and strawberries, along with some warm spices, citrus, and vanilla. There is mac 'n' cheese pie and a carrot-chicken soup, both sound easy and delicious.
There are beehives at Kerber's Farm, so there is a short primer on the candle-making process at the farm. Mr. Voulgaris learned how to make candles in a junior high school art class.
Both books have fascinating narratives and good anecdotes before recipes. Mr. Davison's mantra is "feed people, serve people" and he has managed to turn a good deed into a meaningful living. Mr. Voulgaris literally saved an historic farm from destruction and eventual development, restored its land and its barns, and turned it all into a charming, sustainable, and contemporary business. These books are very different from each other and both are very good for different reasons. They come from men who care about the land, your health and well-being, and the future of farming on Long Island.