Truffles are a fascinating culinary phenomenon. Like sea urchin, oysters, and other edible oddities, I often wonder who were the first humans to taste these, and when did such things become considered delicacies?
If you are a truffle aficionado, then you already know that now is the season for white truffles from Italy and black winter truffles from a variety of places, but mostly the Perigord region of France. It seems very appropriate that this distinctive and rather peculiar fungus is available during holiday season, when people are more inclined to splurge on many extravagant things like champagne, caviar, foie gras, beef filets, and -- truffles.
Among the adjectives used to describe the indescribable truffle are earth, chocolate, mud, moss, straw, toast, onion, sex, dust, butter, sweat, meat, musk, ammonia, garlic, red wine. As you can see, the descriptors cover a lot of territory and take a great deal of imagination.
Truffles are the fruiting body of a fungus that grows underground. The plant itself has an extensive web of almost invisible filaments (mycelium) that links up with the roots of certain trees and shrubs. The filaments of the truffle enable the trees to draw up more sustenance, like minerals, from the soil, and the tree gives nourishment to the truffle through synthesis of the leaves. The relationship can only be achieved if the trees and truffles are bonded together by a growth called a mycorrhizal. It is all a lot more complicated than that, but I don't want you to snooze just yet. This is just a "Truffles for Dummies" way of explaining why truffles are a rare, sought-after, and expensive food.
Pigs have traditionally been used to hunt (sniff out) truffles underground, but they don't like to share them. So, certain breeds of dogs (Lagotta Romagnolo, Springer spaniels, beagles, and other hounds) have been trained to find this "fairy apple," and they are more agreeable about turning the loot over to the human hunters.
Just like cilantro, some people react negatively to the scent of both black and white truffles. There are even some odor compounds that cannot be detected by a fairly large percentage of the population. For others, the scent is intoxicating, mysterious, indefinable. I have an extremely sensitive sense of smell and have had the opportunity to taste fresh truffles perhaps four times in my life. (Working in the restaurant business has its advantages.)
Once was in Washington, D.C., at a restaurant in the Watergate Hotel called Jean Louis. It was our first tasting menu, and we had difficulty with the lengthy waits between courses, hence getting too drunk to appreciate most of the food, especially the truffles, a.k.a the cocaine of the food world. The dining room was beige and modern, and screamed "Don't forget you are dining in an expensive hotel!"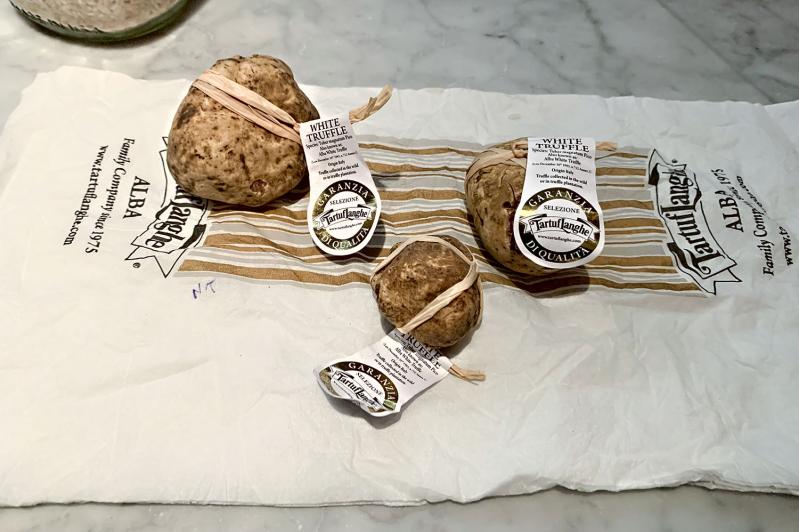 Another time a friend brought me a truffle from her travels abroad. Upon the presentation of this generous gift, I asked, "How long have you traveled with this, and how did you store it?"  
"A couple of weeks. I kept it wrapped up for you."
Sadly, this little black truffle had become a petrified little turdlet that had lost all of its organoleptic characteristics and taste. It's the thought that counts, it's the thought that counts. This is another reason they are so pricy: They are extremely perishable, losing just about all of their flavor and moisture within one to two weeks of having been dug up.
If your only experience with truffles has been through tasting or smelling truffle oils, I am sorry to tell you that in many cases you have been ingesting no more than an aromatic molecule, a synthetically produced chemical known as "synthetic 2, 4-dithiapentane," which is only one component of a truffle's flavor. The natural form of this chemical occurs in Camembert, Gruyere, and Comte cheeses, milk, and truffles. If you are buying truffle oils that are labeled "flavor," "essence," or "aroma," even these can be fake, as the federal Food and Drug Administration does not regulate or oversee such food world shenanigans. As recently as three years ago, there were class action suits against Trader Joe's, Urbani, Sabatino, and Monini for misleading labels.
Also, some truffle butters are flavored with a Marmite-like hydrated vegetable protein. Sorry to be a Debby Downer. I didn't know that most truffle oils were artificially flavored until a few years ago.
If you are so lucky as to try a fresh white or black truffle through the winter months and holiday season, be sure that your source is reliable, such as Eataly, Tartuflanghe, D'Artagnan, or, best of all, one of your chef buddies -- they always have ethical sources.
This past week, I had the honor to be included in a very small white-truffle tasting and wine pairing at Nick and Toni's, organized by Chimene Visser MacNaughton, the restaurant's sommelier; Neal Rosenthal of Rosenthal Wine Merchant Ltd., Jacques Franey of Domaine Franey, and Joe Realmuto, the chef. Neal had just arrived with the truffles from Piedmont and products from Tartuflanghe.
The truffles were to be used throughout the weekend for a special menu. But we got to try several Dolcettos, Barberas, and Barolos paired with pizza topped with fontina, prosciutto, arugula, and white truffle oil; another with Balsam Farms Yukon gold potatoes; Nick and Toni's house-cured pancetta with olive and truffle sauce; truffled deviled eggs with mustard, honey, and white truffles; tiny lobster rolls with a white truffle mayo and fennel mushroom vol-au-vent with cream of parmigiana and truffles, and little polpetti (meatballs) on a whipped black truffle ricotta.
If you want to try truffles on a budget, there are plenty of reputable companies that sell oils, salts, infused butters, and dried pastas. With the oils, a little bit goes a long way. Try it on pizza, eggs, popcorn. If you desire a fresh truffle, then buyer beware! You will pay dearly. Do your due diligence.  
As for me, I am on a budget like most everyone nowadays, so I just ordered a box of dried truffle pasta from Tartuflanghe, which created the first truffle pasta in 1990, earning a "Best New Product" award at the Fancy Food Show in New York in 1992. Apparently, freeze-drying has been discovered to be one of the best methods of preserving a truffle's taste and characteristics.
I shall share the pasta with friends, and dream of a safer time in the future when I may be able to travel to Alba and learn more about this "diamond of the kitchen," the mysterious and alluring truffle.
You barely need a recipe when you have fresh truffles. Black truffles can be used in cooking, but just add them late in a recipe; they convey better in fats than liquids. White truffles should only be used raw, paper-thinly sliced over pasta, eggs, risottos.
Truffled Mac and Cheese
This recipe is a variation on the Cavaniola's cheese shop's truffled mac and cheese. Their official recipe has been previously published in a local cookbook, but I can't find that version. It includes such cheeses as farmhouse cheddar, aged Gouda, and sottocenere, a truffly cheese. Interestingly, the version I got from a previous chef there is completely different. I have made her version several times and it is delicious. Don't be concerned that it seems too liquid at first. The pasta will absorb the rich sauce and bind it up. 
This recipe makes a lot, and it freezes well.
Bechamel sauce:
Per each pound of pasta, make a quart of bechamel sauce that includes:
2 tsp. fresh chopped thyme
1 clove garlic
A splash of white wine
To the bechamel, add 1/4 lb. each of the following cheeses: Gruyere, Vermont white cheddar, Moliterno truffle pecorino (saving some of this for the topping).
Make bechamel and add cheeses. Cook penne pasta until al dente. Drain. Add bechamel sauce and top with a bit of reserved Moliterno cheese. Drizzle with a bit of truffle oil before baking. For a small ramekin (single-sized portion), I would recommend baking at 350 degrees for approximately 20 to 30 minutes. I like it bubbly and piping hot.
Truffle Butter
This comes from a website called Idratherbeachef.com. If you can't get your hands on a fresh truffle to make this recipe, the tins of truffle shavings (somewhat expensive but not crazy expensive) might work well. This is a good way to stretch the flavor of truffles, and you can freeze the compound butter for a few months.
2 sticks butter, unsalted
2 Tbsp. black truffle, grated
2 tsp. kosher salt
Allow butter to come to room temperature, then add all ingredients to a bowl. Mash together. Mold the butter into two little logs on plastic wrap or parchment paper. Wrap well and freeze for future use. Good on steaks, in mashed potatoes, on polenta. The list goes on and on!