At this point in time, I have no idea where I'll be on Thanksgiving Day. I purchased a refundable ticket to go to D.C. to be with my son (haven't seen him in nine months), but every time a respected scientist or doctor warns us to stay home, I feel guilty for wanting to travel. 
One friend suggested brightly, "Just fly first class or business class!" Oh, honey, have you ever flown on Southwest Airlines' Islip-to-Baltimore route? It's a tightly packed cattle car with hundreds of people, none of whom seem to understand the "now boarding rows B15 through B30" rule. They don't even take it as a light suggestion.
I could stay home and treat Thanksgiving like any other day this year, but I do so love the festive meal! Maybe I could lure my niece and nephew out of Brooklyn and celebrate with them. Maybe I'll just go to a safe neighbor's house with a pumpkin ginger cheesecake and tin of Ocean Spray cranberry jelly.
We've all had the stuffing knocked out of us this year, so let's talk about that, along with some other tasty side dishes. People seem to fall on either side of the fence when it comes to the Thanksgiving meal: Some are firm believers in the traditional dishes they grew up with, some like to mix it up a bit, either out of boredom or necessity. Vegan Tofurky, anyone? How about oyster kimchi stuffing?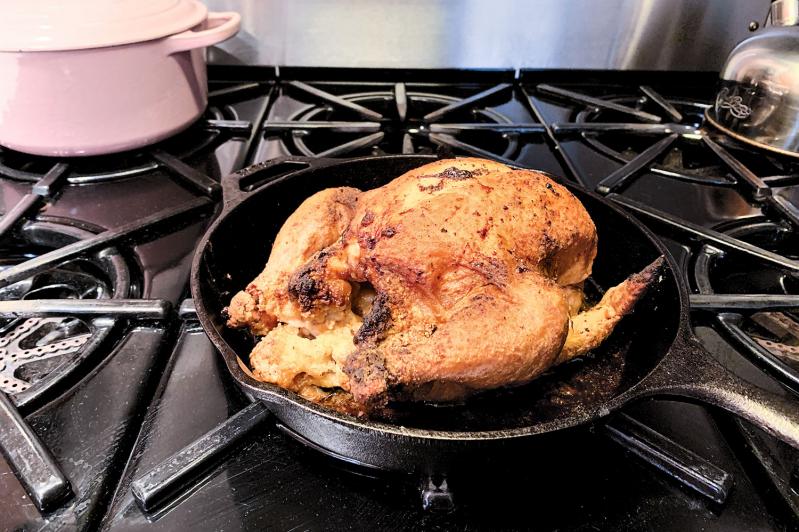 I remember every single detail of our Thanksgiving meals growing up. Our father, a disabled veteran of World War II, would always contact the Veterans Administration to find out if there were any soldiers who needed a place to go that day, so our table might have one or two strangers, along with some stray friends from our father's government job in D.C.
For days before, I helped my mother polish silver, iron the embroidered green tablecloth that only appeared on this one day of the year, set the table with delicate green glasses, and start the meal prep. For some reason there were always little dishes of radishes, celery, and carrots on the table, along with mixed nuts, kind of like an old fart's country club dining room.
My biggest and most cherished job was placing mini marshmallows, in my budding-O.C.D.-self way, on the mushed up sweet potato casserole. I also managed to scrape most of that sugary goo onto my own plate when it came to serving time. The meal was overcooked turkey with Pepperidge Farm stuffing, homemade gravy, mashed potatoes, peas, green beans, and a store-bought pie. It was all so delicious to me, and this is the meal I have wanted every year since.
This year will probably be different for almost all of us, and for that reason, maybe you'd like to consider some changes, some smaller and more interesting side dishes to go with your turkey or chicken. I have come to the conclusion that Thanksgiving side dishes really are the stars of the meal. Like a Busby Berkeley musical, you don't remember the plot or the "stars," you just remember the exciting interludes. So instead of regular mashed potatoes, why not make them zippy with goat cheese like Ina Garten does? Or try adding a little bit of wasabi paste. Instead of sweet potatoes, roast cubes of butternut squash with ginger, rosemary, and maple syrup. Add some Asian flavors to your green beans: soy, garlic, ginger, sesame. Try some Southern flair with a squash casserole or corn pudding. Lighten the meal up with a Brussels sprouts salad.
Some of my attempts at allowing a traditional Thanksgiving meal off the leash have ended in failure. I keep trying to get people to like Susan Stamberg's cranberry relish, but I think the color throws them off. It is Pepto-Bismol pink and has raw onions and horseradish in it. Trust me, you will want this with your next day leftovers sandwiches! Another time I made Barefoot Contessa's twice baked sweet potatoes with Taleggio cheese and shallots, which is spectacularly delicious, but I think the scent of melting Taleggio cheese turned off a few guests. I'll still recommend this recipe from "Make It Ahead." I've also made Bobby Flay's sweet potatoes with chipotle cream which is great with a Southwestern-themed Thanksgiving.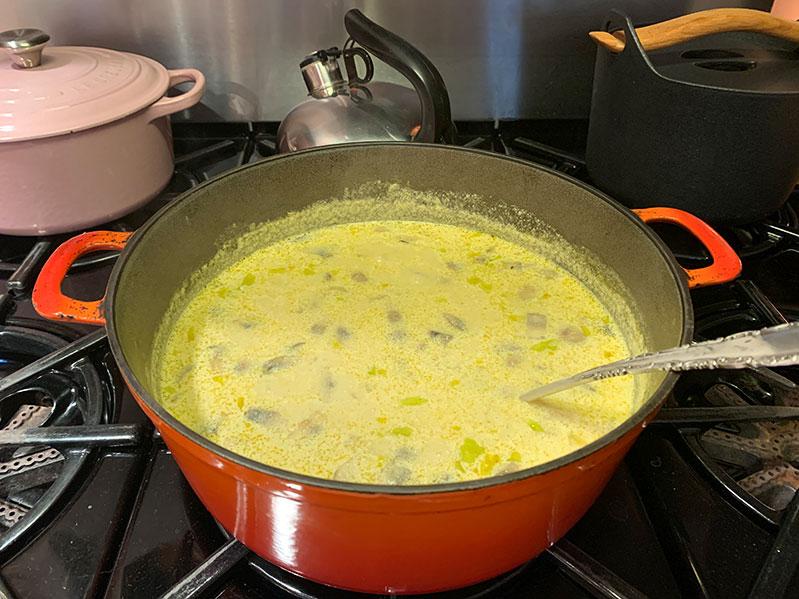 If you do expect a passel of family and friends I highly recommend you make one or two big pots of soup to have on hand for the weekend. I have been making two soups a lot lately, one a very light vegetable soup with a dollop of homemade pesto on top, and the other a wild rice, mushroom, and turkey soup. (I have changed the leftover turkey in the soup to organic chicken breasts for year-round ease.) Have some cornbread or biscuits on hand and you've got several meals that your guests and family can just dip into on their own.
Keep in mind as well, that there are a lot of wonderful restaurants, caterers, and take-out shops that could use your business. They're there to make your life easier and more delicious! And be forewarned, I have already seen rationing of traditional Thanksgiving ingredients at a local grocery store. Stock up, but don't hoard.
However you celebrate, be safe, give thanks, and get cooking.
Andrea's Mom's Turkey Wild Rice Soup (altered)
This is the perfect cold weather soup. You can use leftover turkey like the original recipe, or swap it for organic skinned boned chicken breasts. This comes from my friend Andrea's mom, Mary, who makes it every Thanksgiving. I think it originally came from a 1980s Bon Appetit magazine.
Makes 10 cups.
1 cup wild rice 
4 cups water
1 1/4 tsp. salt
4 Tbsp. butter (I use half butter/half olive oil)
1 onion, chopped
3 cups sliced mushrooms (approximately 5 oz.)
1 cup chopped celery (plus a few chopped leaves)
1/4 cup flour
6 cups chicken broth
1/2 tsp. each: curry powder, dry mustard (recipe also calls for dried chervil, don't bother, it has no flavor once dried)
2 cups whole milk
1/4 cup good dry sherry
1-2 cups cut up leftover turkey or 1 lb. skinned boned chicken breasts, cut into large strips
Cook wild rice in water with three-quarters teaspoon salt. Cover and simmer about 40 minutes, until tender. Drain.
Melt butter in large Dutch oven, cook onion and celery for about 10 minutes. Add mushrooms and cook about five minutes more. Add flour, stir and cook for a few minutes.
Add broth, bring to boil, then cook a bit until slightly thickened. Add rice, rest of salt, spices, milk, and sherry. Simmer for 15 minutes.
Add chicken and simmer until chicken is just done, or add the leftover turkey and bring soup back to a boil just before serving. Before serving, cut chicken pieces into smaller bite-sized pieces and add back to soup.
Make-Ahead Goat Cheese Mashed Potatoes 
This recipe is from Ina Garten's "Make It Ahead" cookbook. You can assemble this as far as three days ahead, and bake when desired.
Serves six to eight.
3 lbs. Yukon Gold potatoes, peeled and cut into 3/4-inch chunks
5 large cloves garlic
Kosher salt and freshly ground black pepper
7-8 oz. garlic and herb goat cheese, such as Montrachet, at room temperature
4 Tbsp. (1/2 stick) unsalted butter at room temperature
1 1/2 cups sour cream
1/2 cup half and half or milk
1/2 cup freshly grated Parmesan cheese
Preheat oven to 375.
Place potatoes, garlic and one tablespoon salt in a large pot with enough water to cover the potatoes. Bring to boil, reduce to simmer, and cook for 20 to 25 minutes, until very tender.
Drain potatoes and garlic and process them together through a food mill fitted with the coarsest blade set over a bowl. (Use a potato masher if you do not have food mill or ricer.)
While potatoes are still hot, stir in the goat cheese, butter, sour cream, half and half, four teaspoons salt and two teaspoons pepper, until smooth.
Pour the mixture into a 9-by-13-by-2-inch oval baking dish, smoothing the top. Sprinkle the Parmesan on top and bake for 30 to 40 minutes, until lightly browned. Serve hot.