My editor suggested I write about some Halloween-at-home ideas, perhaps including some entrees, such as "ghoul-ash." "Fangtastic," I thought to myself. "That is an eeriesistable idea!"     
I am not good at making up puns but I am a champ at research and researching food for themed parties is a blast, especially when the recipe ideas are disgusting.     
Some of the recipes for Halloween foodstuffs were not only disgusting but just downright cruel. One idea was to leave the seeds in a few homemade jalapeno poppers so some of your friends get a nasty surprise. This concept was probably thunk up by an Ohio frat boy who drinks White Claw all summer. Another idea was to implant cherry tomatoes into meatballs, which are then wrapped in strips of pastry dough to look like meatball mummies, ha ha. Have you ever bitten into a scalding hot cherry tomato? Oh, my gourdness, it hurts!     
Here are some of the punny foods I found. I think you can figure out what they are by the names. Obviously, most of these only work if you have a sign in front of the dish. Rest in Peas, Haunt Dogs, Squeal Parmesan, Pork and Brains, Scorned Beef, Bangers and Slash, Filet of Soul. Some of my favorites are: Stir Fright Rice, Nosfertofu (Nosfertofu?), and Leper Corns. For horror d'oeuvres you could serve Grave-lox, some Gabba Ghoul, and for dessert Terrormisu, Boo Berries, Grim Brulee, Horroreos, and plenty of Eye Scream or I scream. I am still trying to figure out a way to use Last House on the Left-Overs, Children of the Cornflakes, and especially Creature From the Black Legume. For this last one I imagine you could serve a nice French or Beluga lentil dish with a creature emerging from it.     
Some of the suggestions were too complex for my abilities, such as decorated sugar skulls to honor Dia de los Muertos, mummy hand pies, pumpkin pie cheesecake dip, and witches broomstick snacks, each broom tied with a single chive. Some just sounded too unhealthy, like red-dyed nut mix, black-dyed candied apples, a candy corn cheese tower, and Reese's apple nachos (oof!). Some easy-peasy ideas were clementines (peeled or unpeeled) with a little stalk of celery on top like a mini pumpkin stem, all manner of deviled eggs (pumpkin, sriracha, eyeball, spider web, bloody, skull), dips that had tortillas or crackers cut into headstone shapes, and an asparagus tart with googly monster eyes. I made this one, it was good!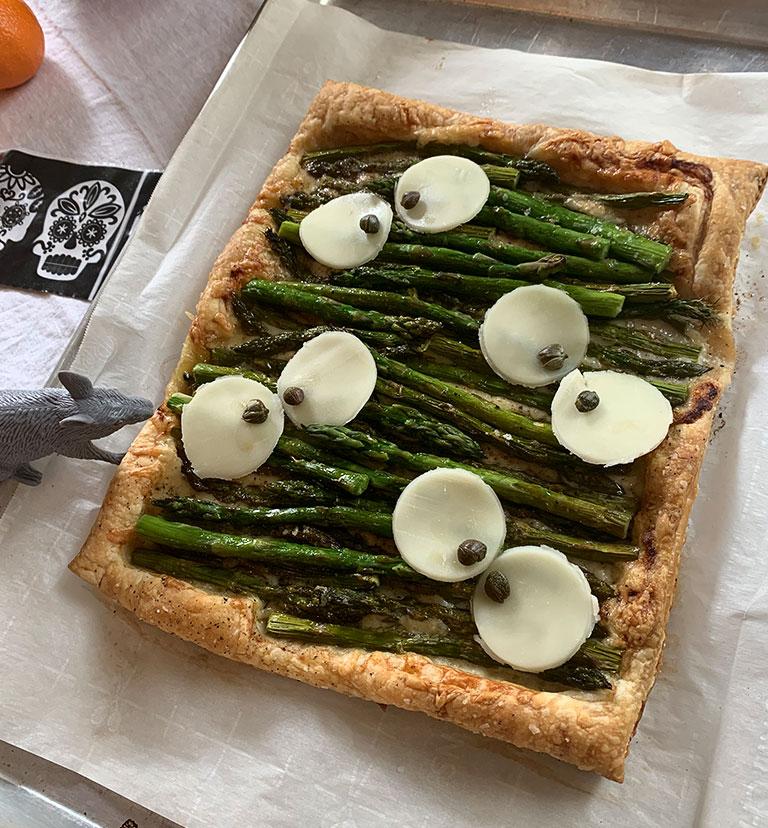 While wandering through the Sag Harbor Farmers Market on Saturday I stopped to chat with Ashley Falkowski of Open-Minded Organics. She had some Scotch bonnet peppers that to me looked like bright orange, wrinkly, mutant little pumpkins, perfect for a Halloweenie tabletop along with those clementines. She told me that she and her husband, David Falkowski, had brought the seeds back from their honeymoon in Jamaica seven years ago and have been growing them ever since. Apparently, the honeybees have fun with them, trying to hybridize them with other species of spicy peppers so some of them come out in wonkier shapes and different colors. I also bought a basket of their jalapenos and she shared her recipe for baked jalapeno peppers. Superb!     
You can also just go old school with Halloween foods by simply roasting the pumpkin seeds from your hollowed-out jack-o-lantern and make popcorn balls with your kids. Get some spooky cookie cutters, bats, pumpkins, cats, rats, and use them to cut pastry dough and various sliced cheeses like provolone or mozzarella. Use capers and black olive bits for eyes, and get some cake gel writers in black and red.     
Here are some spooktacular recipes to help you have a safe and tasty Halloween. Eat, drink, and be scary!
Baked Jalapeno Poppers     
This recipe is based on one shared with me by Ashley Falkowski. It is more of a guideline because it's hard to guess how many jalapenos to use; their sizes vary. I used about 10 medium-large ones and had a little bit of filling left over. Also, if you want sturdier jalapeno boats, instead of slicing through even halves, just cut the top third off and use the two thirds bottoms.
10 medium large jalapenos, sliced lengthwise in half, deseeded (or leave a few with seeds)
6-8 oz. softened cream cheese
1 cup shredded jack cheese (I didn't have jack cheese so I used combo of cheddar and fontina, which worked pretty well) 1/2 tsp. garlic powder 3 Tbsp. chopped fresh chives     
Preheat oven to 400.
Mix the cream cheese, jack cheese, garlic powder, and chives until well blended. Arrange jalapeno halves snugly in a baking dish, then fill each one with cheese mixture, slightly mounded on top. At this point I sprinkled a little smoked paprika on top so they'd look purdy.     
Bake 20 to 30 minutes or until cheese is nicely bubbly and the jalapeños seem tender enough when pierced with sharp knife. Serve with some very cold drinks!
Monster Eye Asparagus Gruyere Tart     
This recipe came from Country Living website, which got it from a blog called Pizzazzarie, which adapted it from Martha Stewart, but by that time the recipe was missing a lot of important steps. Here is a corrected and modified version.     
Serves six.     
1 sheet puff pastry, defrosted according to directions and rolled out on parchment paper to approximately 10x16 inches
1 1/2 lbs. asparagus, tough ends removed
5 oz. Gruyere cheese, shredded Olive oil Salt and pepper
Several slices of provolone cheese, cut into small circles for each eye
Capers or round bits of black olives for pupils     
Preheat oven to 400.
Place pastry on a baking sheet and score a rim around it, about one inch from the edge. Prick the pastry with a fork at half-inch intervals. Bake for 15 minutes, then remove.     
Sprinkle the pastry evenly with the shredded Gruyere inside the rim of dough. Arrange asparagus stalks alternating ends to tips. Brush with olive oil, season with salt and pepper. Bake until asparagus is tender, approximately 20 to 25 minutes. (I baked my tart for longer because I like a well-cooked to golden-brown bottom crust.)     
Once tart has cooled enough, arrange provolone eyes with caper pupils all over it.
Hot Spiced Cider     
You can't have a Halloween party without some spiced cider! This recipe comes from the latest triptych of the "Loaves and Fishes Farm Series" cookbooks, from "The Milk Pail and Halsey Orchards" volume. Enjoy John Halsey's version of this fall favorite.     
Serves eight.
2 quarts apple cider
1 Tbsp. honey
3-4 thin slices lemon
6-7 whole cloves
1 small cinnamon stick     
Combine all ingredients in a large pot. Slowly bring to boil. Cover and simmer 20 minutes. Strain. Serve hot.