If you happen to spy a yeti in Uggs and a beanie this winter, sitting outside Estia's Little Kitchen or the Bridgehampton Inn or Nick and Toni's or Canal Cafe, that will be me. I don't mean Yeti, the overpriced, inexplicably trendy soft cooler, although I have become softer of late and I shall definitely be cooler soon enough. That chunky puffy abominable snowwoman you see will be yours truly.
My editor brilliantly suggested I ask local friends on Facebook whether they had dined out at restaurants recently, how comfortable they were doing it, and if they would consider dining indoors in the chilly near future. From the 60-plus answers I received, I came to two conclusions: 1) I seem to have a lot of very wealthy friends because they are all dining at the finest establishments on the East End, places I go to maybe once a year. Dag! and 2) The very first people to respond were chefs and caterers who are trying their mightiest to support each other. This warmed me up like a Sunglo stainless steel infrared portable propane heater, available online . . . delivery in three months.
I also requested that if any "friends" had negative comments about local restaurants to please send those privately.
Naturally a few peevish grumblebums ignored this simple request, ergo, they shan't be quoted.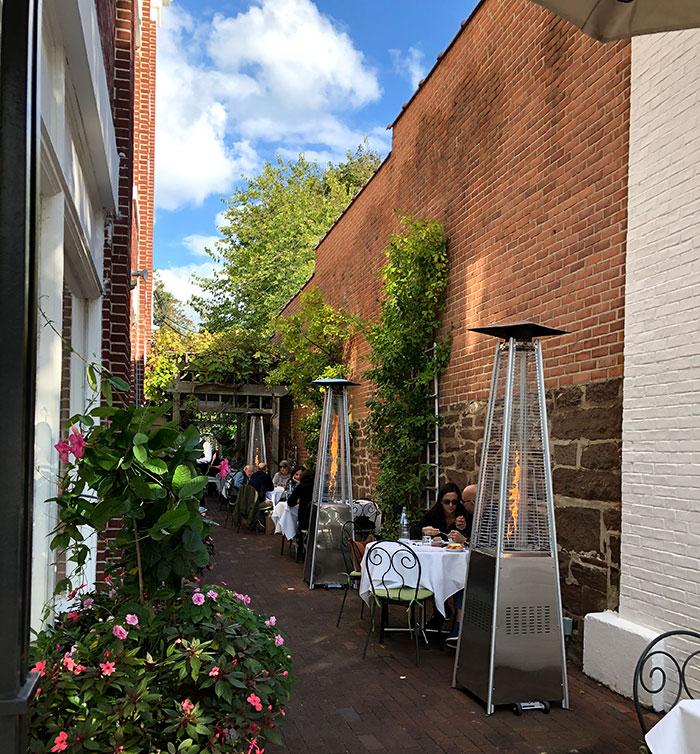 The restaurants and hotels that already have outdoor spaces have done an amazing job and were mentioned many times: Estia's Little Kitchen, along with Estia's Hot Burrito drive-through, the Bridgehampton Inn, Topping Rose House, Almond, Beacon, Nick and Toni's, the American Hotel, the Springs Tavern, 1770 House, Cittanuova, Fresno, Dopo la Spiaggia, Dockside, the Harvest on Fort Pond, and farther afield, the North Fork Table and Inn, Edgewater, Canal Cafe, and Stone Creek Inn.
Then there are the places that mercifully got permission to use outside spaces that before were alleyways and parking lots, such as K Pasa and Sag Pizza in Sag Harbor. There is something both heartbreaking and heartwarming about picnic tables on top of Astroturf and the cheery colors of the Mexican flag around you. You know you are on the border of a busy parking lot, not to mention in the midst of a terrifying pandemic, and yet these brave professionals in the restaurant business are doing everything they can to make your dining experience fun, flavorful, and above all, safe. By golly, this warms my soul more than an Infra Save IO 100 IP 35k BTU outdoor patio heater.
The Springs Tavern got big enthusiastic shout-outs from the Dayton family and Charles for its fish and chips, fried scallops, warm Brussels sprouts salad with bacon, mussels, and housemade tartar sauce. Lys Marigold and Dianne Benson had their engagement dinner outside at Nick and Toni's and Lys noted that outdoor dining feels adventurous and upbeat. Like a few others, she is still reluctant to begin dining indoors.
Jarhn and Jeremy Blutstein recently had a first date night out since Poppy Amelia, a.k.a. PopTart, was born. They enjoyed chef Michael Rozzi's three-course menu in the garden of 1770 House and reported that all "Covid-19 protocol was on point."
Colin Ambrose, the chef/owner of Estia's Little Kitchen may be fortunate in that he has a large parking lot and huge beautiful garden with room for plenty of safe social distancing. However, the interior of his restaurant is small. He plans to have large Plexiglas dividers, no counter service, and six tables available. He said "our only hope is to speed up the process from entry to exit. With half the seats, we will be at a disadvantage. It's a muddy road ahead friends, will try to stay in our lane and serve with smiling eyes."
Myles, Ed, Monte, David, Sandy L., and Eric all mentioned how perfectly spaced and heated the back gardens and patios of the Bridgehampton Inn and Topping Rose House are. The American Hotel and 1770 House got many compliments on their food, heaters, and gardens. Sandy M. raved about the mushroom linguine, on the heated porch at Fresno, and Eric S. had the kind-hearted impulse to name not only many of his favorite restaurants but to say "thank you to all of the hardworking restaurant folks who've been jumping through hoops and wearing masks 6 to 8 hours so we can still dine out." Sadly, that number of hours of mask-wearing by restaurant workers is probably closer to 10 to 16, but his message warmed the cockles of my heart more than a Bromic Heating Tungston Smart Heat 500 Series portable liquid propane gas patio heater, available for a mere $1,750.
Where have I dared to dine since March? Morty's Oyster Stand and the Clam Bar because they are outside and near my shack at Lazy Point, the American Hotel outside, Sen outside, and for my whoop-de-doo birthday dinner, Coche Comedor in Amagansett, also outside. It's a good thing my cooking is bomb diggity on fleek, my friends, because that is kind of all I do.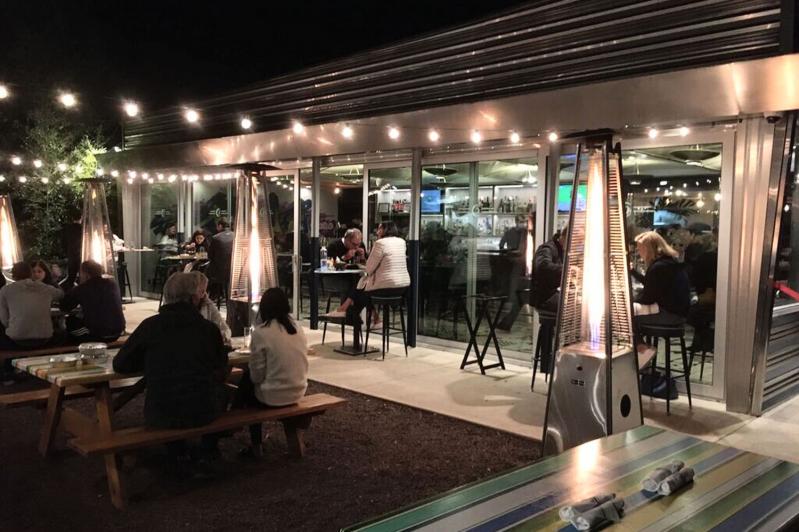 Therefore, I am trying to figure out how I can safely entertain and feed friends in my backyard for as long as possible. I've got a fire pit and a box of pinon firewood ready to make that atmosphere fragrant and warm. I've got blankets and ponchos galore for guests. I might even get one of those primo outdoor heaters, such as the Solaira Candel ICR Series H3 240v LL recessed patio heater, available in FEBRUARY!
On Facebook, Pat Mundus had the best advice for outdoor dining for as long as we can: "two words: down jacket." To that I would like to add my final words to all who bravely help our neighbors and friends in the hospitality industry: Tip like you're a baller.
Whether you choose to dine out at restaurants right now or not, maybe you'd like to try some local establishment's recipes. Here are some simple and easy ones.
Basil Pesto
This recipe for pesto is from Maurizio Marfoglia, the chef/owner of the Dopo la Spiaggia restaurants in Sag Harbor and East Hampton. Blanching the basil leaves will keep them a beautiful emerald green, worth the effort!
Makes about one cup. 
1 cup packed fresh basil leaves
1 clove garlic, peeled
2 oz. Parmigiano-Reggiano, cut into small chunks
1/4 cup pine nuts
1/2 cup extra virgin olive oil
Salt and freshly ground black pepper
Prepare a small bowl of ice water. Bring a two-quart saucepan of water to a boil. Drop in the basil leaves and fish them out with tongs after 30 seconds. Transfer them to ice water for a couple of minutes, drain, and press with paper towels to dry. Coarsely chop them.
Turn on a food processor. Drop in the garlic through the feed tube. When the garlic is minced, stop the machine, scrape down the sides, and place the basil, cheese, and pine nuts in the machine. Process until finely ground. With machine running, slowly pour in the olive oil. Scrape down the sides of the work bowl, season with salt and pepper, transfer to a container and refrigerate for at least 30 minutes.
Rowdy Hall's Steamed Mussels
There are so many great dishes at Rowdy Hall in East Hampton, but the steamed mussels have to be one of the greatest.
Serves two to four. 
3 Tbsp. olive oil
3/4 cup thinly sliced shallots
2 Tbsp. minced garlic
2 lbs. mussels, scrubbed and de-bearded
3/4 cup dry white wine
1/2 cup heavy cream
3 Tbsp. minced flat leaf parsley
Salt and pepper to taste
Crusty bread for serving (sliced grilled bread is the best!)
Place large sauté pan or casserole over medium-high heat. Add oil. When hot, add shallots and garlic. Cook until softened but not browned. Add mussels and wine and cook two minutes. Stir in cream. Cover pan, leaving lid slightly ajar, cook until mussels open, about five minutes. Discard unopened shells.
Top with parsley, taste for seasoning, divide mussels and sauce among shallow bowls and serve with bread.