When Wendy Van Deusen left her position as curator at LongHouse Reserve in East Hampton in 2021 after more than 20 years there, she asked herself, "What's next?" After all, as she said during a conversation at her house in Springs, "I like to work. I don't stop. I have a billion things I'm thinking of."
The answer to her question: the Women's Art Center of the Hamptons, which will make its public debut with "Making a Mark: The Art of Self Expression," an exhibition of work by 11 women set to open Saturday in the lobby of Sag Harbor's Bay Street Theater with a reception from 4 to 6 p.m.
The mission of WACH is to "support and elevate women thinkers and makers through residencies, educational initiatives, community programs, exhibitions, and events for the enjoyment and enrichment of the human spirit, with accessibility for all."
Ms. Van Deusen hopes to host five residencies at a time, but that will have to wait for a brick-and-mortar home, which she envisions as having a gallery, a kitchen, a garden, and a library. Another initiative, travel, launched on Feb. 27 with a weeklong trip to London for 17 people, led by Ms. Van Deusen and Matko Tomicic, LongHouse's former executive director.
"I quickly started a website, got a letter together, and it all happened really fast," which is typical Van Deusen form. The highlight of that excursion was behind-the-scenes access to Collect 2023, one of the world's most influential showcases for contemporary art and design. A second trip, to a symposium in Ireland, is planned for the end of August.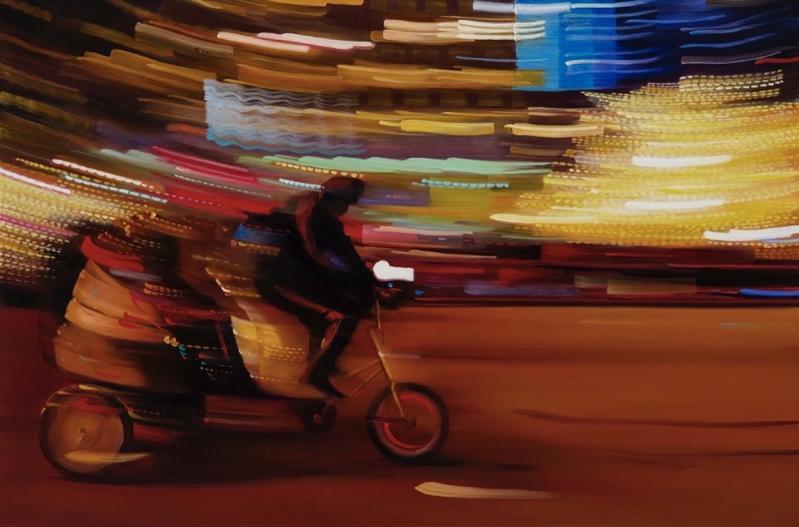 WACH is only Ms. Van Deusen's most recent undertaking. In addition to a long career as an artist, she was, for more than 20 years, the chef and eventually chef-owner of the 1770 House in East Hampton. Like her other careers, cooking started early and ramped up quickly.
When she was 12, growing up in Great Neck, her mother suddenly left the family to study at Le Cordon Bleu in Paris. When she returned, she opened a catering business and cooking school, where her daughter did everything from washing dishes to attending classes to making desserts.
Ms. Van Deusen attended the Moore College of Art in Philadelphia, intending to go into the commercial field of textile design. As a textile major, she had to learn to weave, in order to understand how to design a pattern for weaving and printmaking, "so you could do wallpaper. But I fell in love with weaving as a fine art, and doing tapestries." Today, her woven baskets are scattered around her house. She also does needlepoint and embroidery, and is a collector of related objects such as buttons, measuring tapes, and needle cases, all neatly displayed in her studio.
She met the artist Burt Van Deusen, her future husband, on the first day of college. "I had lunch with my parents, dinner with him." They have been married for 50 years.
Casting about for a way to make money while helping to put herself through college, Ms. Van Deusen thought of the many desserts she'd made with her mother over the years. In the summer before her sophomore year, she made a list of them, and took it to a shopping district near the college. 
At the first place she visited, the owner placed his first order after trying some samples. The very next day, John Cassavetes, Peter Falk, and Elaine May, who were shooting the film "Mikey and Nicky" in the neighborhood, walked in hungry. The next thing the young pastry chef knew, she was providing desserts for the set every day. "These things have happened to me through the course of my life," she said with a smile. 
Philadelphia had two renowned French restaurants at the time, and after graduation Ms. Van Deusen landed at one of them, Lautrec. "There were no machines, it was all from scratch. Edward Bottone, the chef-owner, butchered all his own meat." Ever eager to learn, she asked if she could help. "I learned all my butchering skills from him. That's how I went from being a pastry chef to a chef."
In 1975, while her husband was running a gallery in Philadelphia and her father was still working in New York City, her mother suggested they rent a restaurant together for the summer, preferably someplace interesting. They rented the House on Otter Pond in Sag Harbor, and their restaurant was so successful her parents started looking for one to buy. In the winter of 1977, when they saw the 1770 House in East Hampton, "they called me and said they had found the perfect place."
It had been an inn and a restaurant in the past, but it was empty at the time. With her job in Philadelphia, Ms. Van Deusen at first worked there only during summers; her mother ran the kitchen in the off-season. But by 1979, her husband said he was ready to move permanently to the house they'd bought in Springs, and from then on mother and daughter both worked at the inn full time.
Her parents lived upstairs there for a time, but soon went looking for a permanent home. They bought the Baker House, just down Main Street, and moved into one wing; later they owned the Mill-Garth inn on Windmill Lane in Amagansett. 
Early on, Ms. Van Deusen won a James Beard award, presented to her by Beard himself. "Everyone came to eat at 1770," she said. Steven Spielberg had his wedding rehearsal dinner there, Raquel Welch was a frequent patron, and Chevy Chase, who had a house in the village's summer colony, would open the kitchen door and shout, "Good grub!"
In the mid-90s, after both her parents died, Ms. Van Deusen sold the Baker House and the Mill-Garth. A few years later, she read that Jack Lenor Larsen, the founder of LongHouse, had received a grant to catalog his collection. "I remember putting the paper down, and I looked at Burt and said, 'I'm going to do that.' "
She sold 1770 House to Ben Krupinski in 2002 and completed the cataloging job, pro bono, the following year, at which time Larsen hired her as curator. Her many responsibilities included cataloging the art, managing the collections and exhibitions, and organizing special events and benefits.
Ms. Van Deusen's final exhibition was "Jack, Larger than Life," which she organized with Sherri Donghia in 2021. The designer's textiles were presented alongside various objects of craft and art he'd collected throughout his extensive travels and long life, along with examples of his distinctive clothing.
"Jack and I had a very nice relationship. As weavers, it's almost a language. He was not a man of many words, but neither is my husband, so it didn't bother me. It was an amazing job, which set me up to undertake WACH."
Ms. Van Deusen intends to run some workshops during the summer, and other pop-up exhibitions are planned as well. The "Making a Mark" exhibition will include work by both local and international artists, among them Adela Akers, Robin Gianis, Helena Hernmarck, Candace Hill-Montgomery, Tamiko Kawata, Sue Lawty, Deborah Luken, Aby Mackie, Norma Minkowitz, Alexandra Pacula, and Ulla-Maija Vikman. It will continue through May 7.