LongHouse Reserve, East Hampton's 16-acre sculpture garden and nature reserve, will open on April 1 with new works of art, new hours, a new curator, a new education director, and a commitment to a chemical-free landscape. 
"Because without the chemicals we will have more butterflies, more birds, more bees, more natural life around," said its director, Carrie Rebora Barratt, on a drizzly winter day when garden crews were hard at work getting the grounds ready for the upcoming season. Edwina van Gal and the Perfect Earth Project will help in the effort.
The new artworks include two large-scale sculptures by Maren Hassinger and three by Wyatt Kahn, plus ceramics by the Korean artist Jane Yang D'Haene. Ms. Barratt saw Ms. Hassinger's work during the artist's 2021-2022 exhibition at Dia Bridgehampton. "There was a gorgeous piece outside, and I called Maren's gallery too see if there was any way we could have it after the Dia show closed."
While that piece had been sold, there were two others, "Monument 3" and "Monument 6," at the De Cordova Sculpture Park and Museum in Lincoln, Mass., that the gallery agreed to lend instead. The metal frameworks of those sculptures are covered by branches, twigs, and sticks that are tightly woven into a cohesive volume.
During "Rites of Spring," LongHouse's opening weekend, Ms. Hassinger will be on hand with two assistants to weave sticks gathered on site to create the exterior of the pieces. Visitors will be invited to help with the two-day process of weaving, "which is very true to what we do here, weaving stories, weaving lives," said Ms. Barratt. "The weaving is sort of a theme all summer."
The sculptures by Mr. Kahn, "Parade," "Painting the Painter," and "Umbrella," were among seven installed last year by the Public Art Fund in City Hall Park in Lower Manhattan. Fabricated in Corten steel, which weathers into a deep rusted red, the works combine elements of geometric abstraction with objects from everyday life, such as, in "Parade," a foot about to crush a light bulb.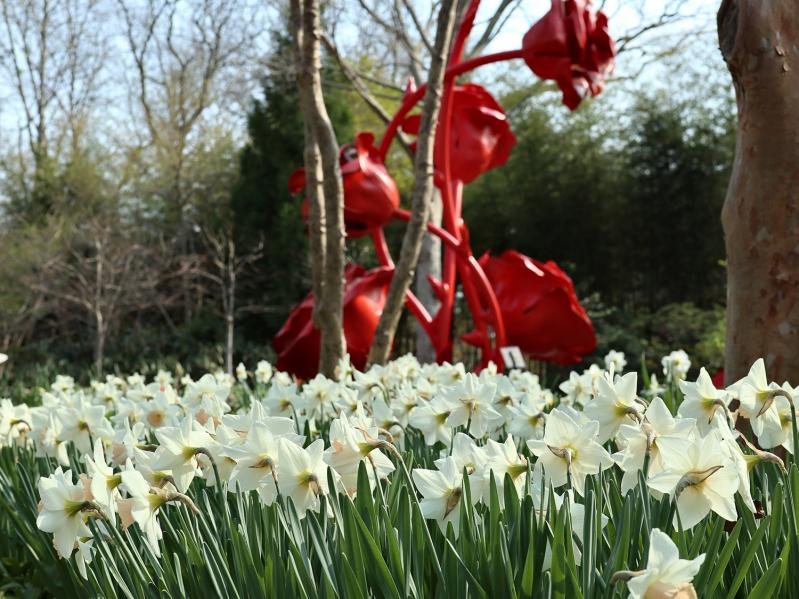 While many collection pieces remain on view, "Every year we move things around," said Ms. Barratt. "When we're closed, we do tree pruning and clean up the garden, but we try to move as many sculptures as we can to engage and delight and surprise our visitors." The venue is also renewing loans for pieces by the Ladd Brothers, Cheng Tsung Feng, Moko Fukuyama, and Byung-Hoon Choi.
LongHouse has named Glenn Adamson, an expert on craft, as curator-at-large. A writer, curator, and historian, Mr. Adamson has served as director of the Museum of Arts and Design in Manhattan and head of research at London's Victoria and Albert Museum.
"I knew when I got here that I needed on my team somebody who would come in and look at Jack's collection," Ms. Barratt said. "Most people think of Jack as the man who built this crazy house or as the pre-eminent textile designer of the 20th century." Because the house has not been open to the public, his collections of ceramics, glass, ethnographic material, and craft are not as widely known.
"I needed somebody to understand, help me interpret, and eventually display those collections, and that's Glenn." This summer he will organize "Then and Now," which will juxtapose pieces of ceramics and glass from Larsen's collection with works by contemporary artists.
Esperanza Leon, a curator, art dealer, former administrative coordinator of the Victor D'Amico Institute of Art, and former Guild Hall trustee, has been named head of education and community engagement. "She made a commitment to be with us and to help us really build a program," said Ms. Barratt.
In other management changes, Dianne Benson, after 15 years as board president, is now president emerita, "but she's not going anywhere," said Ms. Barratt. "She is going to head the arts committee and help with the summer benefit." Former co-president Nina Gillman now heads the board. The landscape designer Deborah Nevins is the new chairwoman of the venue's garden committee.
LongHouse sustained within one year the onset of the pandemic, the death of its founder, and the departure of a longtime executive leader and other staff, the director noted. She cited "founder's syndrome," where "no matter how well organized an institution is, the loss of a great visionary, the creative director, the man who lived here, the man who made all the decisions and relied on staff to help make those decisions -- that loss is huge."
The architect Lee Skolnick continues to oversee the work on Larsen's home to make some private spaces public galleries. A year has been spent on schematic planning, with engineers looking at windows, HVAC, plumbing, and everything else the house will need to be brought up to code as a museum facility. Mr. Skolnick has said, "If we do our job correctly, it will seem as if nothing has changed, remaining as mysterious and wondrous as one's first visit."
There are also plans to replace a small shed on the property with a structure that would provide a warm space for the gardeners to take breaks and have lunch, as well as store equipment and tools. A classroom for school groups is also planned for the facility. "Right now, when school groups or day camps come, if the weather turns we have nowhere for them to go," said Ms. Barratt.
The public restrooms will be replaced as well.
Starting in April, LongHouse will be open five days a week for nine months a year, and will remain open until Dec. 31. Regular hours will be noon to 5, Wednesday through Sunday, with open hours for members from 10 to noon on Wednesdays and Saturdays.