Some of the South Fork's favorite and prolific performers are women -- musical royalty like Nancy Atlas and Judy Carmichael immediately come to mind -- and some other hard-working performers are just dressing as women.
Danny Ximo, Johnny Messina, and Robbie Volkel fall into the latter category. They are the Siren Sisters, a trio of drag queens who made their debut in December as Our Fabulous Variety Show's after-hours act. They'll return to the stage at LTV Studios in Wainscott on Saturday night for the theater company's Vaudeville Diva Cabaret.
Drag culture continues to enjoy a surge in popularity, thanks to the pioneering performer known as RuPaul. An actor, musician, model, and producer, he has been hosting the television show "RuPaul's Drag Race" since 2009 and has won 12 Primetime Emmy Awards, a Tony Award, and two Billboard Music Awards, among many entertainment accolades.
RuPaul's body of work "made an indelible mark on culture by putting the spotlight on an area of entertainment that is as old as the theater, but had yet to receive the level of mainstream recognition and respect in the U.S. until RuPaul and Co. created the venue for the artistry of drag to shine," Variety's Cynthia Littleton wrote in an October 2019 feature story.
Two prominent forms of drag entertainment are Bingo game nights and children's storytelling events. Locally, Our Fabulous Variety Show and the LGBT Network have hosted drag Bingo and institutions such as the Children's Museum of the East End in Bridgehampton and Sag Harbor's John Jermain Memorial Library have hosted drag queen story hours.
Drag can get a little political, though. Not everyone in society is accepting of the art of female impersonation and the fact that it very often goes hand-in-hand with L.G.B.T.Q.+ identity and culture. Bigotry sometimes rears its ugly head: In July, CNN reported that the extremist group called Proud Boys interrupted a story hour at a library in San Lorenzo, Calif., slinging insults like "groomer" and "kill your local pedophile."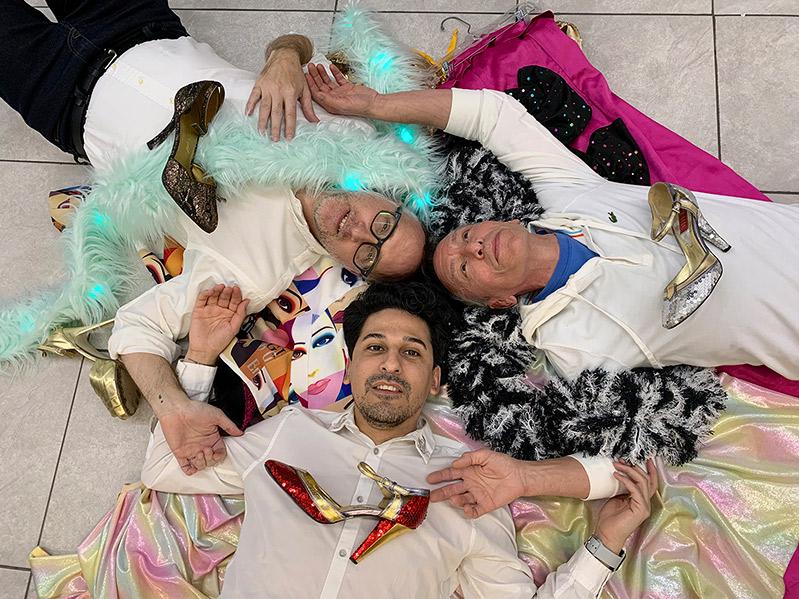 Fortunately for the Siren Sisters, local audiences have responded positively to drag culture.
"Sometimes, especially before the show, I tend to get worried," Mr. Ximo said, "but once I'm on stage and the adrenaline is going, I forget it. I'm focused on doing my best."
"Of course [negativity] is in the back of my head, but I paraded myself down Main Street" at the first-ever Hamptons Pride Parade last year, Mr. Messina added. "People are very receptive. It's basically that where we are is more of a progressive community. . . . I've never felt anything adverse here."
If he ever got heckled, Mr. Volkel said, "I'd just be kind to them because something would click in their head that drag queens are not nasty, rude, or vulgar. They are kind and respectful people."
Originally from Argentina, Mr. Ximo is a veteran female impersonator, having started performing in drag around 2007. He considers his friend Arlene Furer, who owned the Cigar Bar in Sag Harbor for more than a decade starting in 1995, and who gave him his first drag performance opportunity, "the godmother" of his drag persona, RaffaShow. "I can be Liza, Tina, or Cher, but it always comes from the Raffa perspective based on Raffaella Carra, an Italian singer that I like," said Mr. Ximo. (His clients at the Waterfront Beauty Salon in Sag Harbor, which he owns, also know him as Daniel Orellana.)
Mr. Volkel is also originally from out-of-town. He grew up in a place called Nina, Wisc., and now performs as Miss Nina. December's cabaret with OFVS was his first time on stage, and his appetite has been whet for future Siren Sisters performances. He shares an interesting fact: "In Nina, there's a foundry that makes manhole covers and tree grates, and you can find them all over the world. Paris, Spain, and Istanbul -- there's even some out in the Hamptons!"
Mr. Messina used to live in the city, tending bar at a bustling nightclub in the early to mid-1990s. "The owner was very, very fond of drag queens and encouraged his staff of men to dress up," he recalled. "So I took it upon myself to say, 'Okay.' I always liked dressing up, Halloween, and all that. I was born behind the bar of the Monster in New York City." His drag personality is Rusty Nails, named after a popular cocktail. "That's a drink I've never even put to my lips, honestly," Mr. Messina said. "But I love being a redhead, so the name 'Rusty' came out. I was a bartender, so I said, 'How easy is that?' "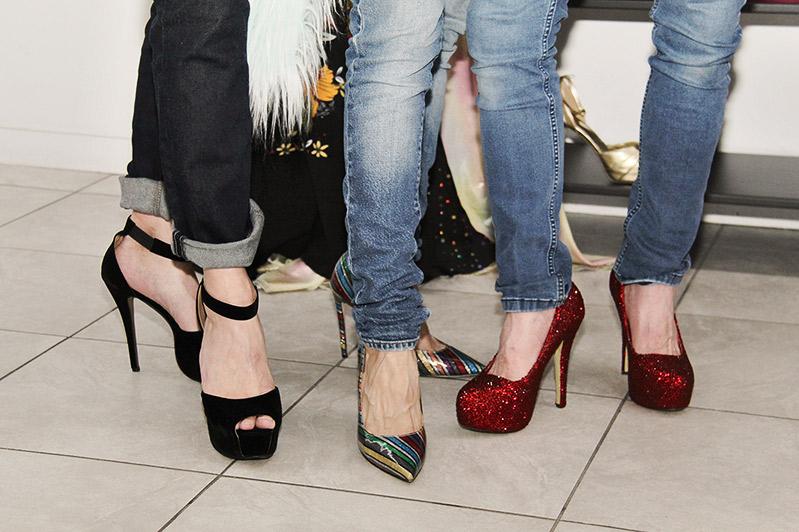 Fans of drag often find themselves marveling at the over-the-top wigs, makeup, and costumes that drag queens tend to favor. This takes a lot of effort, the Siren Sisters say.
"Rusty Nails ends up having fun on stage, but the process is not that much fun," Mr. Messina said. "Each time I do it, I think, 'I don't remember what I'm doing.' I was always an artist. It's like painting a picture, but it's on your face. Instead of trying to make myself pretty, I'm going to paint something on my face -- a work of art."
Show time on Saturday is 8 p.m., immediately following Our Fabulous Variety Show's staged reading of the play "Steel Magnolias" at 6 p.m. Tickets cost $40 for V.I.P. seating, $25 for adults, and $15 for students, and can be purchased online at the OFVS website or at 631-507-4603.
Audiences can expect fantastic outfits and favorite songs alongside comedy, choreography, and clever banter. Whereas some drag shows can get pretty saucy or sexy, the Siren Sisters prefer to keep it family-friendly.
"We encourage people to come to the show, experience it in person, and see what it's about," Mr. Volkel said. "I think you'll be pleasantly surprised."