Over the past couple of weeks, national and Boston news media have featured a new sculpture that was officially unveiled on the Boston Common on Friday, at the beginning of the holiday weekend that honors Martin Luther King Jr. Called "The Embrace," it is a 20-by-40-foot welded bronze monument of two sets of arms -- King's and those of his wife, Coretta Scott King -- embracing, designed to be walked through and under. 
The artist, Hank Willis Thomas, was chosen from 126 entrants for his concept, which was taken from a famous photograph of the couple embracing. The Kings met in Boston.
If the name of the artist who conceived the sculpture sounds familiar, it should. For a period of a few months last year, Mr. Thomas seemed to be everywhere all at once on the South Fork art landscape. He was in Water Mill in a show he also organized at the Parrish Art Museum of artists from the coalition For Freedoms, in residence at the Watermill Center with members of the same group awarded the center's fellowship for visual artists, and on his own in a group show featuring works in fabric and fiber at The Church in Sag Harbor.
Then there were panel discussions and other public programs in which he participated for the Parrish and the Watermill Center. As part of the Parrish exhibition, which was titled "Another Justice: US Is Them," Mr. Thomas's neon sculpture "Remember Me" was also literally a part of the landscape as a fixture on the side of the Parrish building facing Montauk Highway for the duration of the show, which was installed from the end of June until early November.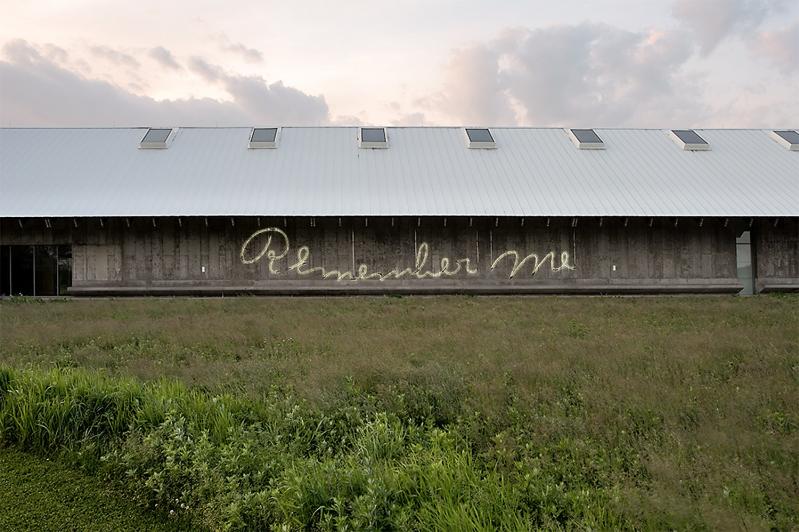 Last week, Pace Gallery, which had an East Hampton outpost on Park Place from 2020 through the summer, announced it will represent Mr. Thomas, placing him in one of the very top tier galleries in the international art world. 
As is clear from his founding of and participation in a collective designed to promote civic engagement and "reconsider what justice can be in a time of imbalance," Mr. Thomas has been concerned with civil rights and the continual struggle to make King's vision a reality. 
His piece in The Church's "Threading the Needle" exhibition was a recreation of a Stuart Davis composition, "Little Giant Still Life (The Champion)," in sewn sport jerseys and other fabric. Davis used the lettering from Champion's spark plugs product logo in an early evocation of Pop Art principles. 
Davis's choice to reference that company -- a sponsor of race cars, drivers, and racing -- and its logo must have spoken to Mr. Thomas, who has examined how commercialism and consumerism operate in sports. In his piece "Champion" he included team numbers and sponsors' names on the jersey sections he used in the composition to highlight how commodification dehumanizes athletes.
Mr. Thomas, who appears to draw on multiple sources and methods in his artistic practice, is known for his use of photography and zeroing in on the detail that gives an image meaning, termed the punctum by Roland Barthes. It was in this way that he approached "The Embrace," choosing to focus on the arms and hands alone. Viewers can experience the love expressed by the piece from outside it as well as standing within it.
"There are so many monuments that are memorials, but this is intended to really celebrate not only the Kings, but also their legacy and how their legacy plays out in our lives," the artist said in a release from Embrace Boston, the nonprofit group that sponsored the monument as part of a larger effort to promote racial and economic justice in that city. "I really wanted to make the work a call to action. A reminder that each of us has in us the capacity to be either of those two people or actually something inspired by and more influential."