The Peter Marino Art Foundation's existence is hardly a secret. Back in 2018, the conversion of the site was announced and celebrated through a show of his art collection next door at the Southampton Arts Center. Prominent signage during the construction work reminded those walking by the original Rogers Memorial Library building what it was to become. 
Yet, somehow, it still feels startling that it's there. Last year's opening seemed "soft," more geared to insiders than the idle passer-by on Job's Lane.
The structure, built by R.H. Robertson in 1895, was cloaked for several seasons like a Christo-wrapped object or a giant wintering hedgerow on a nearby estate. Now, beyond the revamped entrance, are 8,000 square feet of pristine and thoughtful exhibition space housing an international collection that rivals contemporary art's finest private foundations. 
It is easy to make comparisons to Miami's Rubell and Margulies collections, with their specific viewpoints and edgy industrial spaces. But the Marino collection is better. When he has made comparisons both before and after the renovation, he chose Manhattan's Frick Collection, with its grand historical building rejiggered many years ago to exhibit art and objets to the public. 
It takes an architect to understand and appreciate the challenges a landmarked building presents and how to make those period spaces work, even and especially when much of it couldn't be saved. Installing an elevator and replacing rotted floors and stairs added length and expense to the renovation. Covid didn't help either. 
During his decades-long career, Mr. Marino, who is known for dressing in black leather biker gear, has designed fashion houses and hotel buildings the world over. He is famous for his use of light in spaces like Barney's clothing store, now long closed in Manhattan, and numerous spaces for Chanel, Dior, Louis Vuitton, and other luxury brands on multiple continents. 
Here, he took a traditional Victorian brick and stucco building and transformed its interiors while bringing its exteriors back to life with a respectful but contemporary freshening up. All that remains of the original interior is the fireplace surround in what is now called the "Gold Gallery" to the right of the vestibule.
He has created intimate and expansive rooms, using natural light when available and suitable for the artwork, and lighting design when not. It's quite astonishing to see how the interior flow has been rethought and carefully managed.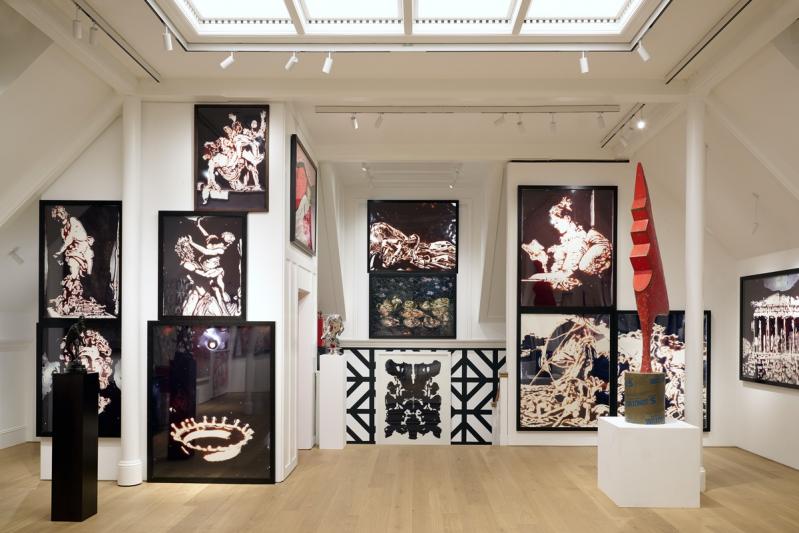 There are two floors of installations, some more permanent than others. A space upstairs is dedicated to temporary exhibitions, which change a few times a season. At any time, there are more than 150 works of fine and decorative art on view, spanning antiquity up to the present.
Mr. Marino began his collection with paintings and other artwork given to him by Andy Warhol in exchange for remodeling work on Warhol's townhouse and the Broadway location of the Factory in 1978. The architect remains friends with Bob Colacello, an editor of Interview magazine and locus of much of the Factory's activity during that time. He leads invitation-only Saturday interviews and brunches at the foundation and has his own photographs on display.
Although he had to sell a few of the Warhol works early on, Mr. Marino has been acquiring beautiful and arresting objects ever since as purchases, commissions, and personal gifts from the artists. The result is a sprawling collection in continual rotation.
Mr. Marino, who might pop by to meet and greet a tour group, is very hands-on in his approach. In charge of the building project, he also serves as chief curator, choosing which pieces go where. He draws from wildly diverse holdings described by the foundation as "Old Master paintings, Egyptian, Greek, and Roman antiquities, Renaissance and Baroque bronzes, 20th century photography, French ceramics, rare books and Old Master drawings." 
And all of these divergent styles are on display, sometimes in one room. He also includes African sculpture and his own sculptural bronze "boxes" made out of one of his favorite materials, chosen for its beauty and endurance.
There are very few labels, mostly because it would interfere with the often dense hangings of two-dimensional objects. The aim is to inspire visitors to think about living with such dramatic pieces in their own homes. This is even true of something like Damien Hirst's "Dark Architect," inspired by Mr. Marino and consisting of a tall glass and stainless-steel vitrine full of gas masks, or Andy Warhol's silkscreen "Knives."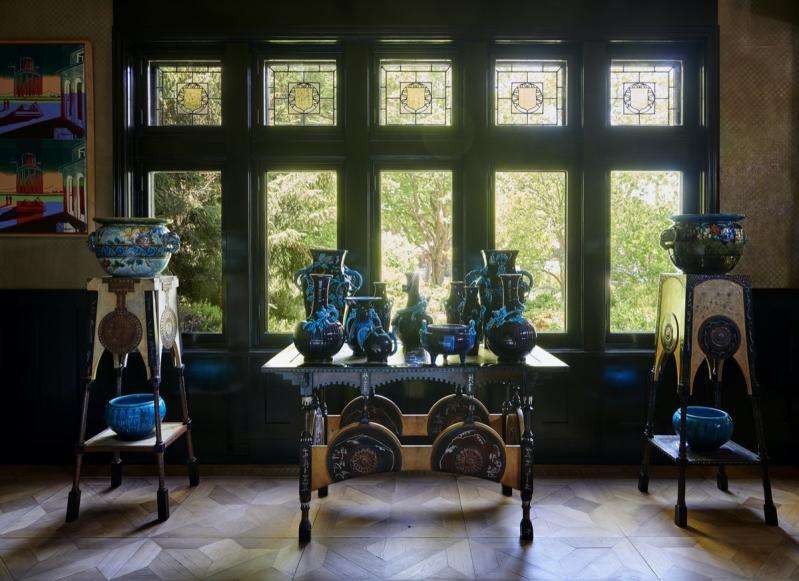 The most eclectic of the rooms is the Gold Gallery, which features a turret alcove. In it is a bountiful display of late-19th-century Theodore Deck faience (tin-glazed) ceramics, inspired by Chinese bronzes of the Song and Jin dynasties. The rich eggplant-colored vessels with turquoise decorations are striking in a room that has many other distractions. These include two Warhol "Alexander the Great" silkscreens, among others, a Carlo Bugatti table, and a few bronze Italian Baroque sculptures depicting the labors of Hercules. "Peter considers finishing this foundation a Herculean task," a tour guide explained. 
Speaking of Baroque, a Willem de Kooning painting from 1975 is placed where it is because Mr. Marino sees the work's undulating lines as similar to those in a painting by the Baroque artist Luca Giordano in the next room -- within its sight lines. "Nothing is put in the foundation by chance," the guide noted. "He hopes that when you stand in front of it, your eye would wander" to the Giordano. 
A few benches and other works by Francois-Xavier and Claude Lalanne are interspersed, a nod to not only Mr. Marino's large accumulation of their pieces, including their distinctive and ever-popular sheep (not currently on view), but also their long friendship and their visits to his house in Southampton. 
In and around the Cathedral Gallery, some monumental mixed-media pieces by Anselm Kiefer have taken up residence for the season. It's an impressive grouping and well worth the visit on their own.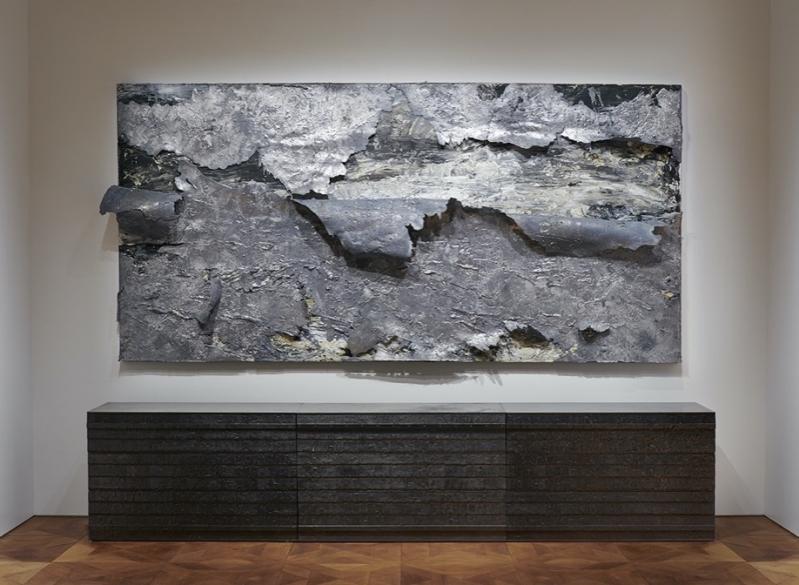 Upstairs there is currently a Sanford Biggers show in the temporary space, soon to be followed by Jean-Michel Othoniel. Earlier this season, Vik Muniz works were installed. Once the shows are changed out, it seems to have become a habit to leave a few of the previous works behind. In the Biggers show, a few Muniz works, plus a piece here and there by Tom Sachs, Francesco Clemente, and Rashid Johnson, complement the newer arrivals. 
Other surprises are an extensive collection of Charles Jones photographic prints of vegetables, stunning images in black and white that have also been shown at the Drawing Room gallery in East Hampton over the years. The elevator has been covered in Peter Dayton's art work, and a "library" has all sorts of unusual materials and artifacts.
In addition to Mr. Hirst's symbolic rendering of Mr. Marino, expect to see several portraits of him around the place. Artists such as Mr. Muniz, Mr. Clemente, Erwin Wurm, and Wim Delvoye have their own unique takes on display.
Of course, there is much more to see and describe, but given the mutability that appears etched in the foundation's ethos, it's better to discover it all on one's own. Only a week or so later, it's likely to look and feel different. The strict rule of no photography should make the foundation feel fresh on every visit, leaving it undiluted by constant representation on social media and elsewhere.
Visits are by appointment for a 45-minute guided tour or a self-guided tour at the end of the day. Tickets can be purchased on the website and cost $20.
This article has been amended from its print and original online versions to clarify that the Lalannes were visitors to Southampton, not residents, and that Brunch with Bob takes place on Saturdays. It further underlines that Mr. Marino's bronze boxes are sculptural in nature.