Regardless of whatever else he accomplished, Terence Netter will always be of interest because of his personal choices, and how he chose love over his vows as a priest.
It was at a time when the Catholic Church was considering allowing its leadership to marry and he and his bride were hopeful that they would be granted permission. It was not to be. They married anyway in 1968 and were featured in Life magazine and other publications as a love story that could not be denied. 
Although the aim here is to assess his art, which can be seen at the Pollock-Krasner House and Study Center in Springs, there is another relationship with a woman we must also pause to consider. His friendship with Lee Krasner is the reason the house and property are now managed by Stony Brook University. Netter, who died in 2018, was the director of what became that school's Staller Center for the Arts, originating that role in 1979. 
He met Krasner in 1964, while still a priest and a student of Alex Russo, who took his class up from George Washington University to visit her studio, among those of other South Fork artists. Netter asked Krasner about a "Night Journey" painting she had displayed on a wall, Helen Harrison, the study center's director, said recently. "Terry, who was very intuitive, instead of saying what he thought about the picture, he said to Lee, 'How does that painting make you feel?' " 
The series was painted at night and evoked the insomnia and depression she was going through at the time. "It scares the shit out of me," was her response.
He asked her if they could have dinner, the beginning of a friendship that lasted until her death two decades later. Netter rented the upstairs of the nearby Parsons blacksmith shop for use as a studio in 1966. When he came aboard at Stony Brook, he arranged for her to receive a lifetime achievement award and then an honorary doctorate from the state university right before her death.
After Krasner died in 1984, Netter made certain that the Pollock-Krasner property would be managed as a public museum and library dedicated to the study of American art with the Stony Brook Foundation in charge. At that point there were other groups competing to accept and manage the property, including East Hampton Town, Guild Hall, and the East Hampton Historical Society, Ms. Harrison said. The transfer from the Pollock-Krasner Foundation to Stony Brook took place in 1987 and the center opened the following year, according to his biography.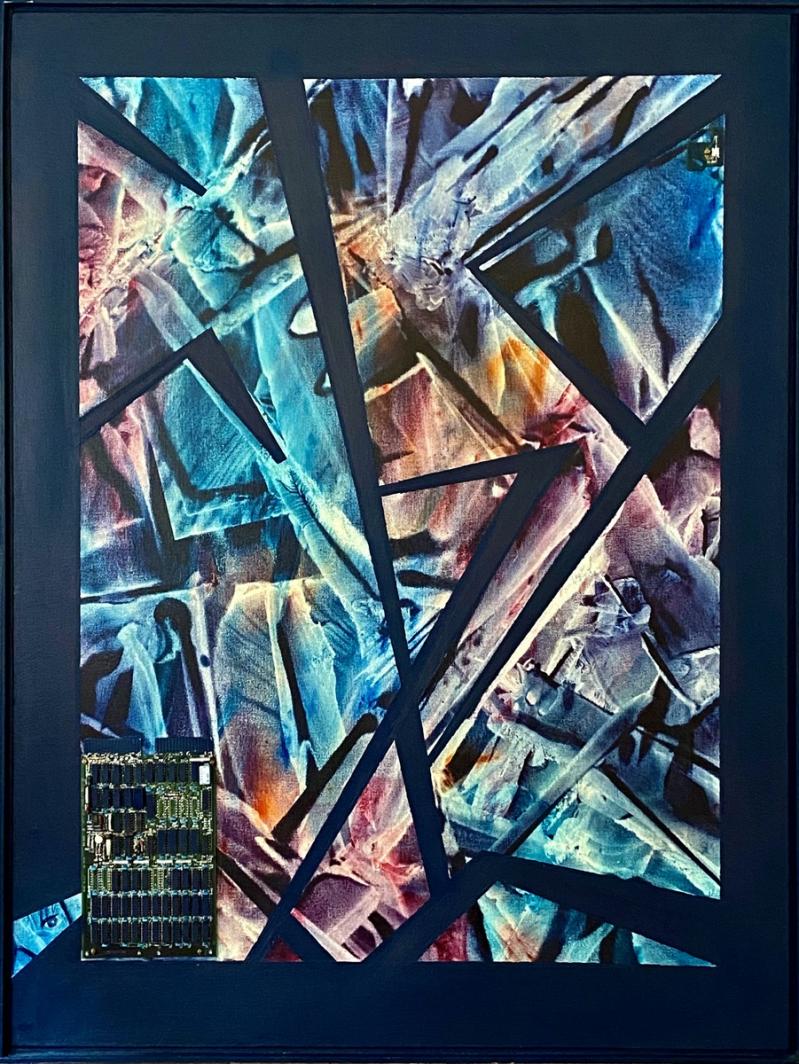 What is on view at the center are his paintings from the 1960s, some reworked in the 1980s and '90s and sometimes transformed yet again. As a whole, the exhibition is evidence of an active mind always looking at further possibilities in a finished canvas. 
Knowing Krasner's own history of tearing up her work or that of her husband to make new pieces or overpainting previous compositions, it is not surprising that she and Netter were kindred spirits. It's possible, too, that he may have taken his inspiration from her.
The show reveals how his works from the '90s can become a game of discovery, as they reveal hints of their previous lives before he returned to them. In a couple of cases, the exhibition materials illustrate how paintings progressed from one state to another and even to another state from their initial form. 
What remains constant is the underlying abstraction and its degree of finesse. Netter was an exhibiting artist at the time of the originals, which were received favorably by influential publications. Before he was asked to leave Fordham University because of his marriage, he had established the art curriculum for the college's campus at Lincoln Center. 
His work in the 1960s features a "kind of frottage technique," Ms. Harrison said, in which he would lay a canvas flat and cover it all over with oil paint thinned with turpentine, then blot it with newsprint. This made for a multidimensional effect that could look like glass shards or icicles, and resulted in lively and colorful surfaces with some slight illusionistic space.
Some works remain more intact than others. He might mask most of the original abstraction or use black paint to create a framework that looked not unlike stained glass. Additionally, he might incorporate things as collage, like a circuit board or a photograph of an earlier painting. Some playfulness was implied, but his process seems ponderous in its intentions. The overpainting could be hard-edged geometry, another way Krasner might have influenced him, or the happy falling leaves of "The Evening Star: Moon Rising."
The exhibition's subtitle, "Visions and Revisions Revisited," implies what is needed to understand the show. The rest is just visual enjoyment along with an appreciation for a life well lived. A New York Times mini documentary on Netter's life titled "The Spiritual Exercises" gives a full account of his biography and how his choices shaped him. It can be found on the newspaper's website. 
The show is up through Sunday.