Jasper Johns's time on the South Fork was purely transitory. Yet his appearances, back in the day when he and Robert Rauschenberg were a couple during their early time in New York City, were both recorded (by the camera of John Jonas Gruen) and memorable. 
He also received a bit of honorary association through his friend, the Museum of Modern Art curator and poet Frank O'Hara, whom he honored in "Memory Piece (Frank O'Hara)" in 1970. O'Hara died in an untimely car accident on Fire Island, but he spent many of his summer weekends on the South Fork and was part of the circle of writers and artists who worked and played here from the late 1940s through the present.
In this spirit of association, the Parrish Art Museum in Water Mill will show "An Art of Changes: Jasper Johns Prints, 1960-2018," an exhibition drawn from the artist's six-decade output in multiples, from April 24 to July 10. In fact, an early lithograph included in the show is a collaboration between the artist and poet, "Skin With O'Hara Poem," from 1963 to 1965. It's mashup of hand prints and writing and is much like the "Stones" O'Hara worked on with Larry Rivers, an artist with a place in Southampton who was in some of those early beach photos.
Mr. Johns has always been a prolific artist, since his early Neo-Dada "Targets" and "Flags" provided a bridge between the gestural expression of the New York School artists who came before and the hard-edged commercial finishes that characterized high Pop Art. He was even more so in the variety of ways he found to express himself in every intaglio process as well as relief prints and lithography, a medium with which he found great affinity and inspiration.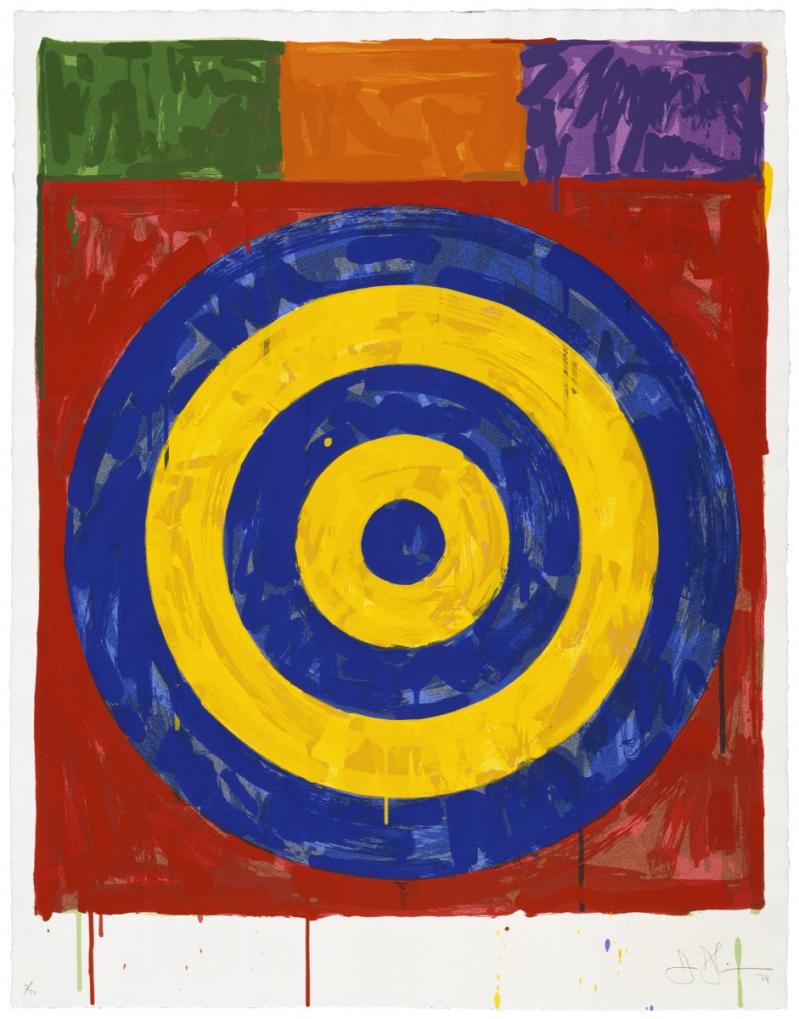 His groundbreaking work in prints started almost concurrently with those early works that played with collage, encaustic, paint, and three-dimensional elements, which were an open challenge to the formalist orthodoxy still holding sway over many of the artists of that period.
Art is a solitary occupation, but printmaking is not. In 1960, Mr. Johns began working with Tatyana Grosman, who founded Universal Limited Art Editions, or ULAE, just UpIsland in Bay Shore. Rivers was the first artist to work with Grosman, with "Stones."
The ULAE website notes that Mr. Johns started in lithography and then moved to etching, adding it to his repertoire. He chose a "Target" to be one of the early prints in 1960. He was the first artist to use "the hand-fed offset lithographic press, resulting in 'Decoy' -- an image realized in printmaking before it was made in drawing or painting. Since then, Mr. Johns has become a master of both media and continues making prints with subjects as varied as the seasons, creative reinterpretations of Holbein, and curious faces and features combined with everyday objects."
The museum will exhibit some 70 different objects in intaglio, lithography, woodcut, linoleum cut, screen printing, and lead relief. They hail from Minneapolis's Walker Art Center, where the exhibition was organized to mark Mr. Johns's 90th birthday. A former curator at that museum, Joan Rothfuss, who now works independently, selected the works for the show.
Consisting of four sections grouped thematically, it traces the artist's creative path over many decades and the themes and motifs that became synonymous with his work: flags, numbers, lightbulbs, studio ephemera, hatch marks, targets, and so many others. On view will also be some paintings and sculptures to highlight their visual relationship to the prints.
The Parrish is the fifth and currently last stop of the exhibition's national tour.