Ever walk into a gallery and feel a mood or an essence emanating from the art? With the artists in its current show, "Nature Walk," East Hampton's Drawing Room has created that kind of atmosphere. 
The exhibition features Mats Gustafson's pastels and watercolors along with Ted Muehling's fascinating and beautiful decorative objects. It sounds like a strange juxtaposition at first, but there is something of an enchanted forest effect that this show projects, as if one has opened a door to a unique and sublime realm.
Mr. Gustafson, who is famous for his fashion illustration, has also achieved success in the fine-arts sphere. The works on view were made between 1997 and 2000. A result of a slow process of layering pastel marks, the images capture "distilled visual impressions" of a "a fusion of places seen through veils of memory," according to the gallery.
If the smudgy trees and rock formations set over water (we know this from the reflections) look familiar, it is because they are inspired by views of the bay from Sag Harbor, where Mr. Gustafson lives and has a studio. In his hands, the pastels harness shadowy sfumato to represent objects rather than act as a smoky transition between them.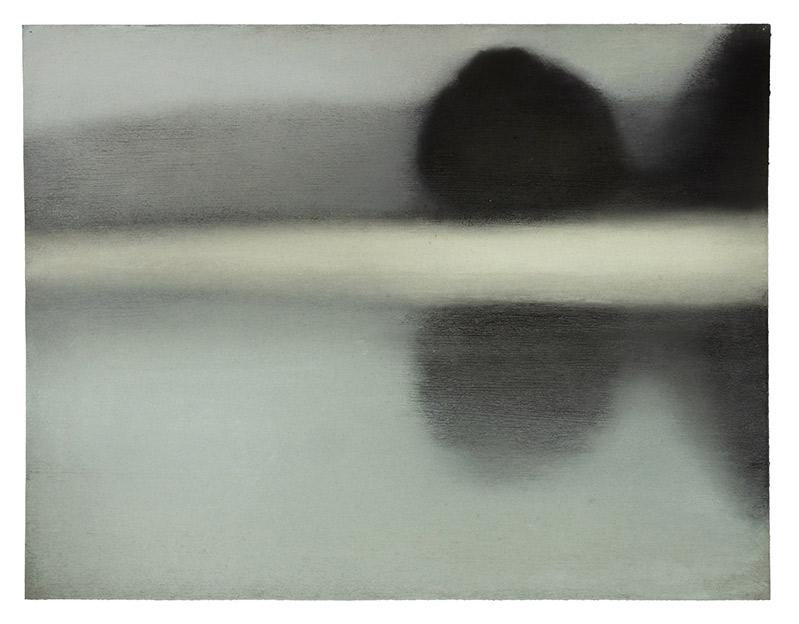 Yet he seems to use a similar technique in his watercolors of trees and stones. Although their border delineation is stronger, the objects within those outlines project and dissolve as if also made of smoke or dark vapor. The entire effect is dreamlike and hallucinatory, but peaceful and somehow invigorating in the way meditation can be. 
While contemplating the atmosphere these works create, Mr. Muehling's objects of wonder reflect another level of engagement with the natural world. As longtime partners, Mr. Muehling shares the same home space and environment with Mr. Gustafson. But rather than capture a sense of place from breaking down real views into the ephemeral, Mr. Muehling captures the ephemeral in order to give it form in his work.
He does this by collecting objects, as he has since childhood, from the coastline and in other natural settings. They become inspirations for castings and designs of decorative and functional objects as well as jewelry. Lichen, insects, shells, pinecones, and twigs might show up, slightly abstracted but still true to form, in spoons, earrings, and metal or porcelain objects. The resulting pieces are placed in vignettes around the gallery in conversation with Mr. Gustafson's two-dimensional works in mutual appreciation of nature.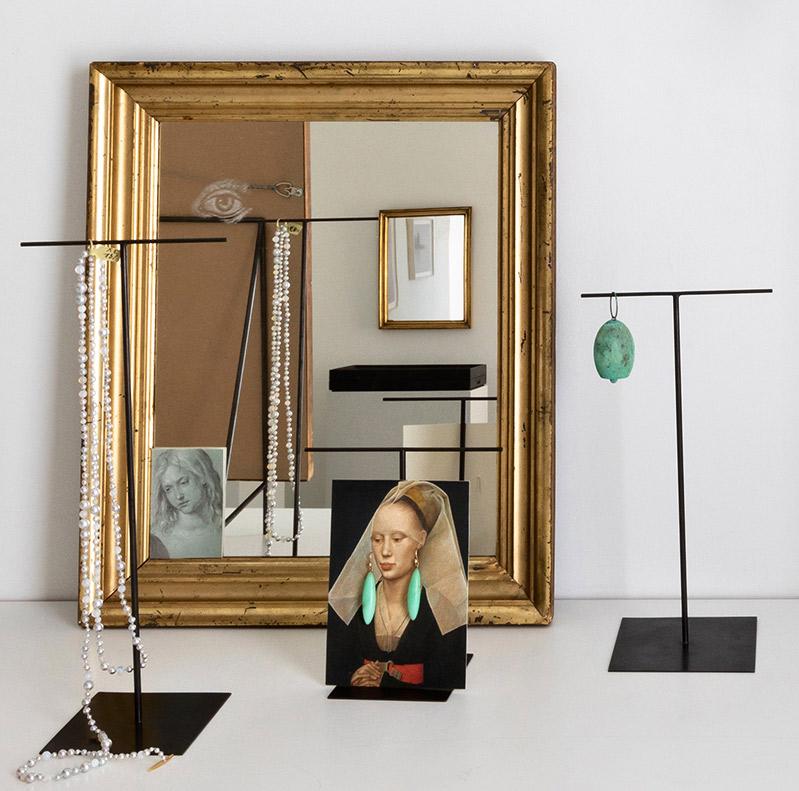 Known for putting his objects in context through tableaus in his eponymous store in New York City, here Mr. Muehling employs similar schemes to underscore their sense of place in concert with the drawings. Expressive clam, scallop, and moon snail shells are strung on silk cord necklaces or made into pins. Placed in a vitrine together with other real and inspired objects atop sand-colored velvet, they seem like treasure washed in from the tide. 
In a small glass box, with a shell placed on top and a pinecone in front, Mr. Muehling's articulated pinecone earrings hang on an armature behind a postcard portrait of Ginevra de Benci, whose ears are punched through and adorned with twist earrings made of lavender diamonds and gold. The diamonds look like tiny seeds gathered into some kind of pod. The choice of a Leonardo portrait in this vignette feels all the more appropriate in a space with so much of the Renaissance master's later sfumato-esque effects drifting about in the artwork around it.
In other applications, a butterfly and additional small insects end up painted on plates and platters or etched into glass. A tea strainer in silver looks like a casting of sea foam or the negative space created by Queen Anne's lace. A chrysanthemum's petals undulate into a candle holder. In other instances, necklaces and earrings highlight gemstones and pearls in their own right with minimal intervention.
Also apparent is Mr. Muehling's embrace of egg forms in vases, bells, and "Egg and Dart" candlesticks made in collaboration with E.R. Butler. The candlesticks extract a classical motif of building decoration to make stand-alone pieces that pull the elements apart so that the darts are elongated and stacked on top of, rather than next to, the eggs. It's yet another instance of the alchemy happening all around the gallery.
Both artists, who have exhibited internationally and been honored widely, will be featured in an exhibition of their work at Stockholm's Millesgarden Museum beginning in June. The Drawing Room show will remain up through Dec. 23.