Of the five houses on the East Hampton Historical Society's annual Thanksgiving House and Garden Tour on Saturday, one, Greycroft, is steeped in local history and has been very much lived in over the years, while another, the White House on the northeast corner of Main Street and Woods Lane, is perhaps as mysterious as it is familiar.
The tour, an important benefit for the society, also features a 1919 Colonial Revival, the 17th-century Isaac W. Miller House, and a recently built house off Ocean Avenue that pays homage to the Shingle Style characteristic of so many late-19th-century cottages here.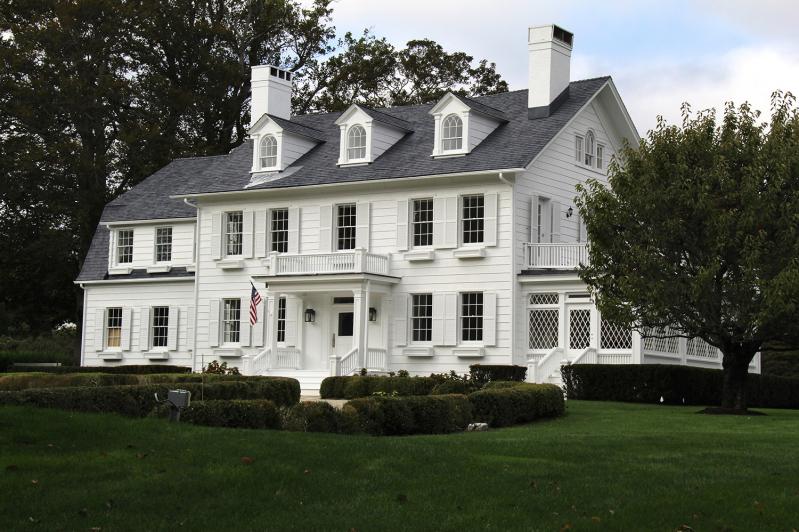 Dating from 1724, the White House was barely lived in for many years until it changed hands in 2020, although it had been completely renovated in 1992 by the late developer Fred Mengoni, and meticulously maintained. It has appeared to be trapped in amber ever since --  beautiful but seemingly uninhabited -- hence the mystery.
However, no one arriving in East Hampton after dark could fail to marvel at the stunning array of white Christmas lights installed every year, and few other houses, if any, have given rise to as much speculation. This year's house tour offers a rare opportunity to look inside the landmark.
Greycroft was designed in 1893 for Lorenzo G. and Emma Woodhouse by Isaac Henry Green, an architect known for his Shingle and Queen Anne-style summer "cottages." Completed the following year, it remained a single-family residence until 1936, when Mary Woodhouse, Lorenzo's niece, loaned the property to Leighton Rollins for his eponymous School of Acting. House and grounds reverted to Mary Woodhouse after the school closed in 1945.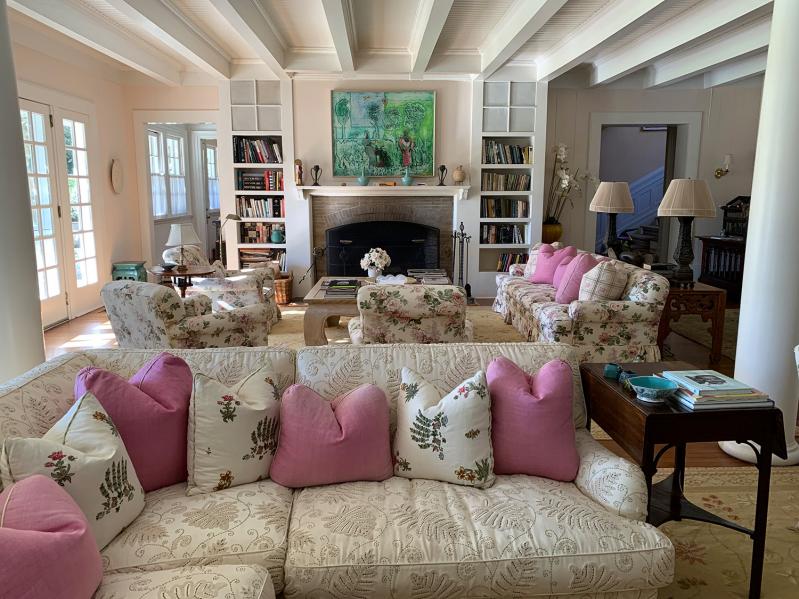 After several subsequent owners, Alan Patricof, a venture capitalist, and his wife, Susan, bought the property in 1980 and engaged the noted architect Robert A.M. Stern to return it to its original state. 
The task of Mr. Stern and Tony Ingrao, the interior designer, was to replace such jarring additions as sliding glass doors with the more traditional French doors, which open to a large patio. The first-floor staff quarters became a spacious kitchen-dining area, and a living room partition was removed to open the space, which has two fireplaces.
Greycroft's signature features include its gambrel roof, fan windows, stairwells with multiple turns, paneled wainscoting, and a boxed-beam ceiling. There is no entrance hall, and the main section of the ground floor is only one room deep. 
At some point, Emma Woodhouse transformed four swampy acres to the southeast into the first private Japanese water garden in the United States. Mary Woodhouse, founder of the East Hampton Garden Club (as well as Guild Hall), inherited the gardens. They were eventually passed on to East Hampton Village, and became part of today's 24-acre Nature Trail.
Mr. Patricof, who recently walked the New York City Marathon, becoming, at 88, its oldest participant this year, welcomed several visitors to the house on a recent Saturday. During a tour, he pointed out several bathrooms replete with their original fixtures, noting that he'd rebuffed suggestions that he remove a claw-footed tub from one.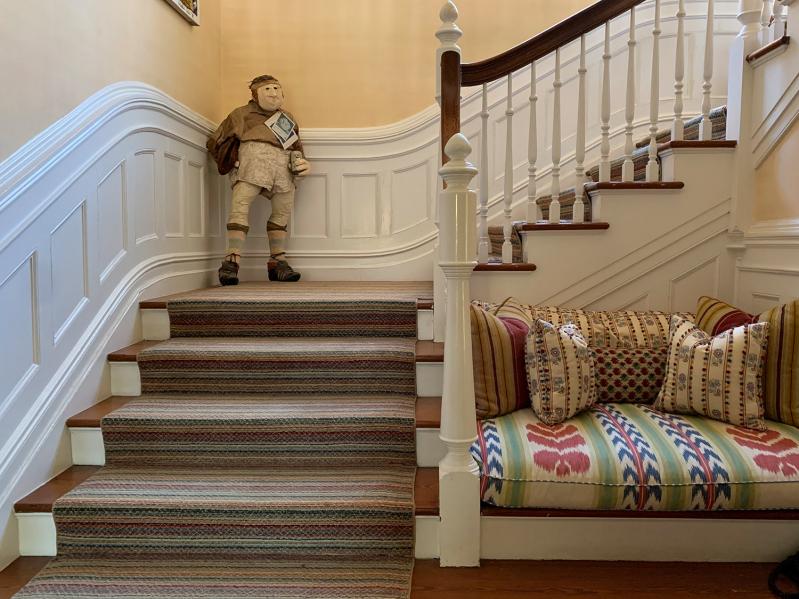 At the base of the main staircase, which takes two turns, is an alcove with a pillow-covered couch. "I bought this house primarily because of this nook," Mr. Patricof said. "I envisioned having a couple of girls, and had this vision of them lying here and making telephone calls and gossiping with their friends. I never had the girls." His vision was not completely lost, however, he has five granddaughters.
Mr. Patricof showed a visitor a copy of Life Magazine from 1940, in which the column "Life Goes to a Party" featured the Leighton Rollins School of Acting, whose students trained "on the wide lawns of Greycroft, a famous estate." The writer reported that students studied their parts in the water garden and rehearsed in the barn theater across the street, today known as the Woodhouse Playhouse. 
Of particular note for those visiting the house is its eclectic collection of artwork, which includes paintings by Romare Bearden, Julian Schnabel, Milton Avery, and Bridget Riley, among many others, and, not far from a Mark di Suvero tabletop sculpture, a vintage Schwinn bicycle.
Sculptures by Joel Shapiro, Isamu Noguchi, Yoshitomo Nara, and Mr. di Suvero, as well as a treehouse designed by David Stiles, can be seen in the backyard.
Other stops on the historical society tour include a 1919 center-hall Colonial owned by a Manhattan gallery owner and a well-known creative-event planner. Among the noteworthy details are a "wave" dining table by the furniture designer Silas Seandel, a Christian Astuguevieille chair inspired by the undulation of shells, and a 1907 Tiffany stained glass window floating above the pool house.
The Isaac W. Miller house on Main Street, which dates from around 1658, is one of the nation's best remaining examples of a slant-roof saltbox. One source has said Lion Gardiner presented it to his daughter Mary upon her marriage in 1658, but its name derives from a late 19th-century owner. It was eventually purchased by Aymar Embury II, who designed both the East Hampton Library and Guild Hall.
The Crossways off Ocean Avenue was developed as a Shingle Style guest house next to several other family residences. Nods to that style include the curved roof over the porch, with shingled porch supports; an eyebrow dormer over the front entry and primary bath, and strips of three or more windows throughout. 
Saturday's self-guided tour will take place from 1 to 4:30 p.m. An opening-night cocktail party, which includes tickets to the tour, is set for Friday evening from 6 to 8 at the Maidstone Club. Tickets for the tour alone are $85 in advance and $100 that day; tickets for the opening night cocktail party are $250. Tickets can be secured at Clinton Academy, 151 Main Street, on Friday from 10 a.m. to 4 p.m. and Saturday from 10 to 3; from the society's website, or by calling 631-324-6850.