A day after the Hamptons International Film Festival came to a close, Arielle Haller-Silverstone organized a screening of her own, held in a private Southampton home. Her movie, "Love . . . Reconsidered," for which she wrote the screenplay, was entirely independently created with the help of a mostly female team. Marketing the 90-minute romantic comedy was therefore on their to-do list as well.
But such is the indie spirit, the roll-up-your-sleeves D.I.Y. attitude, that filmmakers are willing to endure for the sake of creative independence and the chance to bypass the inevitable logjam of studio productions.
Ms. Haller-Silverstone, a Sag Harbor-based New Yorker who calls herself "a very failed actress," wrote the screenplay during the onset of Covid-19, when her life began spiraling from scary to the absurd -- it's all there in "Love . . . Reconsidered," which strives to be a sort of Woody Allen movie for millennials (or maybe one by Lena Dunham, who was once described as the millennials' Allen), an angst-ridden farce, full of complicated characters and set in the Hamptons.
Much of the drama takes place in the real-life Ari's Closet, which has been renamed the Magic Closet in the film. The consignment store on Windmill Lane in Southampton was opened by Ms. Haller-Silverstone in 2020, and it's there that the lead character, Ruby, played charmingly by Sophie Von Haselberg, Bette Midler's daughter, meets an assortment of Hamptonites. Some are tiresome tropes, like a posse of shallow women-who-lunch types, while others -- in particular the guy who edits porn movies for a living but is only turned on by frumpy "mom" things like P.T.A. meetings and bake sales -- are hilarious.
It's plain to see why this funny, affecting, peculiar story of a young woman finding her footing should be on the screen. But why choose the tough indie route? After all, only a fraction of indies find commercial success -- "The Blair Witch Project," "Hoop Dreams," "Call Me by Your Name," "Sex, Lies, and Videotape," and "Napoleon Dynamite" are some that enjoyed wide theatrical release and huge payouts despite an original shoestring budget. 
For Ms. Haller-Silverstone, to be free of the pressures of big budgets and studio meddling was a goal from the beginning. On a recent Zoom call, she was joined by the film's director, Carol Ray Hartsell, and co-producer SJ Allocco-St. Germain to talk about why they chose the under-the-radar route for the film's release.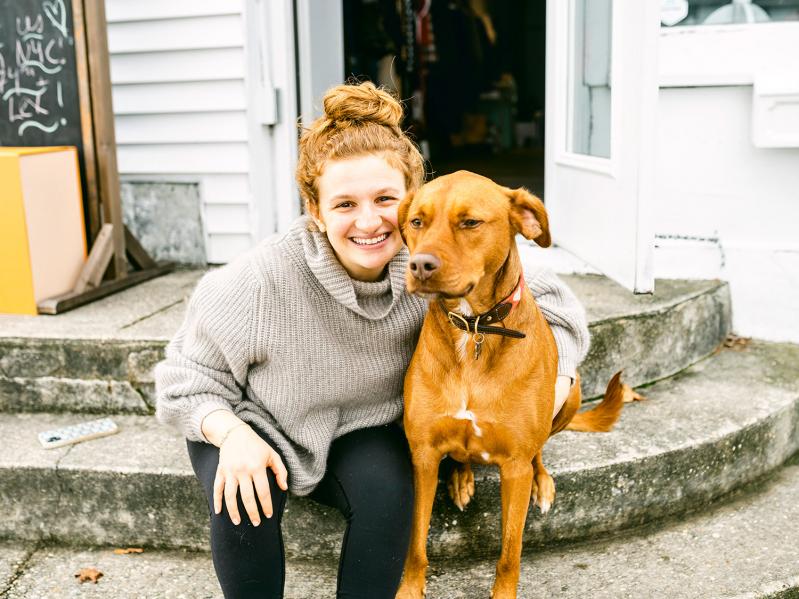 "I always wanted this to be an independent film," Ms. Haller-Silverstone said. "Being able to make decisions that are right for the film was really important. And having that kind of autonomy without having to answer to a studio . . . it's what SJ and I are always on our soapboxes about -- that the number of independent films that die on the distribution cutting floor is outrageous," she said, clearly exasperated. 
"Love . . . Reconsidered" is Ms. Hartsell's directorial debut; her previous credits include multiple TV talk shows and comedy sketches. Her first feature offered her a chance to make a genre film of the kind that simply doesn't get produced anymore. 
"One of my friends who came to the [New York City] screening -- she's an entertainment journalist so not someone who's really loose with compliments -- came up to me after the screening and said, 'My God, what a charming movie. . . . These are the sort of indie comedies you used to get in the '80s and '90s that you never see now. And as I was watching I realized how much I've missed this.' And hearing that made me feel so great about what we had done. Because it's true, you don't see these kinds of fun, independently financed movies that are scrappy and good." 
Ms. Allocco-St. Germain, a Long Island native and longtime casting executive, facilitated the signing of busy actors such as Ms. Von Haselberg in the lead and Colton Haynes, the star of "Teen Wolf," as well as Luke Gulbranson of Bravo's "Summer House" and "Winter House" and HBO's "Flight Attendant." 
Energized by the team's collective and fiercely independent approach to filmmaking, Ms. Allocco-St. Germain and Ms. Haller-Silverstone recently formed Tiny Office Productions, to serve as a launchpad for the creative film community. "Whether it's a docu-series, or a film, or a mini-series, whatever it looks like, we want to help because we believe in them," Ms. Allocco-St. Germain said.
Ms. Haller-Silverstone believes "a real disruption in the industry" is brewing, caused by the rise in streaming platforms and living-room premieres. It's true that the small screen is a happy habitat for a lo-fi, indie film, rather than the mega-budget movie with its special-effects bonanza. Indieness is usually all about storytelling because being independent of money means the makers of these films must strive for art, not the artificial.
For now, however, "Love . . . Reconsidered" is not available in your living room. It's doing the private screening circuit around the country, with the hope of getting it into festivals (it will be in the Manchester, England, film festival next year). Festivals, after all, are where "unknown" films get noticed and where studios, indie distributors, and deep-pocketed streaming platforms write big checks for what they hope will be the next breakout hit.
Ari's Closet will reopen on Nov. 26 as Le Closet, and to celebrate the new incarnation, its partnership with Nicole Schumann, a jewelry designer, and Small Business Saturday, the store will offer a 10-percent discount on in-person sales. Light refreshments and champagne will be served, while labels such as Chanel, Hermes, Gucci, Prada, Zimmermann, and Isabel Marant can be browsed.