A mother and daughter paging through a family photo album is a familiar trope, but one made almost startling when the women are Hillary and Chelsea Clinton. In an episode of their new series "Gutsy," their domestic scenes offer an intimate look at their private life not shared often, if at all. 
Those moments alternate with encounters with other mothers and daughters. Some are famous, like Goldie Hawn and Kate Hudson, others less so, among them Meriam Al-Sultan, a Saudi mother who left her husband and country with her daughter to follow her dream of becoming a magician. 
The Hamptons International Film Festival's "A Conversation With Chelsea Clinton" drew a packed audience to the East Hampton Middle School for a two-part program: A screening of one episode of "Gutsy," the eight-part series now streaming on Apple TV+, followed by a conversation between Ms. Clinton (hereafter referred to as Chelsea) and Donna Karan.
"I don't remember a time when my parents weren't out there in the public domain," said Chelsea to Ms. Karan. She was born in 1980, when her father was the governor of Arkansas and her mother "very much a public figure in her own right." Even when she was very young, she said, her parents would explain their work to her. She had miniature desks in both their offices, where she would color while they worked.
Chelsea and Hillary Clinton's "The Book of Gutsy Women" was published in 2019. "That book was very much a codification and continuation of a conversation that my mom and I have been having for as long as I can remember," Chelsea told Ms. Karan, recalling how her mother often spoke of the courageous women both in her family and beyond.  
The book includes some 100 profiles of brave women. Because there was continued interest in the book after it was published, the Clintons considered other media opportunities, eventually, with Sam Branson, forming Hidden Light Productions, from which "Gutsy" was commissioned by Apple TV.
The episode screened at the middle school, "Gutsy Women Are a Bunch of Mothers," featured five mothers. In addition to Ms. Hawn and Ms. Al-Sultan, the Clintons visited Dr. Cynthia Kudji-Sylvester, a single mother whose daughter, Jasmine, followed in her challenging footsteps to become a physician as well. 
While the Clintons took a tango lesson with Ms. Hudson and Ms. Hawn, and visited Los Angeles's Magic Castle with Ms. Al-Sultan, the two Dr. Kudjis led an excursion to an apiary, where all four women donned full beekeeping suits.
One especially courageous figure is Ceyenne Doroshow, a trans woman who has been a surrogate mother to many young people banished from their homes for being gay or trans. Of Ms. Doroshow, who founded the Queens-based G.L.I.T.S., which is dedicated to creating sustainable housing and health care for Black transgender people, Chelsea says in the film, "She has created a family of choice."
The Clintons' domestic scenes, including Chelsea scrambling eggs for her mother, are pleasant enough but rather anodyne. Women like Ms. Doroshow and Delores Huerta, a longtime labor and civil rights activist, bring a more militant edge to the episode. Ms. Huerta, who has 11 children, founded the National Farm Workers Association with Cesar Chavez and in 1965 directed the organization's national grape boycott.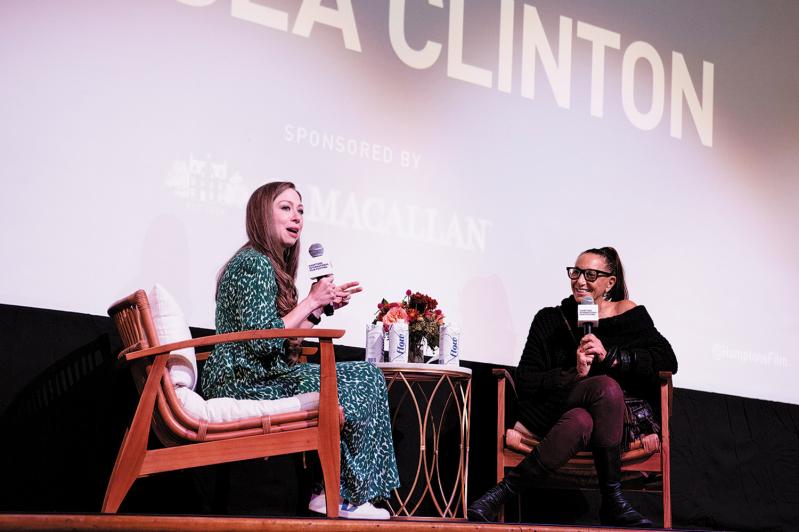 The conversation that followed the film naturally centered on parenting, oscillating between Chelsea's own thoughts on motherhood, the future of the world her three children will live in, and her recollections of growing up as the only child of public figures.
In 1987, when there was an effort to persuade Mr. Clinton to run for president, "My parents thought that I was too young," and he declined. "They wanted me to always know I was the most important part of their lives."
Four years later, the couple told her that her father was considering making a run for the presidency. "They made it very clear that if I had said no, my father wouldn't have run. I said I was okay with it."
While she was acutely aware of how hard both Clintons worked during that campaign, "there were only three nights over those 13 months when I wasn't with one of my parents. I really understood why they were doing what they were doing, but they did always manage to balance that part of work in the world with being my mom and my dad."
Chelsea recalled that her parents included her not only in family decisions, but also in conversations at the dinner table. "I was always expected to have an opinion, and I also was always expected to see the difference between an opinion and a fact -- something I wish more adults understood today." 
The Clintons were not always in accord, and Chelsea was comfortable disagreeing with them when she felt strongly about something. "I was quite vocal, not only in my family, but in public as a supporter of equal marriage rights. We had rather intense conversations about that. It took my parents a while, but they got there."
Family discussions are particularly important now, she added, when "many families may have disagreements about the fundamental human rights of women and girls in this country."
Segueing into the state of the world today, "I think we are living in quite unsettled and unsettling times, and quite dangerous times," she said. In addition to a woman's right to choose and the right to privacy, she cited "fighting to move us toward a more sustainable future for our planet" as crucial, especially for parents, because "our children will live in this country and in this world for much longer than we will."
She went on to take issue with those who say that young people will save us. "Isn't my job as a parent to try to ensure that my children don't need to save me?" 
Ms. Karan raised the issue of mental health, especially the uncertainly many young people are experiencing in the pandemic era. While Chelsea cited the need for more robust parental controls around technology, she went on to say that "It's [more] about the concern of school shootings."
"There were high school football games shut down in multiple states over the weekend because of either shootings that were occurring or had occurred, or because threats had been called in to the school. No child should have to live that way." She also noted the growing amount of climate anxiety among children.
"There's a lot we need to do," she concluded, "and I worry we're not really doing any of it right now at the level of intensity or coordination that all of our children deserve."
Activists like Ms. Doroshow and Ms. Huerta, however, as "Gutsy Women Are a Bunch of Mothers" shows, do indeed operate at the "level of intensity" that not only our children, but all of us longing for a more just and humane world, deserve. That may be the most important message of the episode, if not the series.