The gossamer hangings that make up "Window," Maren Hassinger's installation at Dia Bridgehampton, move lightly in the breeze, when there is one. Other times, the movement of human bodies through them causes the diaphanous translucent fabric to undulate and sway. 
The artist has incorporated dance in her work since she switched from dance to sculpture as her concentration at Bennington College in the late 1960s. At Dia, watching her float through the aisles created by wire clotheslines that hold the fabric was mesmerizing. It animated the space. Elements of performance and process have been a constant in her work throughout her career.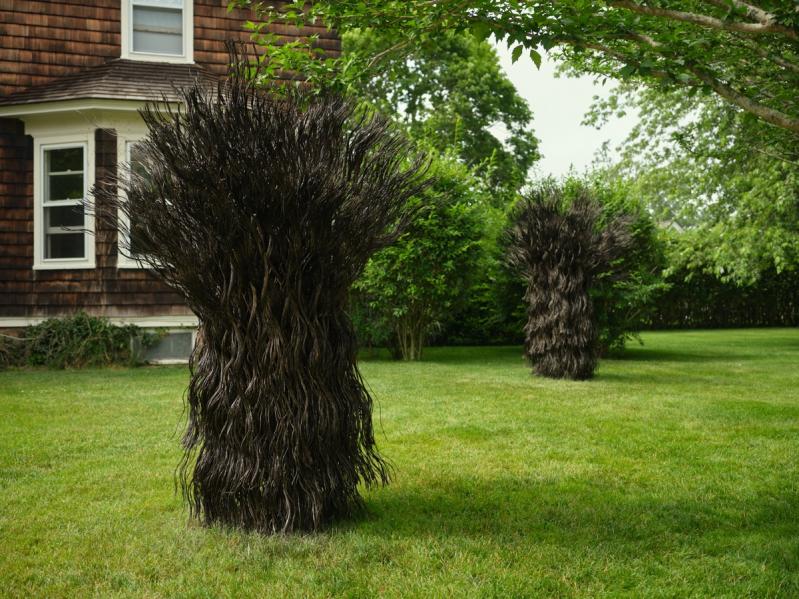 Outside, her steel-cable sculptures stand in the rear yard, to be viewed through the gallery window. Inside, the chiffon fabric, cut to the exact dimensions of the window, is printed with an image from a much earlier installation of her wire structures, at the C.W. Post campus of Long Island University in Brookville, back in 1991.     
The original piece, "Circle of Bushes," comprised 12 bushes installed in a circle. The image printed on the chiffon rectangles is one of these sculptures with another in the background, taken from a photo she made of the work at the time.    
Ms. Hassinger lived in Springs then, commuting to Stony Brook University as a divorced mother of two children to teach art classes through the invitation of Howardena Pindell.     
"At that point, this was very far away from everything," she recalled. While she had colleagues and students to interact with at the college, and "there was a constant conversation going on about what's happening in New York," she didn't have any extra time to join the artistic community here.    
"I didn't really have any peers here. And even if I had, I don't know how I would have had time to see them because I was busy with small children," she said. Her children were 3 and 5 years old at the time. And there was no room in her house for a studio.    
Still, her work was noticed by curators here, and she exhibited at both Guild Hall and the Parrish Art Museum. "I kept notebooks and had shows, but I would have to make the work at the show." For Guild Hall she recalled making a very large version of her wire rope bush forms, something more on the scale of a hedge, perhaps inspired by a landscaping feature that is prevalent here.    
Ms. Hassinger didn't remember if that was a direct reference, but said she finds the same themes recurrent in her work. "I always felt like it was, what is it we understand? We understand other people. We understand nature, or at least we try to understand that. At least it's a familiar place to start a conversation."
    
In 1997, she left the area to begin teaching as the director of the Rinehart School of Graduate Sculpture at the Maryland Institute College of Art, or MICA. She retired in 2018 after giving the school and her family the bulk of her attention, although she never stopped making art. She has since returned to Harlem, where she lived before coming to the South Fork, having moved east in 1984 from the West Coast, where she grew up.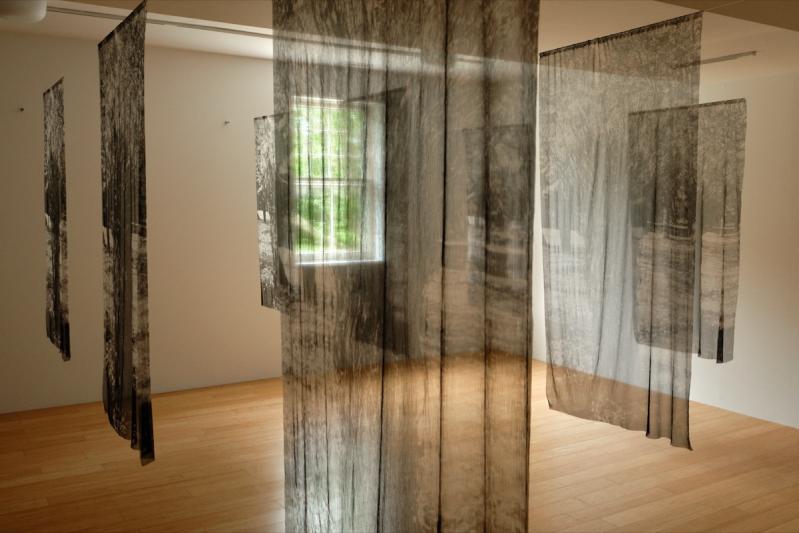 It may seem from the work on view and from what she exhibited here previously that these wire forms are the sole focus of her work. Instead, her more recent art pieces prior to Covid employed old New York Times newspapers she twisted into wall hangings or wove into seating, and pink plastic bags that she filled with human breath and brought together as compositional forms. But the wire sculptures were formative and remain so, a link that goes back to her days in graduate school as an original student in U.C.L.A.'s fiber structure program, from which she was given its first master's degree.
    
Within a year of her retirement, she became the focus of several exhibitions, including a retrospective at the Baltimore Museum of Art as well as showings in Los Angeles, New York, and Aspen, Colo. "My career was starting to pick up because I had more time for looking at things and then talking to people and having conversations about building shows." 
    
Although the pandemic stopped a lot of that activity, "I still had all of those ideas, so I thought about them, wrote them down, made drawings, saved them up, and now it's back to work again," she said.
    
Ms. Hassinger's show of recent work with Susan Inglett Gallery in New York, "We Are All Vessels," which closed in June, pleased her because it was the result of a good deal of time and consideration during the shutdown. "I'm not the kind of person that can just turn out stuff like regurgitation or something. It takes me a little while to figure out what I'm trying to say."
    
In this case, she was inspired by a Lakota Native American prayer that "we are all related," she said. "I really believe that's true, and sincerely I believe that's part of our problem, or a problem, as human beings, to not acknowledge whatever relationship that is." When Covid began, "to me that really proved it, like everybody was getting sick with the same thing."
    
That commonality and unity became the theme of the show, which started with the statements "1. We are ALL vessels capable of compassion" and "2. We are all equal. We share our humanity." The vessels she made for the show tap into similar materials on display at Dia: steel armatures holding sheer fabric and stainless-steel wire. 
    
The theme of equality carries forth into the Dia show as well. It's in the sculpture brought forward from a much older series, the same image of an older sculpture being printed anew over and over again on the chiffon, cut to the same size as the window.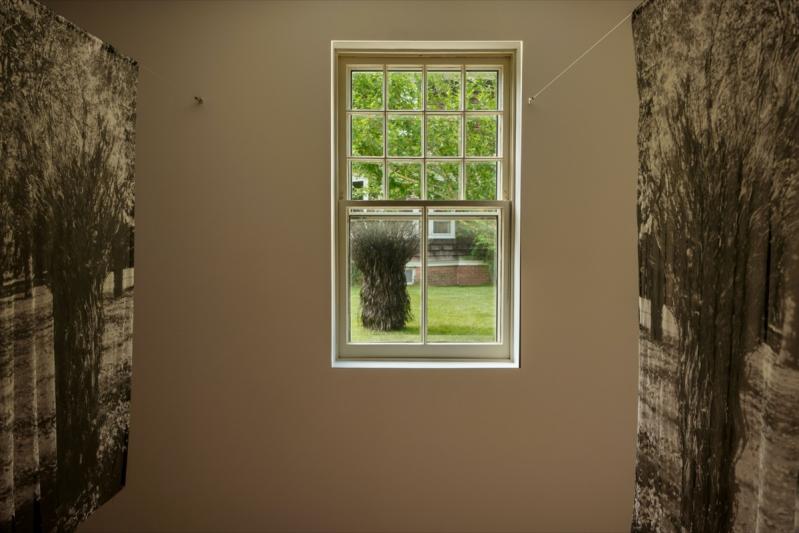 Reflecting on the nearly finished installation, she said, "Well, it's still an experiment. . . . It's really interesting to discover what the subconscious seems to know better than me, which is the relationship between the indoors and outdoors. Is one more real than the other and does the idea of being real matter?" The installation also draws on themes of the environment and nostalgia and implies a new way of looking at the future.
    
The wire sculpture stands in the yard in its three dimensions displacing space, but it's the facsimiles that dance around the viewers in the gallery, activated by their movement and imprinting directly on their subconsciouses in a way more powerful than the actual object, even though the object itself is a powerful facsimile as well. 
  
As the curators note, the window here functions "as both a separating barrier and a transformative portal," allowing access to "both halves at once despite distance. Conceived together, the hanging prints and sculptures present distinct dualities: fragile and durable; internal and external; original and imitative; organic and fabricated."
    
The exhibition will remain on view through May. True to the artist's theme of common and collective experience, Dia promises that live events with the artist will accompany the exhibition during its yearlong stay.