"People think so much about the coffee," said Laura Hopkins, founder of Tulo M*lk, "but milk is two-thirds of your latte." When Ms. Hopkins found that certain additives and stabilizers in her favorite health foods were negatively affecting her gut health, she "had to cut out everything." As she danced the dance of intolerances and allergies, she was struck by a lack of fresh nut milks on the market.
    
Ms. Hopkins was hauling her own milk from home, asking baristas if they would use it to make her coffee when she was out and about. But her experience in the restaurant and hotel industries, as well as her training at the National Gourmet Institute in New York, showed her a way to cut out the middleman. And so, a Tulo M*lk cafe, selling healthy drinks, coffees, and snacks brought life to the cafe scene in SoHo, but it was bustling for only seven months before the pandemic shut its doors.
    
Quarantining at home in Southampton amidst Covid chaos, Ms. Hopkins looked back on simpler times and thought of ways to give a new life to nostalgia. She came up with a good one. She became a milkman or, in her case, a milkwoman. 
    
In 2020, Ms. Hopkins pivoted her nut milk business from brick and mortar to more immediate, local service. "The whole ethos of the business is to have fresh milk products," she said, explaining that with such a short shelf life, Tulo's business model self-selects farmers markets and home deliveries.
    
Raised partly in Bridgehampton, Ms. Hopkins also has some Australian background as she lived in Sydney from ages 10 to 19. Her fresh "m*lk" concept connects back to Australian coffee culture, the flat white, and the unparalleled breakfasts that only Australians can muster, she said.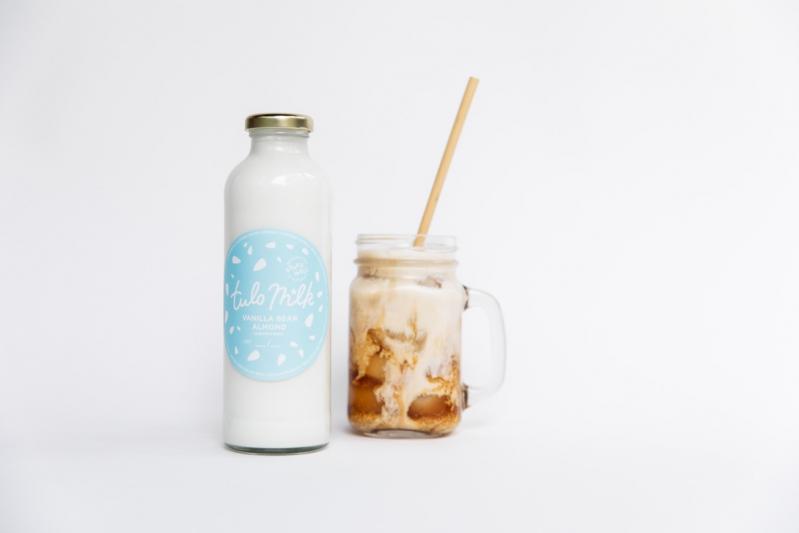 Tulo M*lk has three base flavors, plus seasonal ones that pop up every so often. The first is vanilla bean almond, "one unsweetened and one sweetened with dates, no refined sugars, all organic." 
    
Coconut cashew is next, a favorite. With a little bit of cinnamon, no sweetener is needed at all.
    
The third base is a tiger nut milk drink, high in prebiotic fiber, with only filtered water and sea salt added. Tiger nuts, actually a root vegetable and more sustainable than other nuts, are naturally sweet on the inside and blend well into a milk drink, Ms. Hopkins said, due to their starches. 
    
While store-bought, nondairy milks can often taste "syrupy," Tulo M*lk has an unmistakable creamy taste, she said. This has everything to do with the one-to-three ratio of nut to water in her recipes. While Tulo M*lk boasts 33 percent nuts, the most common brands in stores are 3 percent nuts. 
    
Ms. Hopkins recommends freezing any unused Tulo M*lk at the cusp of its expiration date to later blend into ice creams. Smoothies are another arena in which Tulo shines, and the coconut cashew works well in curries and soups, sweet or savory, she said.
    
A refrigerated van to get herself back into the city wearing her new milkwoman hat is her next mission. Meanwhile, she has trained two employees to assist her in preparing her products at the East End Food Institute in Southampton. This way, she can work from home and take care of her 2-month-old, Sunny, who she confirms will, when he is ready, become a nut milk baby. 
    
Sixteen-ounce bottles of Tulo M*lk sell for $12; Thursdays are delivery day and orders can be booked online at Tulomilk.com.