Just over a century after the Sag Harbor Cinema, then the Elite Theatre, emerged from lockdown during the 1918 influenza epidemic, and less than five years since the devastating fire all but destroyed it, the cinema will open its doors Friday with screenings of "Nomadland," "French Exit," "Wolfwalkers," and programs of Oscar-nominated short films.
"We're going to open soft in April," said Jamie Hook, the cinema's executive director, during a conversation in the theater's upstairs lounge, "and build ourselves up to a grand opening Memorial Day weekend, and hopefully have a summer where we will really unfurl like a butterfly coming out of its chrysalis."
The grand opening is being deferred to May 28 because "there are so many people who helped to build this place that it seemed really unfair to hold it at a time when many of them are not here." He added that while Covid-19 is moving in a largely positive direction, there are still many unknowns.
The rollout will have a third act around the weekend of June 25, which is when schools are out. The plan as of now is to shut down the theater for a day and throw a big party for all the people who contributed to its rebirth.
Mr. Hook said he expected capacity in each of the three theaters to be initially limited to 33 percent. People will be masked, except when eating or drinking, social distancing will be maintained in the public spaces, and people will be required to select their seats, which will be distanced, online.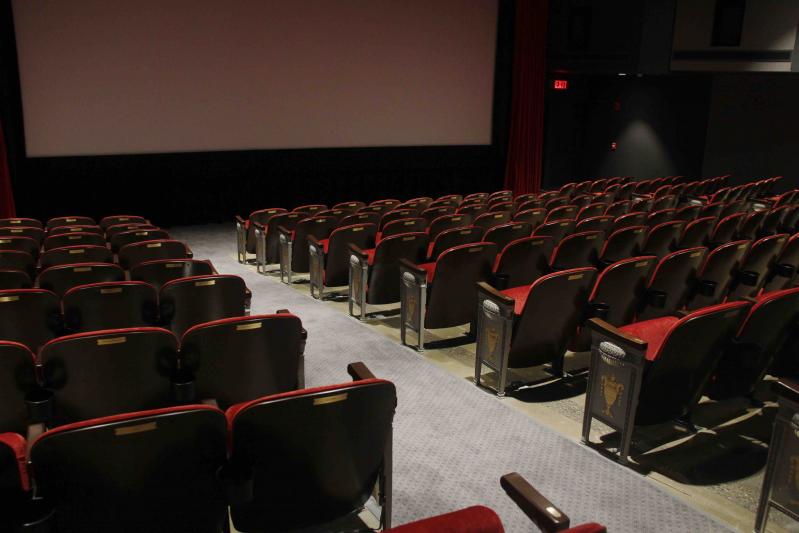 The cinema's mission has concentric targets, said Mr. Hook. "At its center is this tried-and-true vision of a place where the past and the present and the future of cinema are exposed, digested, argued over, and loved."
As an example of the breadth of the mission, he said a group of high school students were recently invited to come in to determine whether live gaming would be possible in the theaters. "If it takes that to get a 16-year-old to come into the building and watch a movie with a friend, that's legitimate."
Mr. Hook recalled asking one of the firemen who fought the blaze in 2016 if he ever went to the cinema. "He said, 'No, that was for tourists.' That was a very telling comment. I hope we buck that trend and show that the spectrum is broadening in this new cinema. If people get a sense that this is a specific sandbox for a specific group of people, then we've failed in our mission."
He also noted that while so many public entities and services have been privatized in recent years, the cinema, formerly privately owned, has been taken public, in part because the Town of Southampton helped pay for the easement on the property. "This is a publicly based community institution forever . . . a place where we come to experience cinema together, and that's what weaves us together as a society."
Mr. Hook acknowledged that even before the pandemic, the explosion of streaming platforms began to change the way we watch movies. "There are millions of ideas out there of what this place could or should be. Some of them are brilliant, some of them are terrible. But I think it behooves us to listen with a really open mind to all the things that could happen, because this space is built and designed to be a responsive community venue."
On the deck outside the third-floor lounge, Mr. Hook pointed out the three separate air handling systems, one for each theater. "It was luxurious before Covid, but now people say we were so smart." With tongue somewhat in cheek, he said, "We weren't smart at all, we were profligate and wasteful, but now, literally, you press a button and you can suck all the bad air out of the theater and put all the fresh air in."
While the lobby cafe has been open to the general public for coffee, pastries, and snacks, the third-floor lounge, which has a panoramic view over the village and will serve food and drinks to ticketholders, will not open until Memorial Day weekend.
For those who have not yet seen "Nomadland," which has been nominated for six Oscars, or fans eager to see the film again on a big screen, it will be shown in theater one Friday at 7:30 p.m. and Sunday at 3:30, and in theater two on Saturday at 7:30.
"French Exit," which stars Michelle Pfeiffer as a Manhattan socialite left penniless by her husband's death, and Lucas Hedges as her son, will play in theater two Friday and Sunday at 4:30 and 7 p.m., and Saturday at 4:30. A special screening will take place Saturday at 7 in theater one and be followed by a conversation via Zoom with Azazel Jacobs, the director.
"Wolfwalkers," an animated fantasy adventure film about a young apprentice wolf trapper in Ireland who bonds with the animals she is dedicated to exterminating, will be shown Saturday and Sunday at 1 p.m. in theater one.
The Oscar-nominated animated short films will be shown Friday at 5 p.m. in theater one, documentary shorts are set for Saturday and Monday at 3:30, and live action shorts will be screened Sunday at 6:30.
The cinema's website is the best source for the latest programming and ticket information.