This spring continues to offer a return to some semblance of normalcy, even with the now standard Covid-19 protocols, as dormant sites around the East End begin to reopen for the season at their regular times.
Add LongHouse Reserve, the 16-acre sculpture park and garden in East Hampton, to that list, as it opens its doors to the public again on Saturday, at the height of its daffodil blooms and introducing new sculptures and plantings.
Notably, the garden will greet the new season without the presence of its founder. Jack Lenor Larsen's death this winter was a significant loss, but one that was planned for by him and his board, leaving them saddened but in good stead for the future.
Last year, the park put off all of its new installations, save for Ai Weiwei's "Circle of Animals/Zodiac Heads: Bronze." The 12 bronze animal heads, which are perched on bases that contribute to their monumental 10-foot height, represent the signs of the Chinese zodiac. They were installed around the site's natural amphitheater last July as the park was slowly reopening after the Covid-19 shutdowns. They return this year in the same place.
What's new to behold are artworks by Daniel Arsham, John Giorno, Beverly Pepper, and Prune Nourry.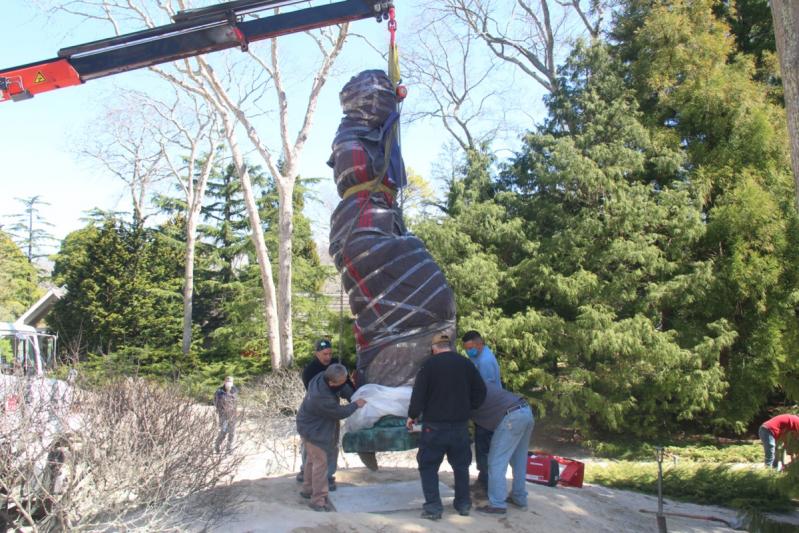 In Mr. Arsham's colossal "Venus de Milo," he has recast the famous classical Greek marble sculpture in bronze and embellished it with crystals. This version stands over 13 feet high. It was installed quite dramatically last week with the use of a crane.
The statue is emblematic of his concept of fictional archaeology, in which he creates "future relics of the present" that look like they just emerged from some kind of dig, even though they were made in the present and toggle between sincere Romanticism and Pop Art's irony. Although he might refer back to ancient relics, he is also considering contemporary technological obsolescence in these works.
John Giorno's bluestone sculptures "You Can't Hurt Me Cause Storms Can't Hurt the Sky" and "Do the Undone," both from 2019, are easily recognizable, as their titles are carved into the stone, a la Jenny Holzer. When choosing materials, he once said, he preferred older stones that have been roughened up by glaciers and time. If his name sounds familiar, it might be because Giorno, who died in 2019, was well known from his appearances in Andy Warhol's films.
Pepper, who died last year, has three works in this year's installation, all in powder-coated steel. These, too, are quite large and all were made in 1977. "Astatic Black Web" is some 10 feet wide and seven feet tall. "Shaddai" is 12 feet wide, and "Rain Shadow" is 10 feet deep. The artist also made monumental works in cast iron, bronze, stainless steel, and stone.
Also in bronze is Ms. Nourry's "Squatting Holy Daughter," from 2010, with glass eyes and a more approachable height of 33 inches. Her "Walking Holy Daughter," from 2012, also with glass eyes, is five feet high. Both refer back to her series the "Terracotta Daughters," which was a reaction to Chinese gender selection bias and the lack of females in that country's society as a direct result. They were made in 2010 and went on a world tour before being buried in a secret location in China, where they will be excavated in 2030, which is the expected peak of the male-to-female ratio imbalance.
As much as the plantings are added to and altered every year, the permanent-collection sculptures are also rotated on site, allowing for fresh experiences and interactions with old friends made by Buckminster Fuller ("Fly's Eye Dome") and Willem de Kooning ("Reclining Figure"), Yoko Ono's "Wish Tree," Eric Fischl's "Tumbling Woman," Judith Shea's "Idol," Dale Chihuly's "Cobalt Reeds," and Yoan Capote's "In Transit."
Access to the garden will continue to be by timed ticket on its open days (currently Saturday, Sunday, and Wednesday), with $15 admission for adults and $10 for senior citizens. Children ages 18 and younger, college students with ID, veterans, and active-duty military personnel are all admitted free of charge. Masks and temperature checks continue to be required. Tickets can be purchased on the website.