Renee Cox, who has been weathering the pandemic at her house in Amagansett, remembers the day she knew she had to walk away from a successful career as a fashion photographer. It was Feb. 11, 1990. "I was at a dinner in SoHo and at one point I said, 'Wow, today is an incredible day because Nelson Mandela has been released from prison.' A silence came over the table. And then somebody said, 'Donald and Ivana are getting a divorce.' "
She was also frustrated that the lifespan of editorial photographs in magazines is 28 days. "I put my heart and soul into my photographs, even if I was doing fashion, and I wanted them to live longer than 28 days."
Six months after the birth of her first child, she decided to go to graduate school. She earned an M.F.A. at the School of Visual Arts in 1992, and that fall was accepted into the highly competitive independent study program of the Whitney Museum of American Art.
Within a year of completing the Whitney program, she was included in two important exhibitions: "Black Male: Representations of Masculinity in Contemporary Art" at the Whitney, and "Bad Girls" at the New Museum of Contemporary Art.
The "Black Male" show included Ms. Cox's "It Shall Be Named," a collage constructed from manipulated photographs of Black male body parts assembled into a figure on a Mahogany-framed cross. The piece raises questions about the link between the persecution of Christ and the lynching of African-Americans.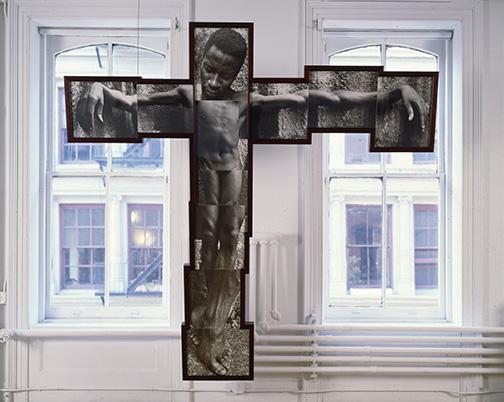 "The Yo Mama," a seven-foot-tall photograph of Ms. Cox, naked except for high heels and holding her 18-month-old son, was included in the "Bad Girls" show. That work was part of a series inspired in part by the reaction of some of her colleagues in the Whitney program when she became pregnant with her second child.
"They were like, 'What are you going to do?' as if it wasn't intentional. 'You're having a baby, nobody's going to take you seriously.' It was one month into the program, and they were trying to write me out."
"The Yo Mama" and other photographs in that series were a response to the negativity she encountered. "I was like, 'This is not acceptable, and now I'm going to give you pregnancy in your face.' " Her graduation show at the Whitney featured a life-size sculpture of herself while eight months pregnant.
It's clear that the concerns and issues that have informed Ms. Cox's art were fully realized in those early works. Chief among those is deconstructing stereotypes and challenging preconceived ideas about gender and race. "My goal has often been to produce art that will take people out of their comfort zone and produce healthy discourses," she said.
Ms. Cox was born in Colgate, Jamaica, in 1960, moved to Queens when she was 3 months old, and then to Scarsdale at 14. She began taking photographs in high school, where "they put me in an advanced class, even though I didn't know anything. It forced me to learn fast."
She enrolled at Syracuse University as a film studies major, but found the process of shooting and editing 16mm film "tedious, expensive and, time consuming." Living off campus, she began to meet people who were part of the Syracuse underground, including hairdressers, and was hired by salons to take photographs of their work. "It was instant gratification, whereas I was falling asleep on the editing table."
During summers she worked as an intern with fashion photographers in New York City, and after graduation she found work modeling. For one of her first jobs, for Glamour magazine, she modeled as "the girl who had just graduated from college and was looking for a job in the city, which was absolutely the truth."
The fashion editor at Glamour asked if she had ever considered working for a fashion magazine and, after a conversation with the photographer Deborah Turbeville, who got her start as a fashion editor, Ms. Cox went to work for Glamour. After two years, she married and moved to Paris with her husband, who is French.
During her 10 years as a fashion photographer, she did a lot of work for Essence magazine. "If you look back at Essence in the 1980s, when it looked cool, that was usually me shooting." As a result, Spike Lee hired her to shoot the poster for his film "School Daze," and she photographed album covers for the Jungle Brothers and Gang Star. Then came the dinner in SoHo.
An important early series was "Flippin the Script," which she worked on from 1994 to 1997. Among the many images is "The Pieta," in which Ms. Cox stands in for the Virgin Mary, holding a naked Black man whose pose echoes that of the fallen Christ.
She spent her junior year of college in Florence studying art history. "Obviously, all you're seeing in Renaissance art are Caucasian people, except for the occasional Black Moor. So I took iconic images and made the characters black and brown people."
Flipping the script occurs in other works throughout her career, including "The Signing" from 2020, a 12-foot-long photograph that interprets Howard Chandler Christy's historical painting, "Scene at the Signing of the Constitution of the United States."
"When Trump was in power, and people were really engaging in hatred and racism, I felt there needed to be some discourse around that. When they wrote the Constitution, Black people were considered property." She recreated the scene with 32 Black models, some in 18th-century clothing, some in African raiment.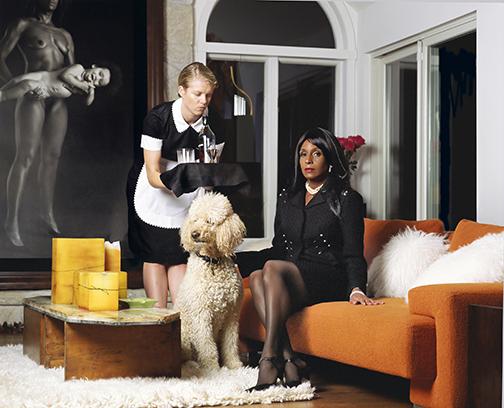 Another panoramic and eventually controversial piece was "Yo Mama's Last Supper" from 1996. For that work she elaborately recreated Leonardo da Vinci's mural in five panels. In the center she stands, naked, arms outstretched, surrounded by the 12 disciples, among whom Judas is the only white man.
When "Yo Mama's Last Supper" was shown at the Brooklyn Museum in 2001, many Catholics were offended, and Mayor Rudolph Giuliani called for the forming of a commission to prevent such works from being exhibited in any New York museum that received public funds.
Several images from her "American Family" series take on iconic artworks. Riffing on Manet's "Olympia," in her 2001 photograph "Olympia's Boyz" she poses naked on the chaise while flanked not by her maid but her two sons, who are dressed as young warriors. "Cousins at Pussy Pond," shot in Springs, recreates not only Manet's "Luncheon on the Grass" but also the scene from a Roman sarcophagus that was a source for Manet.
A third image from "American Family" was shot at Green River Cemetery in Springs. Tied naked to a tree, her pose calls up classic images of Saint Sebastian, but its title, "41 Bullets at Green River," links the wounded-looking figure to the fatal shooting of Amadou Diallo by New York City police.
Starting in 2004, Ms. Cox went back to her family's roots with "Queen Nanny of the Maroons," a series of photographs focused on Queen Nanny, "the only national female hero we had" in Jamaica. Maroons were slaves in the Americas who escaped and formed independent settlements. Nanny led guerilla warfare against the British authorities in the First Maroon War, which raged from 1728 to 1739.
In the photographs, Ms. Cox interpreted Queen Nanny both as how she might have looked in the past as well as if she were living today. The Maroons still live in Jamaica and are self-governing. Many members of the current community appear in the photographs, which took two years to create, because "you don't just run in with a camera and say, 'I want to do this.' "
Her most recent series, "Soul Culture," consists of digitally manipulated black-and-white portraits of her peers, among them Kerry James Marshall and Derrick Adams. Ms. Cox took the photographs, duplicated them, cut them into pieces, and reassembled them in complex, kaleidoscopic patterns inspired by fractals, or never-ending patterns.
While she and her husband have had a house in Amagansett since 1989, Ms. Cox's connection to the Hamptons dates from when she was 11 and her parents sent her to the Tuller Maycroft school on North Haven.
Last August, Guild Hall launched "Ring the Alarm," a series of conversations with Black artists hosted by Ms. Cox. The idea for the programs emerged from discussions about the group exhibition of Black artists Ms. Cox is organizing for Guild Hall for the summer of 2023. Later this spring, Ms. Cox's guests for the series will be Maren Hassinger and Derek Fordjour.
Ms. Cox is one of nine noted photographers who have created images now flying at Rockefeller Center on 8-by-5-foot flags as part of the Flag Project, which was established by Aperture magazine and Tishman Speyer real estate. The show, which includes work by Duane Michals, Elliott Erwitt, and Nan Goldin, among others, is on view through April 30.
This article has been modified from its original and print version to add the names of the upcoming guests for Ms. Cox's "Ring the Alarm" series.