In 1917, the Russian formalist Victor Shklovsky coined the term "defamiliarization," meaning the artistic technique of presenting common things in a new or strange way in order to stimulate fresh perception or understanding.     
The working process of Claire Watson, from her early 1990s transformations of ordinary tobacco pipes into extraordinary objects to her recent constructions assembled from leather pattern parts, thread, and wood veneer, can be seen as a form of alchemy, one that often emerges from her personal history and her research.     
The pipe series, whose title, "Ceci N'est Pas," refers to the famous painting by Magritte, "was a response to something that Le Corbusier said about the tobacco pipe being 'the epitome of functional form,' " she said during a Zoom conversation from her Water Mill studio. "It's also an extension of the body, an organ of respiration, and it's very personal and collectible." Both her father and grandfather smoked pipes, she explained, evoking childhood associations of what she saw as a "classic symbol of our ideas of masculinity at the time."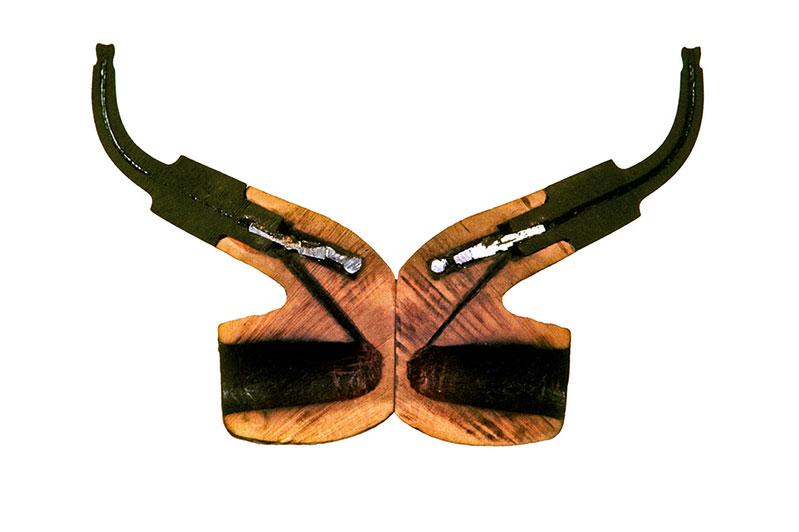 The wall-mounted works in the series start with wood and corncob pipes that are transformed in an almost infinite number of ways, some cut in half and hinged to open like a guitar case, some combined into a double-bowled pipe with a single stem, some absorbed into complicated figurations using basswood, paint, and shellac.     
After a 12-year hiatus, during which Ms. Watson raised two children and worked first as a freelance copy editor and then as an educator and program coordinator at the Parrish Art Museum, she embarked on a new series, "With Kid Gloves." "It was kind of a deliberate search for an object to be a counterpoint to the pipe series," she said, "but I wanted it to be classically gendered as feminine from my childhood era," summoning memories of shopping with her mother to buy gloves.     
Individual gloves were stuffed with sawdust and transformed into miniature sculptures. One curls into a yoga position with porcelain dolls' feet attached at the open end; another assumes a sitting position, and a doll's head emerges from the bottom of a third. The artist manages to animate ordinary leather gloves into often anthropomorphic, sometimes creepy, occasionally erotic configurations.     
Ms. Watson was born in Amarillo, Tex., and grew up there and in Dallas. As a child, she said, she spent all her free time drawing or making things. In high school, she took a life drawing class at a community college, and "I knew by then what I wanted to do."     
She graduated from the University of Texas in Austin in 1980 with a degree in painting and photography. Even then, "the paintings were very object-like, and I began building things and painting them." She intended to take a year to work and save money for graduate school, but lost her entire portfolio in a studio fire in downtown Austin, and it took two years to regroup.     
A year spent living and working in Italy, at the Rome campus of the Tyler School of Art, part of Temple University in Philadelphia, influenced the artist's work "in ways I'm still trying to figure out." She spent many hours exploring the city and making black-and-white photographs of fragments of ancient figurative sculptures, still extant against backgrounds of classical architecture. She also made plaster casts of her own and other people's body parts, supported by intricate scaffolds – "figure fragments held together with these architectural elements," a process that prefigures her work with pipes, gloves, and pattern pieces.     
With an M.F.A. in sculpture from Tyler, Ms. Watson moved to Brooklyn, where she started a decorative painting business called Artful Finishes. Among her clients was the Playboy Empire Club, where she painted an 8,000-square-foot wall in black-and-white faux marble. Stephen Laub, an artist she'd met in Philadelphia, was working there as well, and they married in 1990.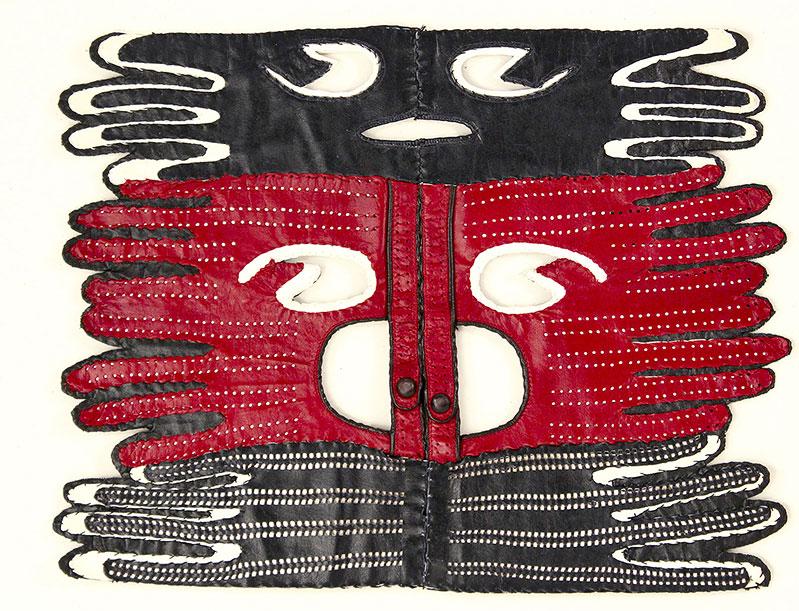 Ms. Watson was also creating models and doing scenic painting for the Aoki Company, makers of sets and props for commercials. She learned techniques there that helped her later on, she said, but many of the materials she was working with were extremely toxic, and she left for a job teaching scenic design, photography, and studio art at the Hewitt School in Manhattan before spending a semester as an artist-in-residence at Middlebury College.     
In 1990, Ms. Watson and Mr. Laub began building a house in Water Mill, doing much of the work themselves. It wasn't until 1996 that they were able to move in full time. They still have an apartment on the Lower East Side, kept in part because Mr. Laub taught art at Rutgers University in Newark for many years. Both their sons are based in New York.     
In recent years, Ms. Watson has had residencies at MASS MoCA in North Adams, Mass., the Saltonstall Foundation in Ithaca, N.Y., and, last fall, at the Watermill Center, where, because of the pandemic, there were very strict protocols in place. There was also, however, "this incredible freedom of having the time and being able to be in communication with these other artists after so much isolation."     
The "With Kid Gloves" series was followed by "Conundrums," which transformed the gloves into freestanding pieces that included rope-like shapes and knots. For a second series, "Now What," because the artist wanted to work with multiple gloves, she began to open up the pieces, flatten them, and sew them into abstract, often mask-like compositions, on muslin, linen, and rawhide.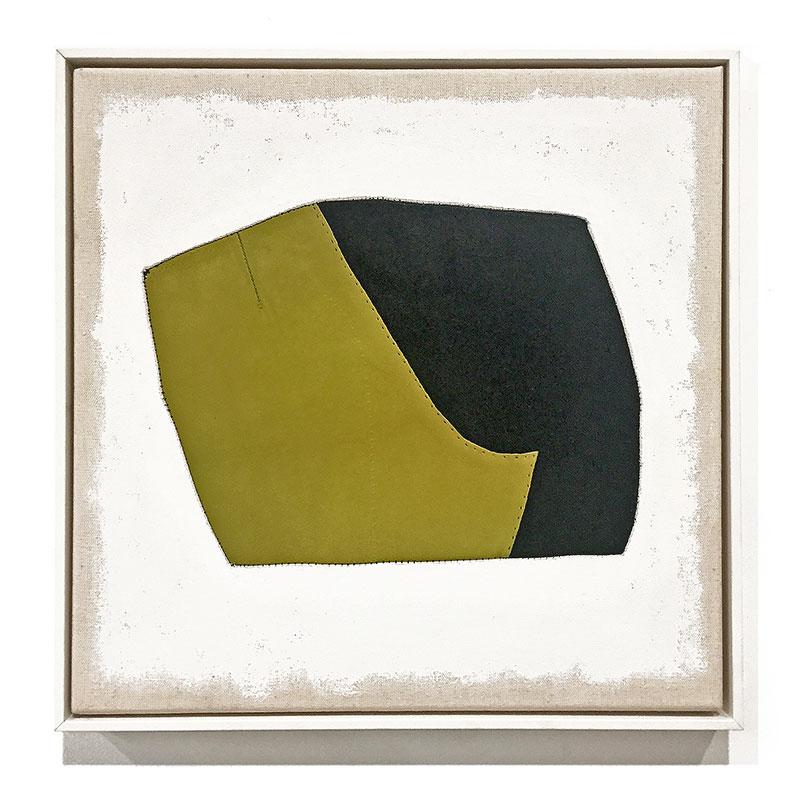 The "Now What" series led her to work with larger elements, including leather pants and jackets which she disassembled into their pattern parts, so as to "reflect fragments of the entire body. My project has been to use these pattern pieces as found shapes, and to discover ways to combine them with other found elements." She occasionally uses remnants from larger patterns, but doesn't combine them with any predetermined shape in mind, being guided instead, she said, by the materials themselves.     
Put together, some of the leather pieces form abstract compositions mounted on canvas; others are boiled and stitched to plywood panels. Boiling leather, the artist noted, causes it to shrink and resemble rawhide. "It's like kitchen alchemy -- how to transform the material with this simple domestic means."'     
"Clothing materials are a rich territory to explore," Ms. Watson summed up in a statement, "in the material properties of the leather, their inherent symmetry, and the ghostly impressions they retain of their former owners. Through unexpected juxtapositions of their various parts, they present fragments, not the entire body, but what is missing persists as part of the whole."