There were still a few spots open, at least as of this writing, to see "Thomas and Mary Nimmo Moran and the American Etching Revival" Friday or Saturday at the Thomas and Mary Nimmo Moran Studio in East Hampton. This may be the last chance to see the show, which has had a run of only three weekends, two last month and now this; its continuation is uncertain.
Originally titled "A Fascination With Sea and Sky," the exhibition was to have featured works created by American artists during the golden age of etching, not only by the Morans themselves, but also their large circle of artist-friends -- "all his buddies," as Richard Barons, the show's curator, said recently.
But in March came Covid-19, and the sky fell in. From near and far, the museums and institutions that had agreed to lend works -- Guild Hall, SUNY-New Paltz, the Parrish Art Museum, and more -- sent their regrets. Even if their doors were open, which they were not, art movers had stopped moving art. As recently as mid-July, said Mr. Barons, he was still casting about for works to include in what the East Hampton Historical Society, which manages the Moran House, was calling, for lack of a definite start date, its "late-summer" exhibition.
"I knew the East Hampton Library and private collectors could give me things," Mr. Barons said, and they did. But empty spaces on the walls of the vast house, furnished now to look as it did when Moran built it during the presidency of Chester Alan Arthur, remained.
Where to turn? Then he recalled a pasteboard box he'd been shown 40 years ago when he first came to East Hampton. On it was written, probably by one of his predecessors, "William Whittemore Etchings."
William J. Whittemore, though not part of the Morans' inner circle, did produce many etchings, and he seems to have frequented East Hampton often enough that a silver-print photograph of him, looking eminently Victorian, can be found in the permanent collection of Guild Hall.
The late Sherrill Foster, a descendant of early East Hampton settlers and a scholar of local history, donated the pasteboard box to the historical society. She'd thought the etchings within were "remarkable," she told Mr. Barons all those years ago, and had them printed, in a very limited edition, by the artist Jimmy Ernst.
The curator found the prints in the archives of the East Hampton Town Marine Museum, also managed by the society. One of them, showing the making of the base of the Statue of Liberty on Bedloe's Island (renamed Liberty Island in 1956), was ripped on the back; Mr. Barons believes it was used for wrapping paper.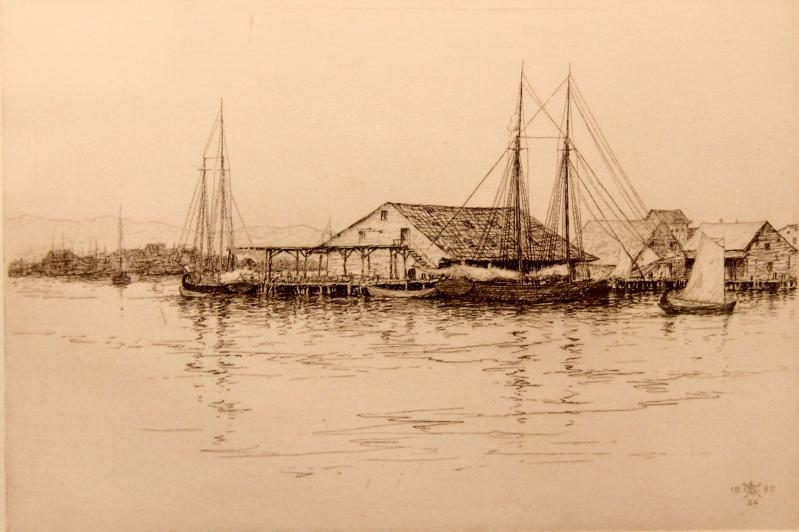 "I thought, why don't I frame up one or two of these Whittemores?" He was "positive they were William's," he said, "until I started to frame them." Only then did he realize that the monogram, or signature, on the prints was not "WW" but "CEW."
Curatorial sleuthing identified the artist as Charles E. Whittemore, William's older brother, who worked mainly in New England; the show at the Moran is almost certainly the first time his work is being seen here. (In 1916, after his death, his wife gave the New York Public Library two portfolios containing 46 of his etchings. Mr. Barons inquired after them, but was told that they "could not be located.")
Rarely seen etchings by the Morans and their circle complete the exhibition, which also includes a section devoted to the etching process itself, featuring a massive press circa 1875.
Preregistration with the society is required to attend. Beginning at 10 a.m. Friday, groups of six will be admitted for one-hour visits, at 11, at noon, and at 1 p.m., and again on Saturday at the same hours. Tickets are $10 per person at the door; drop-ins will not be permitted.