Leiber Collection Reopens
The Leiber Collection in Springs has reopened with two new exhibitions. In the museum, "Garden as Muse" includes paintings by Gerson Leiber and handbag designs by Judith Leiber, both inspired by the couple's garden. The couple died, hours apart, in April 2018.
"The Garden of Friends," which is installed in the sculpture garden, includes work by Philippe Cheng, Peter Dayton, Pipi Deer, Jeremy Dennis, Conrad de Kwiatkowski, Saskia Friedrich, Jeremy Grosvenor, Jill Musnicki, Bastienne Schmidt, Christine Scuilli, Bill Stewart, and Almond Zigmund.
The collection is free and open from 1 to 4 p.m. every Saturday, Sunday, and Wednesday, or by appointment. Safety protocols will be in effect, including the wearing of face coverings at all times, and the restrooms will remain closed. 
Clothesline Sale Returns
Guild Hall's Clothesline Art Sale, a tradition dating back to 1946, will return on July 25 from 9 a.m. to 4 p.m. Artists can register up to three artworks on Guild Hall's website until noon next Thursday. Drop-off times can be reserved once registration has been completed.
The sale, which is free to the public, will be held on the grounds of Guild Hall. Acceptable mediums are oil, acrylic, watercolor, prints, small sculpture, photographs, and collage. Works can be priced between $75 and $5,000, and sales are split evenly between the artist and Guild Hall.
Complete details can be found on Guild Hall's website. The rain date will be July 26 from 9 a.m. to 4 p.m.  
LongHouse Shares
The LongHouse Reserve in East Hampton will launch LongHouse Shares, its annual art and design auction, Friday on artsy.net. Up for bidding will be more than 100 lots, including artwork by Derrick Adams, Shirin Neshat, Cindy Sherman, and Ai Weiwei, as well as design from B&B Italia, Paola Lenti, and Ligne Roset. 
In recognition of the challenges faced by artists during the pandemic, up to 50 percent of proceeds from sales will be shared with the participating artists. The auction will run through July 30.
Harper's Circus
Harper's Books and gallery in East Hampton will open "The Circus Has Been Cancelled" on Saturday. The group show will feature the work of Herman Bas, Cecily Brown, Genieve Figgis, Scott Kahn, and Sue Williams. It will remain on view through Aug. 13. Hours and more information are available by contacting the gallery.
Four at Studio 11
Studio 11 at the Red Horse Plaza in East Hampton will show "Reflection/Response," work by Bastienne Schmidt, Louise Crandell, Steve Miller, and Linda Miller, from Saturday through Aug. 9. An indoor/outdoor reception will be held on Saturday from 4 to 7 p.m.
Most of the art has been created during the pandemic. Ms. Schmidt will show work from a series of watercolors titled "Everyday Objects in the Time of a Pandemic." Ms. Crandell will be represented by landscapes and abstract paintings in oil and wax, Mr. Miller by a steel wall piece and other sculpture, and Ms. Miller by paper sculpture.
New Montauk Gallery
Amalia Dayan and Adam Lindemann, longtime proprietors of separate New York City art galleries, have opened South Etna Montauk, an exhibition space in the hamlet, where the couple has had a house for more than a decade.  
The inaugural exhibition, "Painting Is Painting's Favorite Food: Art History as Muse," has been organized by Alison M. Gingeras, a curator and writer. The show, which explores the many ways artists have drawn upon art history, includes work by more than 20 artists, among them Glenn Brown, John Currin, Rachel Feinstein, Jane Kaplowitz, Peter Saul, and Betty Tompkins.
At Alone Gallery
A trio of recent paintings by Tomas Sanchez, a Cuban artist who lives in Miami and Costa Rica, is on view by appointment only at Alone Gallery in Wainscott through July 26. Mr. Sanchez is internationally known for his exploration of the sublime power of landscape.
Included with the paintings is the ASANA floor seat by Mario Milana, which allows visitors to use their appointment time for a period of meditation with the artworks. Developed in response to Covid-19, Alone Gallery can be visited by one person (and up to three quarantine partners) at a time, with no staff present.
Claude Lawrence at Keyes
An exhibition of works by Claude Lawrence will open at Keyes Art in Sag Harbor with a reception tomorrow evening from 7 to 9 and remain on view through July 30. Born in Chicago in 1944, Mr. Lawrence came of age as a visual artist in New York City during the 1960s, while at the same time maintaining a career as a jazz musician. 
In 2013, E.T. Williams Jr. of Sag Harbor acquired some 400 works by Mr. Lawrence. Since then his work has entered the collections of the Metropolitan Museum, the Brooklyn Museum, the Philadelphia Museum of Art, the Detroit Institute of Art, and many others.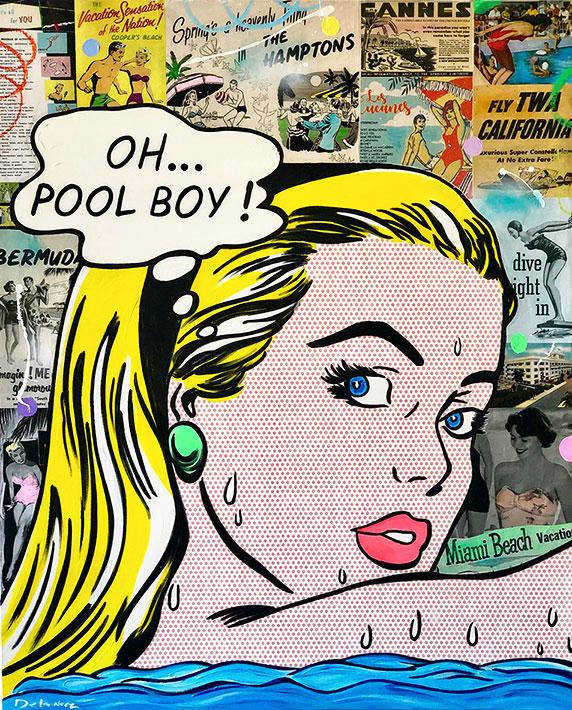 "Surf's Up" in Bridgehampton
"Surf's Up," work by Nelson De La Nuez, Keith Ramsdell, and Dinesh Boaz, is on view at the White Room Gallery in Bridgehampton through Aug. 9. The surfing term inspired the gallery's co-directors, Andrea McCafferty and Kat O'Neill, to select works that translate positive feelings into art.
The show includes images of surfboards by Mr. Ramsdell, aerial photographs of beaches populated with sunbathers by Mr. Boaz, and Mr. De La Nuez's mixed-media works influenced by popular culture and cartoons.
Two at Grenning
The Grenning Gallery in Sag Harbor will have concurrent solo shows of paintings by Tim McGuire and John Morfis from Saturday through Aug. 2. Mr. McGuire began this year painting en plein air in Vermont before Covid-19 necessitated a return to his Nova Scotia home. Once there he chose to rework in his studio some of the naturalistic paintings he had made in the landscape with more elongated forms and a saturated palette.
Mr. Morfis has continued to paint nautical objects, isolated against deep navy blue backgrounds, as well as antique kitchenware, similarly suspended before fields of color.
Josette Urso at Markel
"Josette's Wall," an exhibition of 17 drawings and watercolors by Josette Urso, is on view at Kathryn Markel Fine Arts in Bridgehampton through Aug. 4. Ms. Urso's works on paper attempt to capture with detailed acrobatic forms the visual variety and specificity of her environment, whether working en plein air while traveling or observing the vista of Brooklyn from her studio.