Although times of stress and turmoil can be catalysts for great bursts of creativity, they can also stunt the imagination or give rise to other demands on the mind and body that leave artistic people depleted and uninspired.
Toni Ross found after the onset of the Covid-19 pandemic, and the following lockdown, that the needs of her business, Honest Man Restaurant Group, and the community were so overwhelming her energies should be channeled there.
"For the first month or so, we were really trying to keep our heads above water with the restaurants and come up with a plan on how to move forward," she said recently by phone. They started by feeding their own employees, many of whom had to be laid off, and then they began "partnering with a number of organizations, trying to feed more people."
With so much need in the community for meals and groceries, she wanted to do what she could to address that and to offer employment to people who had been sidelined. "A lot of my brain space was taken up with that."
At the same time, her daughter, Sara Salaway, had returned home from Brooklyn, where she lives and works as an artist and at a music venue in Williamsburg. She thought coming east would be a kind of "forced residency where I would make a ton of things, but that hasn't come to fruition," she noted, adding that other artists she knows are experiencing the same kind of block.
Running into Warren Neidich on the beach in Wainscott was pure happenstance, but led to their participating in his "Drive-by-Art" regional outdoor exhibition on May 9 and 10, during which Ms. Ross and Ms. Salaway's collaborative piece "When" was installed.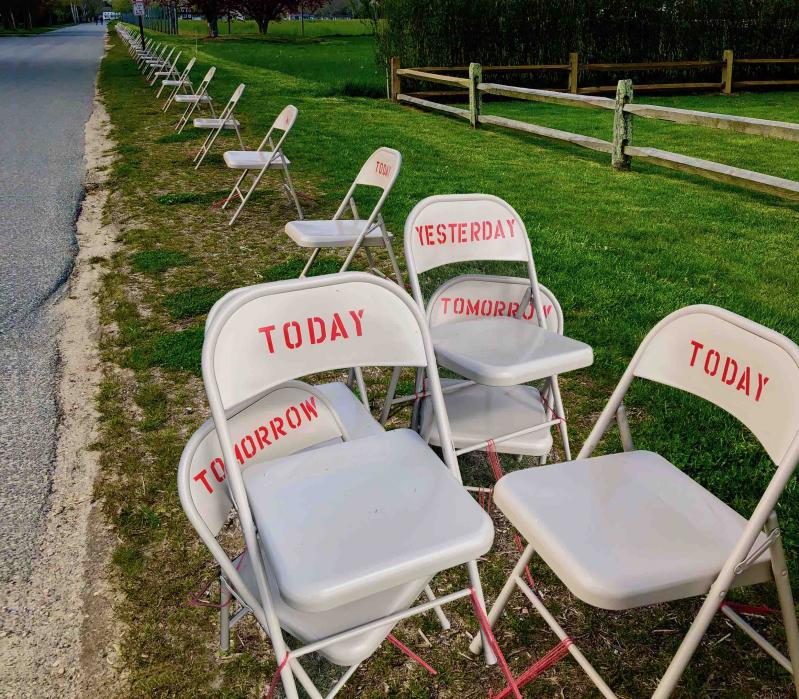 Sixty-five folding chairs "representing the days of quarantine — up at least until May 15, with some extra on hand to continue the lineup if need be — have been stenciled with the days of the month up until about mid-April, when the dates seem to no longer matter and the month is all that remains as a marker of time," Ms. Ross said, describing the piece. "In early May this morphs again, into simply today, yesterday, tomorrow."
The chairs were anchored six feet apart in a line down Beach Lane in Wainscott, with the stack of extras at the end. The idea came to Ms. Ross when she joined friends for drinks in their backyard and everyone sat in chairs several feet apart. Even though she was ­happy to see them, the distance also made her sad.
Ms. Salaway agreed. "It's been painful to see friends and not be able to touch them."
As they discussed the idea of chairs marked with the specific dates of the lockdown, the idea morphed from having exact dates. "We thought, 'But wait — none of us knows what day it is at this point. How do we reflect that in the piece?' " Ms. Ross recalled.
Ms. Salaway said she was grateful that the idea came to her mother, and for the collaboration. "I really struggle with the concept part of planning my pieces out, especially right now," she said. "It's been really hard being in my head creatively and thinking about that."
Although they said they hate titling work, the title came easily to Ms. Salaway. "It just made sense," she said. The collaboration continued with the overall concept of the piece, stenciling the dates, and then stopping at a certain point to demonstrate that people had lost track of time. "We were on the same page about everything, so it was easy to collaborate."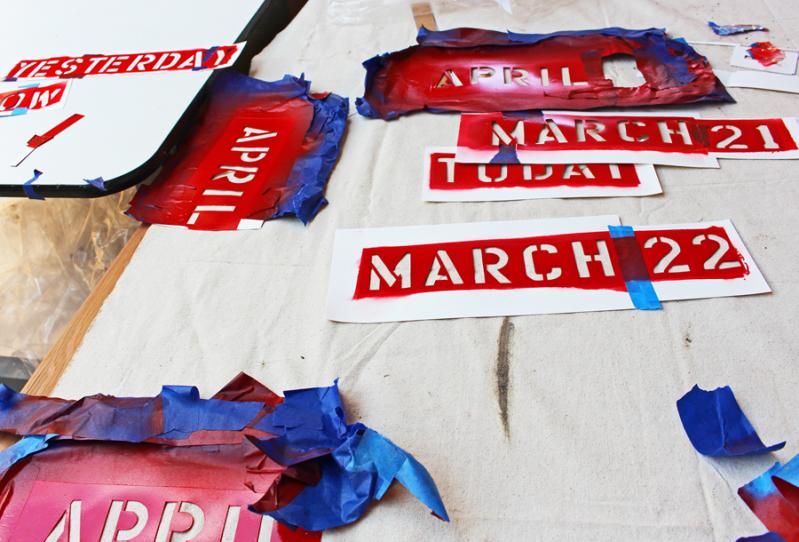 The repetition of the stenciling was both meditative and therapeutic, they said. "We created a lot of stencils to mark the chairs. It was a lot of quiet, focused time," Ms. Ross said. It's the kind of detail work that she finds "calming, because I can't think about much else."
Anchoring the chairs into the ground was Ms. Salaway's idea to show that the six-foot distance "was immutable, you can't move the chair," according to Ms. Ross. It also helped keep them from flying off in the strong winds on the first day they were installed.
"Everyone feels so incredibly trapped in where they are right now. I wanted to have something to represent that," Ms. Salaway added.
Although there are similarities in their aesthetics and how they work, Ms. Salaway said they had never worked together before, because they never had the time. The lockdown gave them the opportunity. "I don't know if or when we would have collaborated otherwise."
"Both of us deal with memory, the physicality of the passage of time," Ms. Ross said. "This piece is very much about that." It is also more industrial than their previous work, in which they typically use natural materials.
With this project well on its way, each said they would consider other endeavors one day at a time. The future is still too daunting, but the idea of working in the studio is no longer overwhelming.
"I don't know what the summer looks like," Ms. Ross said. "Are we here for another couple of months, a couple of weeks? I don't know. But I think this installation is a jumping-off point. I just don't know what we're jumping into."
The chairs are for sale, and an edition has been donated to the Hayground School in Bridgehampton, "where 82 percent of the students receive tuition assistance," she said. The school will sell the chairs individually or as sets to benefit its tuition relief fund.