The Hamptons Art Network's Thaw Fest weekend is celebrating its third year by expanding to an entire month, beginning tomorrow and running through March 29.
One organization that has extended its programming in response is Madoo Conservancy in Sagaponack, which on Saturday will show a group of prints and some paintings made by Robert Dash over the course of his career.
"People haven't seen them all, and there is a fair amount of work," Alejandro Saralegui, the director of Madoo, said in his office recently about the prints.
The show will include a series of prints Dash worked on with James Schuyler, a New York School poet and friend. In that series, called "The Garden," a set of 1971 paintings became the source for lithographs that were joined with the words of Schuyler from one of his journals. The series was completed in 1972.
Another series came from a group of uneditioned serigraphs Dash made that year, also based on themes from his paintings. In 2006, he rediscovered them and painted over them in gesso to create blank supports for new paintings. In these, he chose either to add to or ignore the ghost-like outlines left underneath by the prints for his fresh compositions. For some, he simply colored them. In others he made the original image completely disappear. Many of the new compositions became the basis for large acrylic-on-canvas paintings.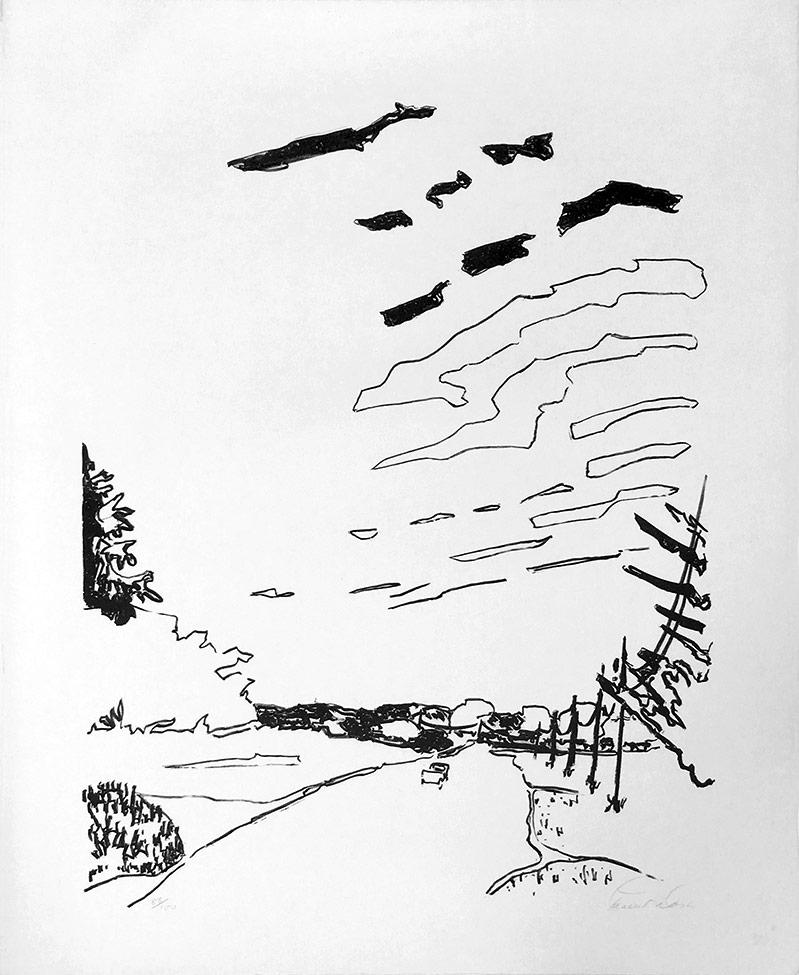 "What's interesting is the back and forth between the paintings and these works," Mr. Saralegui said. "He's gone back 35 years, makes completely different artwork, and then makes a new painting out of that. They seem to be working their way through his head."
Mr. Saralegui described the new paintings as "essentially different weather conditions, like Monet's 'Haystacks,' except Bob is not painting them on site but back in the studio from memory, from the mark memory he had previously made."
It is hard not to feel nostalgic looking at them and the obvious changes he must have witnessed in those 35 years. This was a time when the quiet community of farmers, then artists and writers, became subdivided and just another part of a wealthy summer enclave.
The Madoo exhibition will be open on Saturday from 10 a.m. to 4 p.m., with a talk by Dan Welden, a printmaker who worked with Dash, at 11 a.m. The show will remain on view by appointment until Madoo opens to the public for the season on May 15, and then it will be on view Fridays and Saturdays from noon to 4 p.m. through July 18.
This Thaw Fest weekend will also bring other art events, a talk, and two film screenings. Tomorrow night, Hamptons Doc Fest and the Parrish Art Museum will screen the recent Deborah Shaffer and Rachel Reichman film "Queen of Hearts" at 6 at the museum in Water Mill. It is about the life and career of the painter and sculptor Audrey Flack, who will participate in a post-film discussion with Terrie Sultan, the  director of the Parrish. The cost is $15, or $5 for members, students, and children.
On Saturday, Zachary Taylor will speak at the Southampton History Museum, where he is a curator, on the "Sea Captains of Sag Harbor," based on research and photographs from the collection. The illustrated lecture is set for 1 p.m. with free admission, although reservations are required.
HamptonsFilm, the year-round component of the Hamptons International Film Festival, will show "Silkwood" on Saturday at 6 p.m. at Guild Hall. The screening will be followed by a discussion between Alec Baldwin and David Nugent, the festival's artistic director, addressing the 1983 film's current relevance. Tickets are $25, or $20 for members of either organization.
On Sunday, Jacqueline Humphries will discuss her work on view at Dia's Dan Flavin Institute in Bridgehampton during artist walkthroughs of the show at noon and 2 p.m. Admission is free.
The Hamptons Art Network has the full schedule of events, which will also be updated weekly in the March issues of The Star.