Kevin Teare's "L'Ecole Horizontale" exhibition at Harper's Books in East Hampton is dislocating in a number of ways. Instead of alienating the viewer, however, it serves as a reassuring reflection of our times and a way to reorder the chaos in our midst.
Calling the works "paintings" feels like a disservice to them. It's not the medium that is the star, rather it is an embellishment of a support that incorporates horizontal layers of latticed wood and mortar. The resulting compositions cannot have one without the other, but the latter elements are what make them memorable.
Inspired by a trip to New York City's SoHo neighborhood in 1974, Mr. Teare took the exposed mortar and lathe plaster walls he saw in artists' lofts as a springboard for his imagination. Back home in Indiana, he began appropriating the materials and visual sensibility conceived in the preceding decade. Yet from looking at the art he made, it was clear he was already searching for more elaborate means of expression.
Sensing it was no longer enough merely to adopt industrial materials or work geometrically in purely sculptural or two-dimensional forms, it appears he appropriately caught the transformation taking place at the moment in the work of Minimalists. Then he made it his own.
Mr. Teare moved to the city in 1976, and that is essentially when the exhibition begins, aside from a drawing in 1975. As a result, these are fully realized works. No wonky development is evident in these rooms. Instead the reliefs, which seems like a more satisfying way to describe them, are vital, pungent, pithy, and solid.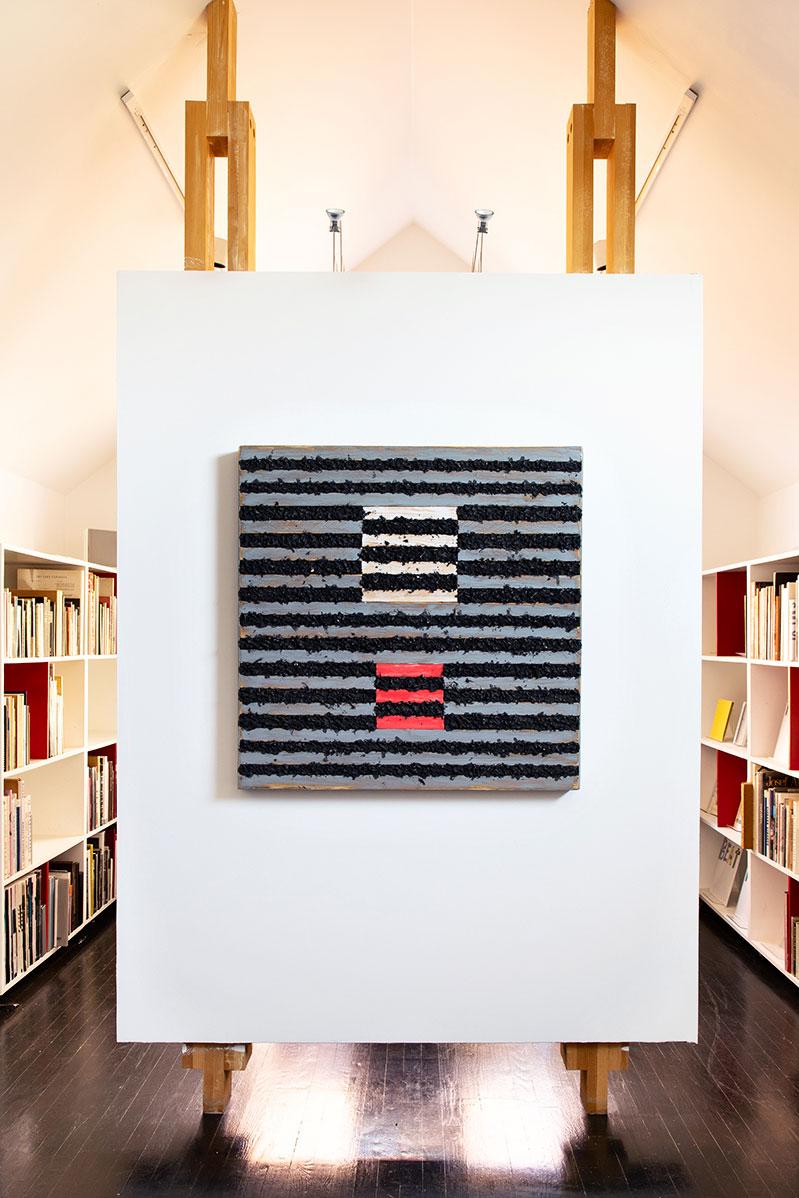 While the forms maintain a similar mode of construct, they are expressed in various shapes, sizes, and paint colors. Some compositions take up multiple panels, some have panels inserted into their cores. Each has a lively and thought-provoking title. The titles, such as "Door (for Jasper Johns)" or "Large Charm for the Second Chakra," are evocative in the way artists of that period, like Dan Flavin, used them, even in ostensibly "untitled" works.
The structure of the reliefs and their striations are mesmerizing, as they vibrate with a subtle energy, particularly in the multiple iterations on view on the walls. At the same time, the drawings in watercolor on paper appear to be preparatory studies with several notes about scale and lattice measurements. The oil-on-paper drawings seem to be artworks in their own right, with no such notes and a pleasing texture. The taped borders that have been left behind give them an unfinished look, but provide additional structure.
The mortar in most of the works on view here is black, but there are a few exceptions that give rise to questions about the degree of variation there could be in this superficially simple format.
The black mortar is reminiscent of the tar that Richard Serra worked with in the 1960s and has a very raw and industrial feel. No matter how cheery or muted the colors Mr. Teare chooses, the black mortar he pairs with them is rough and a bit harsh. It keeps those tones at a respectful distance even with the stark confrontational aspect of the picture plane.
Geometric abstraction rarely communicates much more than what is immediately apparent. Yet the artist evokes actual buildings and employs the titles in ways that cause viewers to perceive more. Mr. Teare's experiments in late Minimalism point to the movement's limitations and a yearning for a more evocative means of artistic communication. Seeing these works is a reminder that art would take much different forms within just a couple of years, as artists reacted to its strictures. These included a return to naturalism in art, even as painting was still considered "dead" among the vanguard of the art world.
These works are a bridge to a soon-to-follow era of art about to be created in the downtown lofts in New York City. They also herald a new world of possibility unconstrained by the formalist orthodoxy of decades past. They will remain on view through Sunday.