While many holiday-theme cultural events will likely take place virtually, it's beginning to look a lot like an in-person Christmas this weekend at East Hampton's Mulford Farm and the Thomas and Mary Nimmo Moran Studio, thanks to the East Hampton Historical Society.
"Aglow: A Holiday Experience at Mulford Farm" will replace the society's traditional cocktail party and house and garden tour on Saturday evening from 4 to 8. A self-guided tour of Mulford Farm, caroling at the Hedges-Edwards barn, and Santa Claus on a sleigh promise to transport visitors to "the simple pleasures of an East End Yuletide," says the society. Hot cider and cookies will be on offer, and a holiday pop-up shop will be stocked with gifts.
Preregistration is required; drop-ins will not be admitted. Timed tickets, available on the society's website, are $10; $5 for children under 16. Only 38 tickets will be sold per each half-hour.
The Moran Studio, a national landmark, will immerse visitors in a 19th-century Christmas celebration featuring an imposing holiday tree illuminated by tiny lights and adorned with hundreds of vintage glass ornaments. Festive decor, period clothing, antique postcards, vintage silver, and period toys will complete the picture. The studio will be open on Sunday from 11 a.m. to 2 p.m. and on Dec. 4, 5, 11, 12, 18, and 19 from 11 to 5.
Visitors will be limited to eight per half-hour; timed tickets, priced at $5, can be secured via the society's website. Preregistration is required.
Do we need another version of Charles Dickens's "A Christmas Carol"? If it stars the Tony Award-winner Jefferson Mays playing not only Ebenezer Scrooge but more than 50 other roles, we do need it, according to the Hollywood Reporter, which said, "You've seen it before, but not like this."
Sag Harbor's Bay Street Theater will present the world premiere of this new solo performance, directed by Michael Arden, a Tony Award-nominee, on Saturday at 9 p.m. The program will stream live to theatrical venues from Vermont to California and will be available on demand until Jan. 3. Tickets are $55 for unlimited viewing during a 24-hour period. A ticket link is on Bay Street's website.
Bay Street will also present "Season for Joy," a virtual holiday concert starring Melissa Errico, that will bring the Tony Award-nominated actress and singer into viewers' living rooms on Dec. 10 at 8 p.m. Accompanied by the jazz pianist Tedd Firth, Ms. Errico will perform Christmas favorites, holiday classics, and American standards.
Known for her storytelling as well as her singing, Ms. Errico will explain why the greatest Christmas songs are always recorded in mid-July, how most have been composed by American Jewish songwriters, and how the season will unite us all -— admittedly a tall order this year.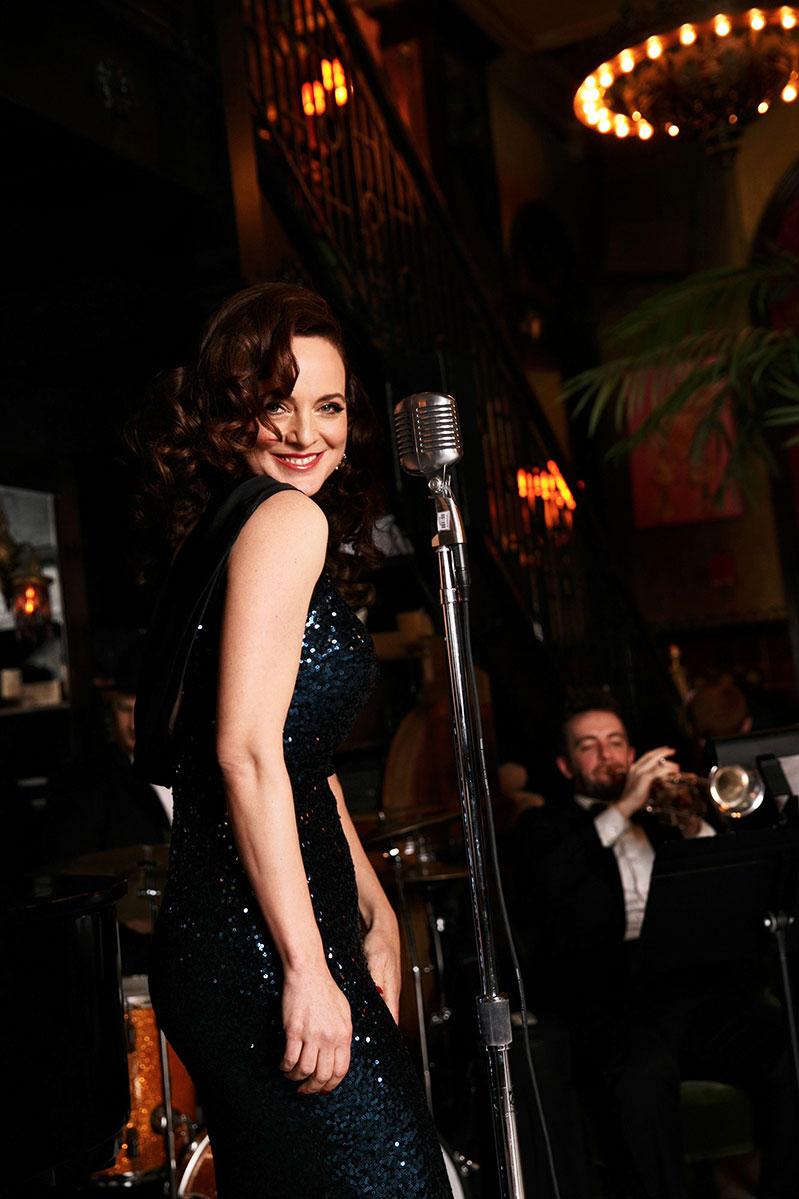 Ms. Errico's Broadway credits include "My Fair Lady," "High Society," "Dracula," "White Christmas," and "Amour," which earned her a Tony nomination for best performance by a leading actress in a musical. The Wall Street Journal dubbed her album "Sondheim Sublime," released in 2018, "the best all-Sondheim album ever recorded." Tickets are $20 from baystreet.org.
The Southampton History Museum's Carriage House holiday shop will be open tomorrow and Saturday from 10 a.m. to 4 p.m. The shop will host its second annual Designer Tree Auction, featuring tabletop holiday trees by Martha Stewart and other notable designers. The silent auction, which will benefit the museum's free education programs, begins tomorrow at 10 and continues through Saturday.
The history museum will present "A Good Old-Fashioned Christmas," a Zoom concert by the redoubtable cabaret singer and actress Valerie diLorenzo, on Dec. 6 from 3 to 4 p.m. The show will include traditional musical favorites, stories, and a slideshow of treasured holiday photographs submitted by community members.
Walter Klass, the director of music at the Old Whalers Church in Sag Harbor, said this year's "Come Home for Christmas" concert has been prerecorded and will be available on YouTube after Dec. 20. The concert will feature the church's bell choir, Advent and Christmas compositions for organ, and Christmas carols. From 5 to 5:30 p.m. on Christmas Eve, the community is invited to sing carols by candlelight along with a brass quartet on the church's front lawn.