Viewers familiar with Miles Partington's work will notice a significant difference in his latest pieces. The Southampton native, who returned a few years ago after college and time out west, has recently shifted his practice to painting after years of working primarily in sculpture.
He also demonstrates a preoccupation with themes from this year, particularly one of hiding from a treacherous reality, an attempt that works only to a certain degree, if at all. Although he began the series last year, it has become an apt metaphor for everything we have confronted and/or hidden from in the past eight months.
He is still interested in animals, but now they are subjects of paintings as well as sculptural works. These days, they are trying to conceal themselves behind a woefully small green hill. Called the "Hiding" series, it depicts a menagerie of subjects, from the fiercest (alligator and lion) to the most benign (an amiable golden retriever). 

The hills are an abstracted construction, rising out of the earth like Mother Nature's baby bump, and can sometimes seem like a John Baldessari dot cut in half. 
"I was thinking of it as a hill and trying to hide from reality to let all your problems go away," Mr. Partington said recently at the Tripoli Gallery in Wainscott, where these works are on view through the weekend. "But obviously they're not going away. You can't hide from anything."
If the hill is a green and yellow dappled mound, sketchy and not specific, the animals are in great detail, often with expressive faces and implied personalities. Although there is a natural tendency to anthropomorphize animals in general, these depictions are literally stand-ins for us. "They're definitely representative," he admitted. "I think anything you're working on becomes a way to express how you're feeling."
The animals' appearance has its genesis in photos. "I try to work from a couple of photos for each animal, so it's not a direct copy, taking things from a few sources, and some from inside my head," he said. "Animals are so expressive. You can really play with that." Something he also plays with is scale. The subjects are often longer than they are in nature. The hill acts as magic box, splitting them in two so that the visible parts of their body would look normal if they were brought together again.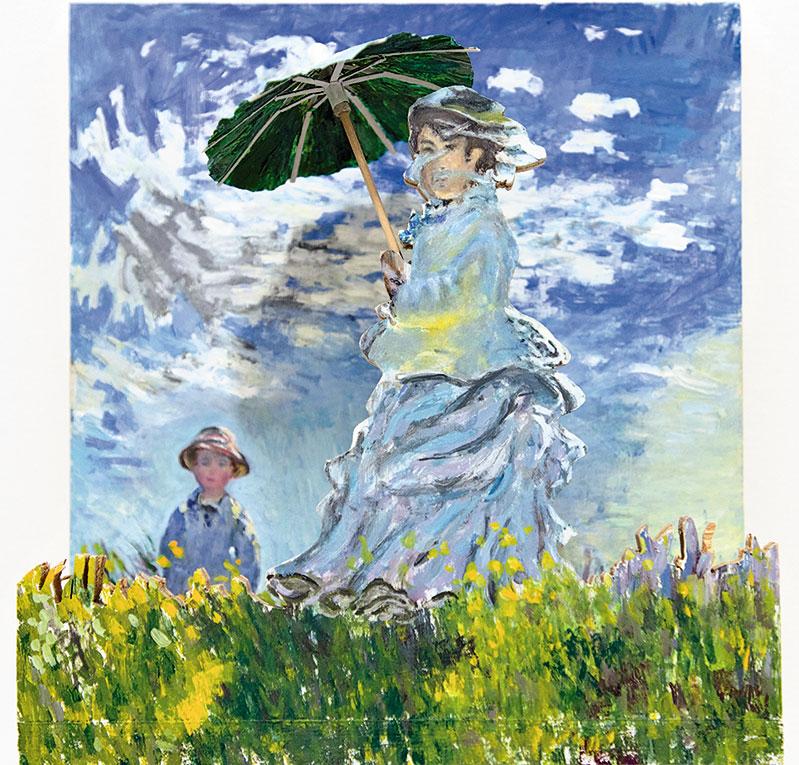 Some of his works are hybrids of painting and sculpture. The painted surfaces on cutout planks include the playful "Woman With a Parasol (After Claude Monet)," in which he channels a subject from Claude Monet presented with multiple cutouts and a cocktail umbrella as the titular parasol.
Another hybrid is "The Ark," a collection of cutout painted wooden animals set in and around a cinderblock he appropriated and modified as his vessel. They line up in pairs just as they do in the Bible, about to experience a kind of quarantine as they set sail for parts unknown with an uncertain timeline. Sound familiar?
Earlier this year, he was part of the annual Southampton Arts Center's "Takeover!" The exhibition and artists-in-residence project opened in February, was cut short by Covid-19, and then was extended into July once the galleries opened again in June. The artists he shared the space with before and after the lockdown were Jodi Bentivegna, Michael Butler, Isadora Capraro, Franco Cuttica, Esly Escobar, Melinda Hackett, Erica-Lynn Huberty, Dinah Maxwell Smith, and Kerry Sharkey-Miller. Students from Southampton High School and the Ross School joined them.
Mr. Partington received his own early grounding in art from his stepfather, Dennis Snyder, a painter and longtime resident of Southampton. His mother grew up in Amagansett. He remembers Mr. Snyder taking him to New York City to see art when he was young. "Calder's circus and M.C. Escher were two of the first things that I remember," he said. A print his grandfather Wayne Barker made of a large striped bass hangs in the Pollock-Krasner House and Study Center's kitchen, where Lee Krasner placed it sometime around 1970. Barker gave a second print of the fish to Willem de Kooning.
His exposure to the local art community continued with an internship he had with William King when he was 14. "I was young and it wasn't enough time to learn as much technique as I wish I had." King, who died in 2015, taught him to use a sewing machine. "He was also always very encouraging." The protege kept up with his mentor's exhibitions over the years. Pointing to a lion sculpture in the gallery, he said, "You can actually see some of his influence in that one."
Bill Nagle at the Hampton Day School and Gail Altomare at Southampton High School furthered his development in art. "I was mostly self-taught after that." Mr. Snyder continued to influence him in both advice and example. He went to college in New Paltz, then spent time on the opposite coast before returning here a few years ago. It was a move he thought was temporary, but it has evolved into a much longer stay.
Some of that has to do with the collaborative relationship he has developed with Tripoli Patterson, Tripoli Gallery's owner and director. He has also enjoyed reconnecting with the artistic community here. "There are so many really talented people, but it always felt so supportive, and nice to feed off that energy. That's a lot of why it's so hard to leave, even though I never planned on sticking around here."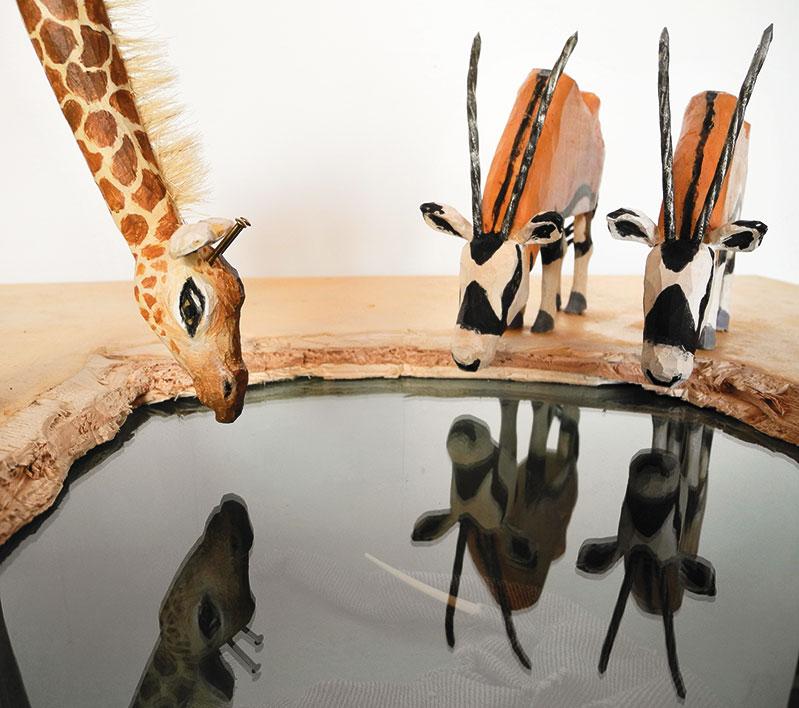 Mr. Partington's work has always been marked by its variety of mediums, such as stencils, painting with mixed media, wood carving, and mixed-media sculpture. The recent pieces are the most painting he has done, but it was always part of his practice.
The show's title, "I run to the rock, please hide me," are lyrics from "Sinnerman," a classic song by Nina Simone. It offers some clues to other sources of titles in the show. "Sons and Daughters," the title of a painting of a large chicken perched on a pile of chicks, is a reference to a Decemberists's song.
He also named a long list of recent artistic influences: Albert York, Anselm Kiefer, Lucian Freud, Eduard Vuillard, Pieter Boel, George Stubbs, Marisol, Felix Vallotton, Joaquin Torres-Garcia, and Lyonel Feininger.
Closer to home, he has been working with his 5-year-old nephew. "I think I was always inspired by kids' instincts. I try not to overthink what I want to make and just sort of let my art work itself out." Yet he seems to return to King when he notes about his work, "I try to find a balance between fun and serious, and try not to make it too much of either."