There is something loose and special about the Sag Harbor art gallery community, which can treat its art shows as intuitive and impromptu affairs. Often an open forum, it is not unusual for artists and curators to join the spaces in a last-minute collaboration.
Something akin to kismet is happening currently there as the Keyes Art and Sara Nightingale galleries are both offering exhibitions that had their origins in the local artistic community and now find themselves sharing artists and a similar ethos.
For "As the Crow Flies" at Nightingale, the dealer wanted to highlight the geographical closeness and interconnectedness of the South Fork art community. She asked three artists who have shown at her gallery to choose another artist whose work she did not know. Janet Goleas, Laurie Lambrecht, and Ross Watts served as the "jurors" and respectively chose Priscilla Heine, Virva Hinnemo, and Jeremy Grosvenor.
Ms. Nightingale acknowledged her debt to the Parrish Art Museum's "Artists Choose Artists" show, which employs a similar tactic and is currently on view in Water Mill. Yet, the correspondences do not stop there. Both Ms. Goleas and Ms. Heine are included in the museum's current iteration of the triennial exhibition.
The Venn diagram continues across the street at Keyes Art, where Julie Keyes invited Ms. Hinnemo and her husband, George Negroponte, to be guest curators for a show they call "One Stop: The Slow Slope of Modernism." There, the focus is on how East End artists steeped in modernism continue to address the tenets of its various movements.
Ms. Goleas makes an appearance here along with Mary Ellen Bartley, Matthew Bliss, Neke Carson, Barbara Dayton, Eva Faye, Aileen Florell, Betti Franceschi, Barbara Friedman, Denise Gale, Elizabeth Geissler, Linda Gottesfeld, Melinda Hackett, Robert Harms, Ted Hartley, Edward Holland, Aya Miyatake, Trina Michne, Linda Miller, Steve Miller, Ilse Murdock, Michael Rosch, Bonnie Rychlak, Kristy Schopper, Martha Stotzky, Sarah Jaffe Turnbull, Rosario Varela, Karin Waisman, Mark Webber, and Joni Wehrli.
The Keyes space is a small one and with the exhibition featuring so many artists, the works had to be small too. The choices here, by necessity, cram a good deal of power into a matter of inches.
Particularly strong here is "Red Tree," an oil stick and watercolor on paper by Mr. Harms, which packs a lot into its 5-by-7-inch composition. Ms. Bartley's oil painting "Reading November #2" is striking in its change of medium from her usual photographs. It also alternates between looking hyper-real with a quick glance and then abstracted upon further reflection. Ted Holland's "The Goat" is marked by a powerful use of negative space in its central area with strong color and background patterning underneath. It is another tiny marvel.
It's hard not to love Barbara Friedman's "Pinocchio and Mantegna" in its attention-grabbing lime green and red palette, which at first pass appears more like a random massing of color. A closer inspection reveals the classic foreshortened feet of Mantegna's "Dead Christ" serving as bookends for a blurry but recognizable wooden doll.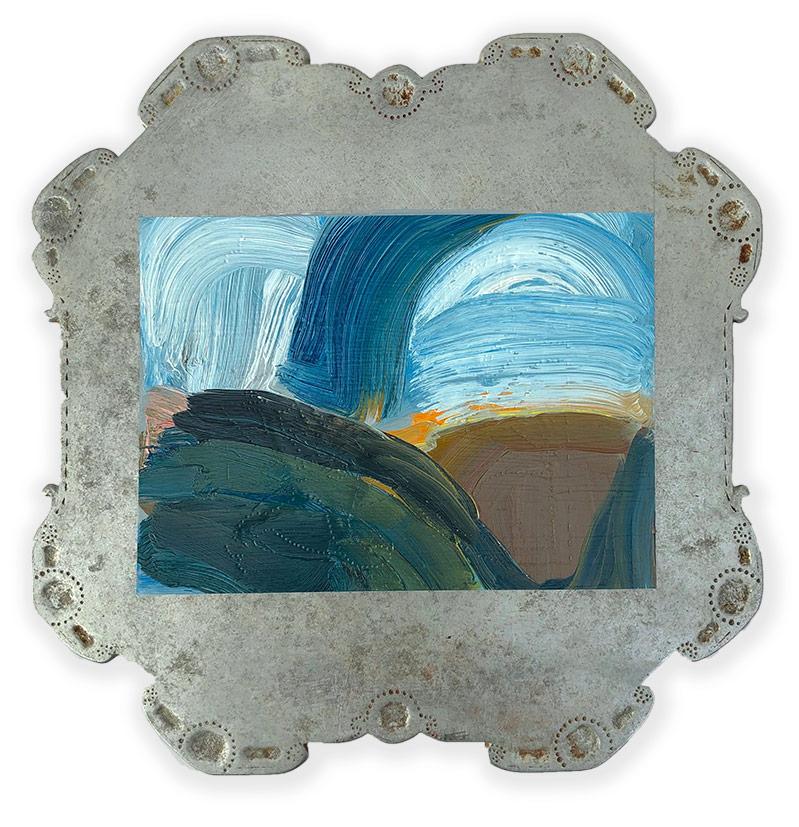 The sculpture in this show has a muscular impact with its varied materials and unusual juxtapositions of recognizable imagery in unexpected mediums, some of which are placed on a long narrow stand that serves as a spine in the gallery. Works by Mr. Webber, Ms. Varela, Ms. Turnbull, Mr. Miller, and Ms. Miyatake are a few of the many strong examples. Others are wall mounted, such as Ms. Dayton's modified silver-plated tray, and works by Ms. Waisman and Ms. Rychlak, and Ms. Stotsky's charming clay birds.
Back at Nightingale, Ms. Goleas is showing colorful and contrasty paintings that look alternately like wood-grain and Op-Art. She also presents diptychs that look organically inspired, maybe by leaves, but are actually deconstructed sections of circles. Nearby, Mr. Watts has "Circularity," a four-sectioned painting in tarpaper, burlap, and plaster on panel that is also inspired by geometry and the relationship between circle and square.
Ms. Lambrecht has a number of pieces inspired by trees and needlework. These include photographs of rocks with custom hand-knit covers and an embroidered and printed length of linen.
"Cooking In Her Bathrobe" by Ms. Heine is a sculpture of found objects, wire, cloth, gesso, and paint that is placed in the gallery window. The fanciful arrangement of partially collapsing calla lilies touches on traditional still life motifs as well as the early modernizing and symbolic influences of artists such as Georgia O'Keeffe.
Ms. Hinnemo's small oils employ big brushwork with generalized marks that could be pure abstraction, but argue for a more illusionistic interpretation. Her titles also have a symbolic weight, such as "One Road" or "Behind the Highest Mountain."
With crosscurrents of location, creativity, and community, these two shows in their small cross-section sample offer ample evidence that the artist colonies that settled here in days of yore are still vital and populous decades after their inception. "As the Crow Flies" will close on Dec. 16 and "One Stop" will close on Dec. 14.