"As a medical doctor and a writer, [Oliver] Sacks achieved a level of popular renown rare among scientists," wrote Gregory Cowles in the neurologist's New York Times obituary. "More than a million copies of his books are in print in the United States, his work was adapted for film and stage, and he received about 10,000 letters a year."
However, as Ric Burns's fascinating new documentary — which will be screened Saturday and Dec. 28 at Guild Hall as part of HamptonsFilm's Now Showing series — makes clear, the road to fame and adulation was long and often difficult. "Oliver Sacks: His Own Life" opens in Sacks's Greenwich Village apartment on Feb. 9, 2015, a month after he received a diagnosis of terminal cancer and not quite eight months before his death at 82. In the opening scene, the bearded, avuncular scientist says that he is often asked whether is he is a doctor first or a writer first.
"I'm equally both, and in important ways they blend together," he said, "And one way and another I've been turning my life into writing. Mostly my clinical life, but my personal life as well." It is precisely Sacks's personal life that is the subject of his memoir, "On the Move: A Life," which was published in April 2015, and his biographical revelations during his more than 80 hours of interviews with Mr. Burns create a spellbinding portrait.
"It's unlike any other project I've ever worked on," said Mr. Burns, who has some 20 documentaries to his credit. Kate Edgar, who had been Mr. Sacks's editor, friend, and virtual chief of staff for more than 30 years, contacted Mr. Burns through a mutual friend in January 2015.
"She said Oliver had just gotten this terrible diagnosis, he's not going to be around very long, would I come in and start to film. Of course, my colleagues and I knew who Oliver Sacks was, but I had never met him before. Rather than getting an idea and wondering what kind of film we want to make, doing research, creating a development proposal, and raising money, we just kind of jumped in the deep end."
Three weeks after Ms. Edgar's call, Mr. Burns and his crew were sitting in Sacks's Greenwich Village living room with two cameras, a coterie of his family and friends, and "Oliver seated at his desk, talking and talking and talking and being Oliver."
Not only had the filmmaker never met the neuroscientist, he also knew nothing about his personal life, including the fact that he was gay. "He had been hurt early on by his mother, who called him an abomination after he came out to his father, and he was burned later by other people." Isabelle Rapin, his friend and colleague, said that to come out as a homosexual neurologist in 1970 was career death.
Prior to writing "On the Move: A Life," which he finished just before receiving his diagnosis, only his family and a few close friends knew the details of Sacks's personal history. The book had not yet been published when the five days of interviews with Mr. Burns took place.
"The film began with a deep immersion into a remarkable human being at a really crucial moment in his life," said Mr. Burns. "He was 81 years old, looking back, wanting to bring it all out and talk about things he had never talked about before. His book was about to be published, and his death was imminent. He was a man with a mission and a deadline."
 "He also knew that if he could trust whoever was on the other side of the camera, and he very quickly decided he could, he was going to say everything and know that even though he would be gone before the film came out, he was in good hands. So that act of trust was like a moral contract of the highest order."
In addition to knowing nothing at the outset about his subject's personal life, Mr. Burns was also unaware of the richness of Mr. Sacks's archive. "It would never have occurred to him to throw anything away." In addition, Bill Hayes, Sacks's partner — "a great and unexpected gift in my old age" — took over organizing the archive after Sacks's death.
As a result, the filmmakers had access to photographs from as far back as Sacks's early childhood, images from his days in California as a bodybuilding doctor and amphetamine-fueled motorcyclist, and, perhaps most remarkable, the archival film footage of his landmark work with patients at the Beth Abraham Medical Center in the Bronx, which was the basis of his 1973 book "Awakenings" and the film adapted from it in 1990.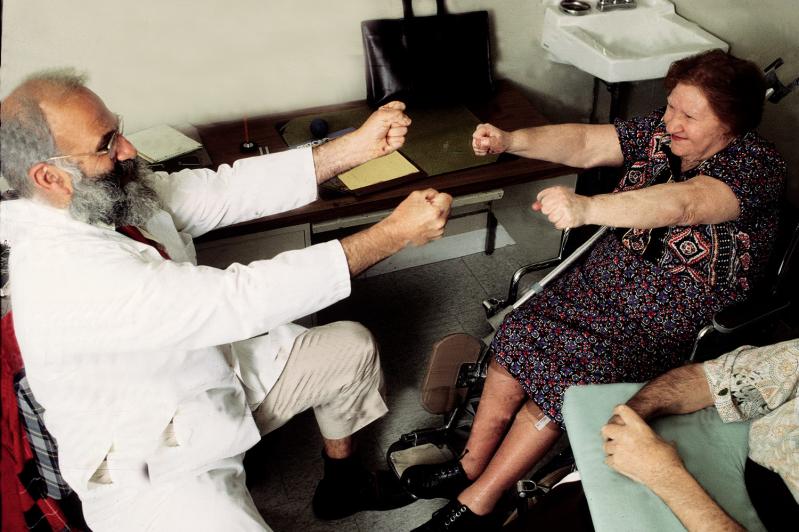 "Awakenings" presented the case histories of patients whose vegetative states had been caused by the epidemic of encephalitis lethargica, or sleeping sickness, that swept the world between 1916 and 1927. Sacks began to treat several patients with L-Dopa, which had been used to treat Parkinson's disease, and the results were dramatic. Patients who had been essentially comatose, some for decades, were suddenly able to stand, walk, clap, and speak.
However, recognition from his peers did not come at that time. Doctors who had not seen similar results while treating Parkinsonism were skeptical, many neurologists dismissed the book, and it did not sell well. In part because of that response, it took him 10 years to write his next book.
But Sacks pressed on, publishing 16 books, including three posthumous volumes. The tide turned in large part due to two events: the publication, in 1985, of "The Man Who Mistook His Wife for a Hat," which became a best seller, and the film adaptation of "Awakenings," which starred Robin Williams as Sacks and Robert De Niro as one of his patients. The film was nominated for three Academy Awards, including best picture, in 1991, and it was only then that his profession began to fully embrace him.
Mr. Burns's film lets Sacks, the archival material, and his friends and colleagues, among them the writers Lawrence Weschler, Paul Theroux, and Jonathan Miller, tell his story. The crew is invisible until the very end, when we see the camera briefly while Sacks reads from his book. 
At one point, Mr. Weschler, one of Sacks's closest friends and the author of a biographical memoir of the neurologist, says, "He nailed the landing. He gave a master class in how to die."
Mr. Burns elaborated: "Nailing the landing was to see it clear, not shy away from it, not call it something else, and to live it right up to the end. And to be writing essays of curiosity and empathy and imagination until you're within a few days of dying, to have that be your last will and testament, that is remarkable. It was a gift to himself and a gift to everybody."
"Oliver Sacks: His Own Life" was an official selection of the New York Film Festival and played at the Hamptons International Film Festival, where it won the audience award. It has been acquired for theatrical distribution by Zeitgeist Films.
Show times at Guild Hall this weekend and next are 6 p.m. Tickets cost $15, $13 for members.
The film will open in May at Film Forum in New York City and at venues around the country, and it will be broadcast on PBS in April 2021.
This article has been modified from its original and print version to reflect that "Oliver Sacks: His Own Life" won the audience award at the Hamptons International Film Festival.