Now in its 15th year, Tripoli Patterson's "Thanksgiving Collective" exhibition is a certifiable holiday tradition. The throngs from the South Fork art community who descended on the opening the day after Thanksgiving offer only further validation.
The reason: an ever expanding list of now more than 50 artists on view in an oversized industrial shed in Wainscott decked out with plywood walls and movable partitions of scaffolding clad in white Sheetrock. It's a space he hopes to keep for the long term but could be picked up and moved rather simply if needed.
But whether one shot or for the long haul, this is a strong show incorporating not only East End artists, but an international mix that reflects Mr. Patterson's own life and travels. From the earliest days, there is "Every 100 Miles the World Changes," a painting by Jennifer Cross, who was his teacher at the Ross School, as well as work from his siblings Yung Jake and Matisse Patterson, and artists from far-flung locations such as Australia, where he plans to open a gallery soon.
It's always awkward and clunky to do a laundry list of artists, but the show does have an A to Zed representation, spanning the alphabet from John Alexander to Almond Zigmund. The artwork was not chosen to be thematic, but did begin to reveal affinities in the installation, with hints of an overall feeling of unease related to climate change and the creation of alternate realities that could become closer to the truth as the planet changes.
The official title of the show — "What Have We Done?" — could refer to the artists' own output, but in this context it takes on a more sinister meaning.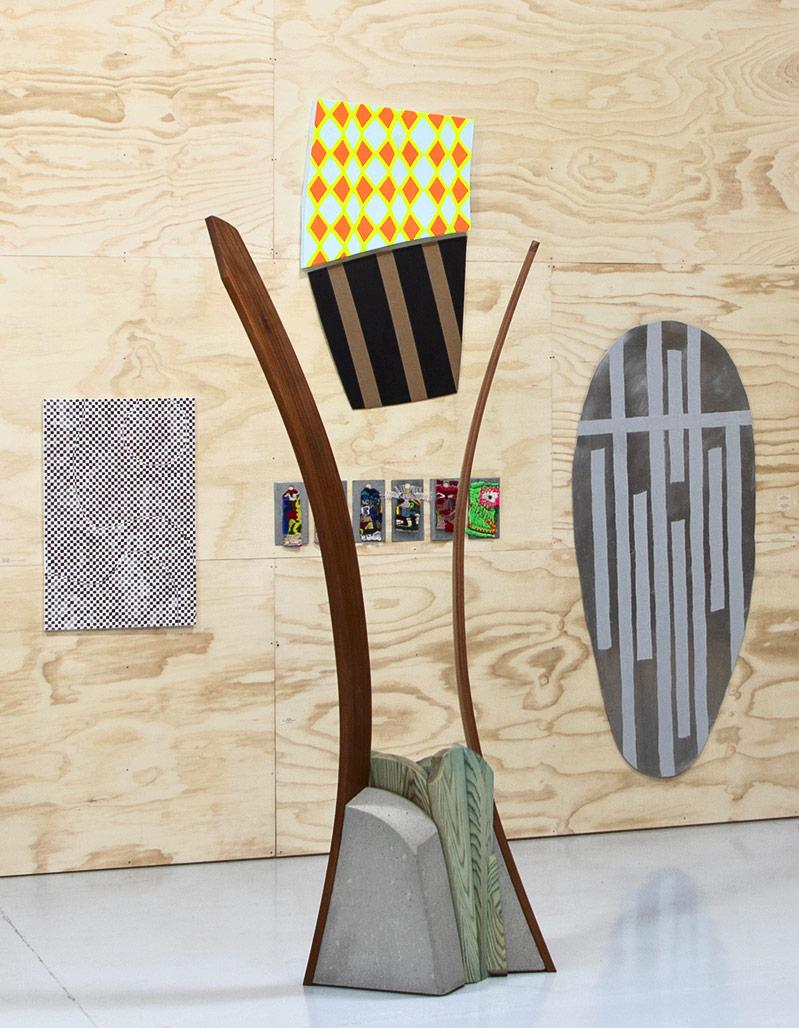 The show opens with two messed-up looking animals by Katherine Bernhardt and some messed-up kids via Alice Dellal's unusual hand-printed film images. She also has images of wildlife and horses that seem ready to be catalogued for a later date.
In fact all animal renderings in the gallery, such as Justin Crawford's "Bird Mind," the bunnies in David Bromley's "Full Moon/Half Moon," Lucy Winton's cartoonish woodland creatures, and the birds and animals set into Vahakn Arslanian's "Triptych" folding Gothic-style altarpiece, all feel like remnants or stand-ins for threatened species. Alexis Rockman incorporates animals into his shipwreck paintings, which have an apocalyptic quality, with a rabbit balanced on a goat standing on a pig lying over a barrel cast overboard with the rest of the sinking ship's larder.
Yung Jake's painting of a hand clutching a sandwich wrap or burrito is literally expressing consumption, for better (you're hungry) or worse (you're not).
From Jeremy Dennis we have an illustration of a Native American legend, a female figure in an antique dress standing in a familiar landscape encompassed by mist. John Alexander renders in oil a "King for a Day," a bewildered subject beset with both a facemask with a bloodied beak and a jeweled crown.
There is another odd sort of crown in the figurative mash-up of Judith Hudson's "Thinking of You," which is also equal parts abstraction in a way that signals decay. Eric Fischl's figure arranged in a child's pose, "The Wait," looks as if it is also assuming a crash position. In this setting, even Billy Sullivan's friend captured in "Brooks," a recent oil on linen, looks pensive and preoccupied as he mulls the menu selections at Prune.
The middle section of the gallery's overall space takes on a theme of landscapes fading or under threat. Ross Bleckner's "Untitled" painting of tulips looks like a faded memory. Ashley Bickerton's "Seascape: Floating Ocean Chunk No. 1," from 2017, is a symbolic remnant of an ocean that is so in peril portions of it may need to be preserved so we can recall what was lost. Brianna Lance's fanciful "Waves 20" watercolor takes another approach to depicting the sea — an angry one. Bryan Hunt sculpts a small dissection of a wave in a tall cast aluminum sculpture, "Flume."
Alice Aycock actually alludes to end times in her title "Armageddon Allegra," a unique inkjet print from 2017. In a permanent sunless dusk, a plant-like species with glass roots and some vague characteristics of fauna floats in the ether. It's both curious and disturbing.
Across the way, Laurie Lambrecht's "Bark/Cloth, Maine," an embroidered print of a tree's bark on linen, and Linda K. Alpern's "Glory, September," an inkjet print of a vase of flowers, their color fading into grayscale, both have a quiet and focused elegiac quality.
The rear section of the space is loosely devoted to postapocalyptic worlds or the absence of anything that has reference to a setting or other object. Sabra Moon Elliott's "Moonscape" and Almond Zigmund's "Untitled (wind 'er up)" look great set near some of Keith Sonnier's newest work and a Mary Heilmann painting from 2002 that was a loan.
There are moments that offer visual echoes, like the interplay of the negative space in Christina Schlesinger's "View From the Pond House," executed in ink on a cotton sheet, and Benjamin Keating's cast aluminum "Bedroom Side Chair (Piece of Her That's Missing)."
New faces like Nick Mead present an unusual melding of mediums and visuals in his 8-by-6-foot canvas "Painter on the Way to Work." These include a central figure raising its hands in exaltation or crucifixion, Converse sneaker footprints, and scores of round protrusions formed of gesso and paint that look like evil eyes or some other kind of mark or cysts. If it sounds like a lot to look at, it is.
There are quite a few more artists, but not enough space to address them all. A (shorter) laundry list will have to suffice, even though they all deserve more copy and interest. They are Dianne Blell, Katherine Bradford, Trefny Dix, Hannah Epstein, Saskia Friedrich, Felix Bonilla Gerena, Jack Goldstein, Kurt Gumaer, Candice Hill Montgomery, Bengt Hokanson, Liz Markus, Bella McGoldrick, Angelbert Metoyer, Miles Partington, Nathalie Shepherd, Jose Luis Vargas, Ross Watts, Nick Weber, Lauren West, Darius Yektai, and Nico Yektai.
The exhibition will remain on view through Jan. 30.