Lorraine Hansberry has her rightful place in the history books. With her blistering, beautiful, trailblazing play "A Raisin in the Sun," she became, in 1959, the first black woman to have her work on Broadway, and, at 29, the youngest American ever to win the New York Drama Critics Circle Award for best play. Her second play, "The Sign in Sidney Brustein's Window," also had a successful Broadway run in 1964, but it was to be her last. She died a year later, of pancreatic cancer at 34, inspiring Nina Simone to write the song "To Be Young, Gifted, and Black."
Bay Street's Theater's bracing revival of Hansberry's, "A Raisin in the Sun," directed by Lydia Fort, absorbingly captures the militant passion and raw pain of being a black person in a white world. It is as resounding today as it must have been 60 years ago, appearing then to almost forecast America's profound social transformations. Produced as part of Bay Street's long-running Literature Live! series, which allows all student school groups and their administrators to attend performances for free, it will run for the public through Dec. 1, and should not be missed.
Hansberry once said that this is "a Negro play before it is anything else." And as such, its main focus is firmly and deliberately on the black experience. The Youngers are a three-generation, hope-hungry black family living in a cockroach-infested apartment in Chicago's South Side. (Although, Mike Billings's set at Bay Street hardly suggests the poverty in which the Youngers live. A few threadbare and tattered items would make all the difference.) The action revolves around a $10,000 check that the family's matriarch is about to receive, resulting from her late husband's life insurance policy. Her 35-year-old feckless son, Walter Lee (played here by a slightly overwrought Chauncy Thomas), desperately wants to invest the money in a liquor store and become a respectable businessman. But Walter's visions of financial success collide with a bleak reality that's too often faced by black and minority men. Walter is, it has been noted before, the African-American cousin of Arthur Miller's Willy Loman, a dreamer obsessed with money and success. (The "volcano" that Hansberry intended Walter to be needs to smolder a bit longer in Mr. Thomas's performance before a final, bilious eruption that should take one's breath away.)
Yet this is not solely Walter's play. Hansberry has written in a whole family of protagonists. Ruth, Walter's drained wife — a taut performance here by Erin Margaret Pettigrew — is the drama's heart-wrenching foundation. It is Ms. Pettigrew's carriage, particularly her shoulders, that so brilliantly conveys the effects of a woman doggedly trying to keep her family afloat. There's also Walter's headstrong and intelligent, college-going sister, Beneatha, played radiantly by Cassia Thompson, a young woman looking to the future and determined to become a doctor, not simply a nurse as her brother suggests.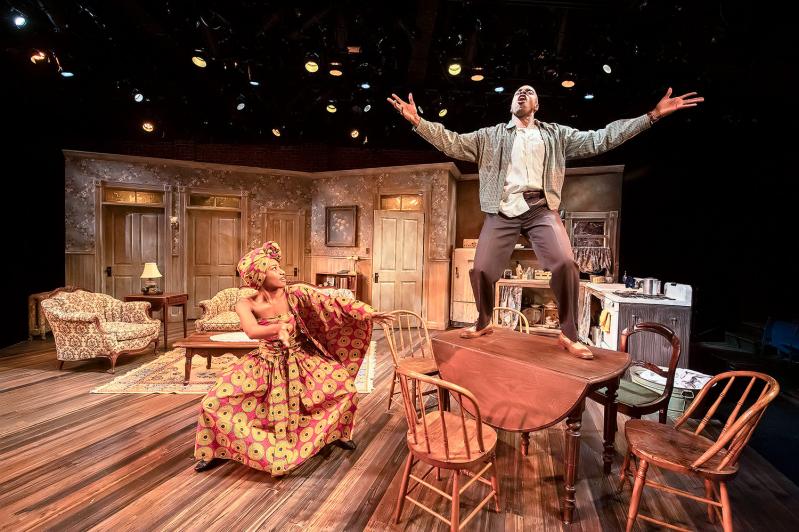 And, Walter's mother, Lena (Cooki Winborn), all matriarchal power and sheer Christian goodness. The play's plot hinges on a battle of wills among these characters: Whose dreams most deserve funding?
Four callers arrive at the family's apartment, offering us wider national and economic perspectives on race in America: the young Nigerian student, Joseph Asagai, who is captured here impeccably by Jonathan Farrington, with his notions of identity and heritage; George, the shallow, assimilated African-American student; Walter's fellow dupe, Bobo, and Karl, the head of Clybourne Park's "welcome committee," a white man played by Joe Pallister, who represents white homeowners keen to prevent the Youngers ("you people") from moving into their white sanctuary. (Spoiler alert: Amagansett residents might be uncomfortably reminded of a push to prevent affordable housing being built in their homogenized hamlet.)
The drama does creak in places and full-throttle characters speak in peaky crescendos found only in plays of the era, but this is a strong ensemble and there's such riveting authenticity here that this production, like Hansberry's writing, especially at its most intense, burns with feeling.
The play takes its title from "Harlem," a 1951 Langston Hughes poem that asks: "What happens to a dream deferred? Does it dry up like a raisin in the sun?" It's a hallowed text and "Raisin" has gone on to achieve the status of an unassailable classic, a repertory staple, and is studied across high schools in America. It has been revived on Broadway twice this century, in 2004 with Sean (P. Diddy) Combs and in 2014 with Denzel Washington, both occupying the role of Walter Lee. The original Broadway production, of course, featured the legendary Sidney Poitier and Ruby Dee in the main roles, both of whom went on to star in the 1961 film adaptation.
The Youngers in "Raisin" might show absolute refusal to surrender to white prejudice and pressures, but it is their universal dream of material advancement that probably led to the play's overwhelming acceptance by white middle-class audiences even during the racially thorny days of the 1950s. After the play debuted on Broadway, an excited interviewer is reported to have approached Hansberry to proclaim: "This is not really a Negro play — it could be about anybody. It's a play about people!" Hansberry, apparently, coolly replied: "Well, I hadn't noticed the contradiction because I'd always been under the impression that negroes are people."
This compelling Bay Street version shows how clearly Hansberry can still speak to us across the years. By the end of the 90-odd minutes, we realize that this isn't just 1950s Chicago but modern-day America. Entrenched attitudes about race make the challenges faced by the family seem shockingly relevant today. A black president might have occupied the White House recently, but plenty of Walter Youngers remain foreclosed in their dreams, similarly cramped by poverty.
"A Raisin in the Sun" will continue at Bay Street Theater in Sag Harbor through Dec. 1. Attendance for student school groups and administrators is free. Tickets to the public programs, on Thursdays and Fridays at 7 p.m. and Saturdays at 2 and 7 p.m., are $20 to $55.