He may be most beloved as celluloid's eternal youth in "Ferris Bueller's Day Off," the 1986 John Hughes film that never ages no matter how dated the references and fashion. Yet the Amagansett part-timer Matthew Broderick has proven himself a flexible and consummate actor in the years since in many featured and walk-on roles in film, theater, and television, including one of his biggest star turns on Broadway and then in the movie version of "The Producers."
His latest project to be released, "To Dust" will be shown at the Hamptons International Film Festival this weekend. In it, he plays Albert, a divorced biology professor at a community college who is sought out by an Orthodox cantor deeply grieving the loss of his wife to cancer. Shmuel, the cantor, is played by Geza Rohrig, a Hungarian actor whose 2015 film "Son of Saul" won the Academy Award for best foreign film and the Grand Prix at the Cannes Film Festival.
Albert, a gentile who is bored and frustrated in his job, is bewildered and then put off by Shmuel's request to help him figure out how long it will take until his wife's body decays into dust (whereby her soul will be released, according to his religion). But Shmuel wins him over by appealing to the curiosity that attracted Albert to science in the first place.
His agreement to help Shmuel in his — pardon the pun — unorthodox request, leads them on an absurdist adventure punctuated by noisome moments that illustrate both factual and imagined decay. They develop an unconventional camaraderie that results in an unsentimental and sometimes uproarious buddy picture.
Just like Albert, when Mr. Broderick read the script "I wasn't sure what to make of it," he said last week. "I never saw anything like it." Although the scenes were well written, "I didn't know what to think."
He had seen "Son of Saul" and said he was intrigued that Mr. Rohrig was already attached to the film. Then he met the director Shawn Snyder. Although it was his first feature length film, "he explained it to me well. I had a very good meeting with him," Mr. Broderick said. "As I got to know it better, I liked the script more and more. There was some squeamishness in the talk about dead bodies and working with bones, but I'm not overly frightened about that kind of thing."
What ultimately appealed to him was the through line of "when a person of science and a spiritual person come together in some way. This was an interesting way to tell a story about what religion can't do for him and what science won't do for me" and how they work it out together. "I really fell for Geza's character."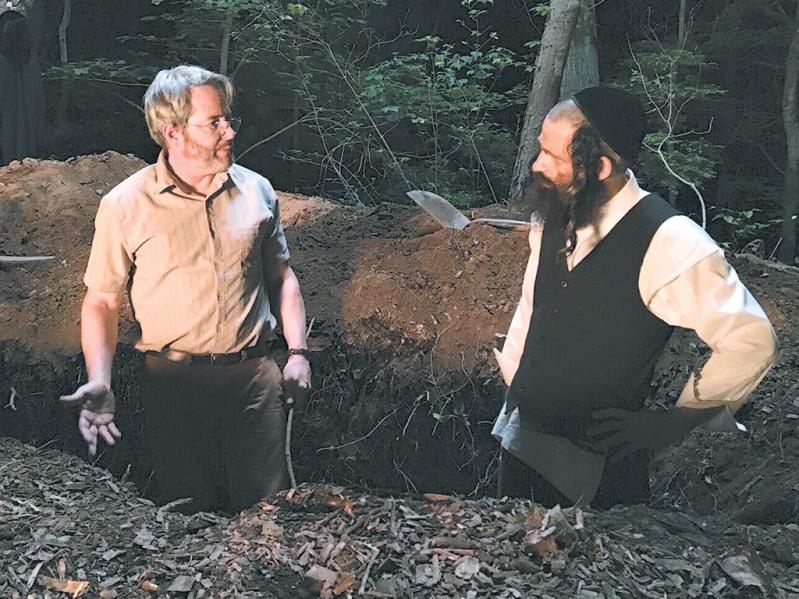 The two actors were often thrown together on location, waiting in the same rooms for scenes to be set up, reading and sharing meals. "We're very different and come from different backgrounds, but we both complain about everything all the time," Mr. Broderick said. It was not about conditions on the set, but "world events, show business, anything else really." Mr. Rohrig, a vegetarian who is kosher, "had a knack for finding good food wherever he went and would share it with me. I would pay him for it, of course," he said, after a moment.
With a tight budget and a 20day-shooting schedule, they had little time to develop a deep friendship, which he said helped the film's spontaneity. "It was fun to be surprised when shooting and not have it overly thought through."
Mr. Broderick first saw the film at its premiere screening at the Tribeca Film Festival in April. With only a loose idea of the structure and some pretty out there scenes, he "knew Shawn had a clear idea of what he was after, but I didn't know what it was. I was very pleased with it. Their relationship seemed real to me, and that was my concern."
The film went on to win Tribeca's jury award for best new narrative director and the audience award for narrative film. "When I saw it, the audience was really vocal and laughed a lot. It was a nice evening."
He is looking forward to bringing it to the Hamptons festival, where there will be showings on Saturday at 9:15 p.m. in East Hampton and Sunday at 6:30 p.m. in Westhampton. "It's also extremely convenient, since I live in Amagansett," he added.
His typical weekends here tend to involve reading at the beach and socializing with friends who live nearby and those he and his wife, the actor Sarah Jessica Parker, invite out. "That's how I started coming here, as a young actor visiting Gene Saks. There were all these older theater people here" holding weekend house parties. "Now I guess I'm one of them, one of those older sad people inviting the younger actors out," he said with a laugh.
Mr. Broderick is 56. His father, who was also an actor, died at the age of 55, when he was only 20. He admitted that last year's birthday brought on some angst. "I don't want to be morbid, but I don't want my children to lose their father at 20" or younger. He said he is in good health, "but I hope there isn't some gene that says 'I don't know who you're trying to kid.' "
"It is peculiar to be older than your parents when they died," he said. "I feel like I'm on extra innings. I'm surprised I'm here in a way." His father did "all these [Eugene] O'Neill parts I always thought I was too young for." Now, he has begun to reassess that.
He has a few projects in post-production, and is looking at roles in film, television, and on stage. "I'm taking a little moment to consider the options, but I have a few things I have to decide soon," he said.
One might be a role in Ryan Murphy's on-again, off again "American Crime Story" franchise, for which Mr. Murphy said in August he had some scripts written. The new series will focus on the aftermath of Hurricane Katrina. Mr. Broderick has been rumored to be cast in the role of Michael Brown, the embattled FEMA head, whom President George Bush said was "doing a heck of a job" after the disaster.
As for Ferris, "I'm glad people still remember the movie," he said. "It's not a role I can keep doing, but I am flattered and amazed" by its longevity.